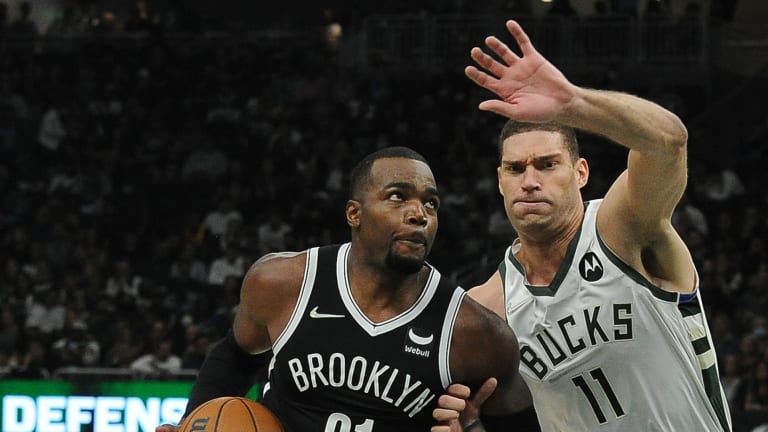 Here's What Paul Millsap Tweeted After The Nets Lost To The Bucks
Brooklyn forward Paul Millsap sent out a tweet after the Nets lost their season opener to the Milwaukee Bucks on Tuesday night.
Paul Millsap sent out a tweet after the Brooklyn Nets got crushed by the Milwaukee Bucks on opening night of the 2021-22 NBA season. 
The Tweet from Millsap can be seen in a tweet that is embedded below from his Twitter account. 
Millsap's tweet said: "Tough loss. Keep getting better."
The Nets lost 127-104, and never truly had any control in the game, and in the first half the Bucks had a 19-point lead at one point. 
There are still 81 games left, and it's not like this game will matter in May, but no team should accept getting blown out in the first game of a new season. 
Especially when that team has Kevin Durant and James Harden, and they were facing the same team that sent them home in the playoffs (on their home floor) last year. 
Millsap finished the game with just three rebounds in only five minutes of action. 
The four-time All-Star will likely play a limited role on the Nets as he is turning 37years old this season. 
Related stories on NBA basketball
HARDEN DOESN'T GET FOUL CALL: The NBA changed their rules on drawing fouls this season, and the preseason showed how it would influence superstars and the calls they got in past seasons. CLICK HERE
GRIZZLIES LOSE BROOKS FOR A FEW WEEKS: Dillon Brooks averaged over 17 points per game for the Memphis Grizzlies, who made the Western Conference Playoffs last season. He will miss at least a small part of the beginning of the new season. CLICK HERE.