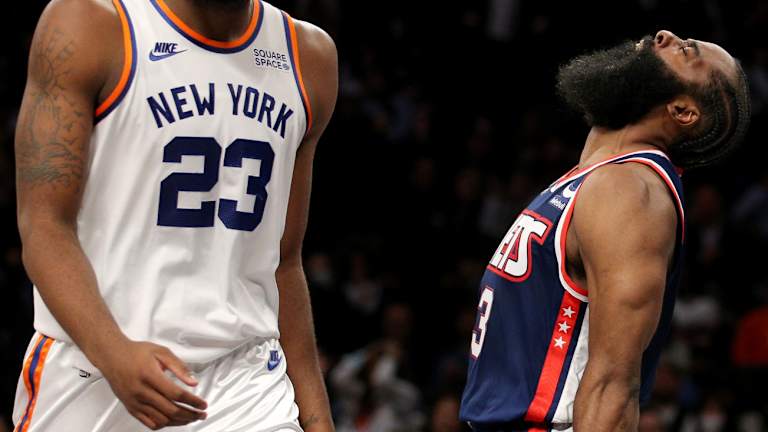 Here's What Mitchell Robinson Tweeted Then Deleted After Knicks Lost To The Nets
The New York Knicks lost to the Brooklyn Nets on Tuesday.
The end of the game between the New York Knicks and Brooklyn Nets was absolutely wild. 
Yet, the game came down to a play with 2.2 seconds left when James Johnson drove to the basket and got fouled by Knicks center Mitchell Robinson. 
Johnson then nailed two free throws to give the Nets a 112-110 lead, and the Knicks (who had no timeouts) had to take a tough shot at the buzzer, which Evan Fournier missed.
The clip of Johnson getting fouled by Robinson can be seen in a tweet that is embedded below from Steve Jones Jr.
After the game, Robinson deleted this tweet that he sent out, which can be seen embedded below in a tweet of a screen shot from Billy Reinhardt.  
The Nets advanced to 15-6 with the win, and the Knicks fell to 11-10 with the loss.
Related stories on NBA basketball
DEROZAN PASSES JORDAN ON A LIST FOR THE BULLS: DeMar DeRozan and the Chicago Bulls have been on a roll to start the new season as one of the top teams in the Eastern Conference. DeRozan is a four-time All-Star, and in his first season in Chicago and last week against the New York Knicks, he passed Michael Jordan on a list. CLICK HERE.
STEPH AND THE WARRIORS ARE ON FIRE: The Golden State Warriors have not made the playoffs in two seasons, but that appears likely to change this season. They are on fire to start the season led by superstar guard Steph Curry and have the best record in the entire NBA. . CLICK HERE.