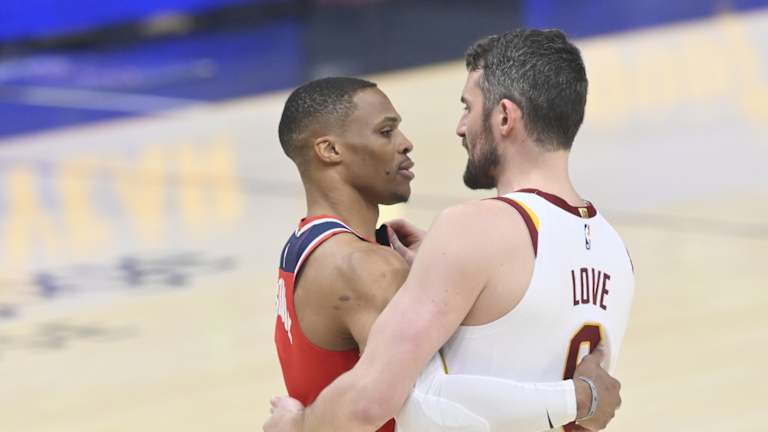 Here's What Kevin Love Tweeted About The Suns
Kevin Love sent out a tweet about the Phoenix Suns who defeated the Dallas Mavericks on Thursday.
The Phoenix Suns defeated the Dallas Mavericks 109-101 in Texas on Thursday night, and Kevin Love sent out a tweet about the Suns. 
The tweet from Love can be seen in the tweet that is embedded below. 
Love's tweet said: "Phoenix is so good in the 4th. Everyone steps up!!" 
The Suns 35-9 in 44 games this season, and the top seed in the Western Conference. 
They made the NBA Finals last season after a long playoff drought in large part due to the acquisition of Chris Paul.    
This season they appear as if they will be a contender to win the Western Conference once again. 
As for the Mavericks, they fell to 26-20 in 46 games on the year, and are currently the fifth seed in the Western Conference. 
Related stories on NBA basketball
DEROZAN PASSES JORDAN ON A LIST FOR THE BULLS: DeMar DeRozan and the Chicago Bulls have been on a roll to start the new season as the top team in the Eastern Conference. DeRozan is a four-time All-Star in his first season in Chicago, and he passed Hall of Famer Michael Jordan on a franchise-record list. CLICK HERE.
STEPH AND THE WARRIORS ARE ON FIRE: The Golden State Warriors have not made the playoffs in two seasons, but that appears likely to change this season. They are on fire to start the season led by superstar guard Steph Curry and have one of the best records in the entire NBA. . CLICK HERE.