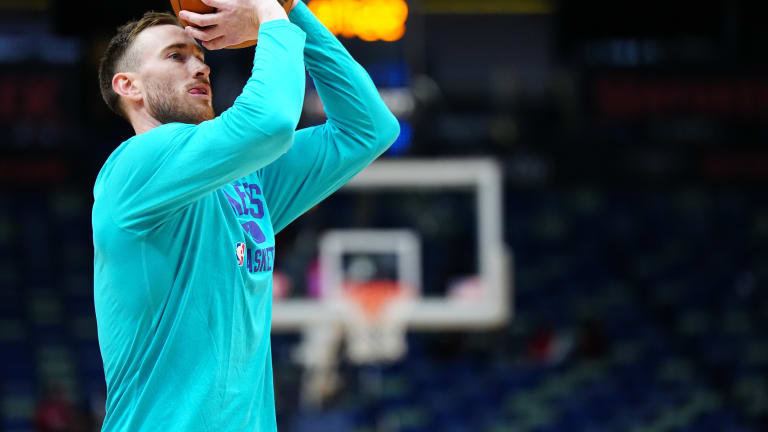 What Is Next Entering The Offseason For The Charlotte Hornets?
The Charlotte Hornets saw their 2021-22 season come to an end short of the playoffs on Wednesday night, losing 132-103 to the Atlanta Hawks in the Eastern Conference Play-In Tournament. Now, they face a ton of questions heading into the offseason.
Since rebranding from the Charlotte Bobcats to the Charlotte Hornets ahead of the 2014-15 season, the Hornets have only made the playoffs once. Their early season success during the 2021-22 season shined some light on the fact that Charlotte is a rising team in the Eastern Conference, but the Hornets were ultimately unable to claim a playoff spot, losing in the Play-In Tournament for the second consecutive season.
Having a ton of young, high-level talents and a growing fan base, the Hornets are definitely on the verge of ending their playoff drought. However, a critical offseason begins now for a franchise that has not been accustomed to playing postseason basketball over the last decade.
Finishing the year 43-39 and ranking ninth in the league in offensive rating, there is a lot of good things though that the Hornets can take away from this season.
LaMelo Ball continued to emerge as one of the best young talents in the league, being named an All-Star in just his second NBA season, Miles Bridges had a season that will gain him votes for Most Improved Player and the team also learned more about some of their secondary talents in P.J. Washington, Cody Martin and Jalen McDaniels.
However, former All-Star Gordon Hayward's future remains uncertain and Charlotte's frontcourt, primarily the center position, continues to be an unsolved mystery of this team that will be a highly discussed topic around the NBA in the offseason.
Gordon Hayward's Long-Term Status In Charlotte:
Hayward finished up his second season with the Hornets this year, but he only ended up playing in 49 games and missed 22 of the team's final 23 games, including their Play-In Game against the Atlanta Hawks on Wednesday night.
Since joining Charlotte in 2020, Gordon Hayward has only played in a total of 93 games and injuries continue to be a major concern for him moving forward. Set to make $61.5 million through the 2023-24 season, Hayward is likely going to be a player brought up on multiple occasions in offseason trade chatter.
The Hornets do not necessarily want to get rid of Gordon Hayward, as they truly do believe that he presents them with a path to success in the Eastern Conference, but his $30 million price tag for next season is eating away at the Hornets ability to go out and add talent in other areas they so desperately need upgrades, especially if Hayward is sitting out chunks of the season due to injuries.
By potentially trading Gordon Hayward, the Hornets would essentially be creating a "pocket" for themselves to bring in other high-level talents that could add up in contract value to that of Hayward's $30 million contract for the 2022-23 season.
Options At Center For The Hornets:
Addressing the center position is definitely something that could be discussed in a trade involving Gordon Hayward this offseason and there are quite a few intriguing names that Charlotte has been linked to over the years.
Indiana Pacers big man Myles Turner has been a target of the Charlotte Hornets for quite some time now and it would not be shocking to see the Hornets pull off a deal to acquire him this offseason.
Turner, 26, missed the Pacers final 39 games of the 2021-22 season due to a stress reaction in his left foot and set to enter the final year of his contract, there is a growing sense around the league that the Pacers will be entertaining offers for him this summer.
Since being drafted 11th overall by the Pacers in 2015, Myles Turner has averaged 12.7 points, 6.7 rebounds and 2.3 blocks. 
One of the best shot-blocking big men in the league, Turner would be a massive upgrade for the Hornets to add to their frontcourt and he would instantly have a dramatic effect on a team that ranked 23rd in defensive rating this season.
Another name to keep an eye on in connection with the Hornets is San Antonio Spurs center Jakob Poeltl.
According to HoopsHype's Michael Scotto, the Hornets and Spurs discussed a trade scenario at the trade deadline that included the likes of Jakob Poeltl going to Charlotte for P.J. Washington, Kai Jones and a first-round pick.
P.J. Washington's name has been brought up a lot in trade rumors over the last year and along with Gordon Hayward, he could be the means to the Hornets finally being able to add the "upgrade" in their frontcourt that they need.
In 68 games with the Spurs this season, Poeltl averaged career-highs in points (13.5) and rebounds (9.3), while shooting 61.8% from the floor.
Other centers that could become available in trade talks this offseason that the Hornets could show interest in include Utah Jazz All-Star Rudy Gobert, Houston Rockets big man Christian Wood and Sacramento Kings center Richaun Holmes.
Russell Westbrook Emerging As A Potential Trade Target For Charlotte:
The Los Angeles Lakers are entering the NBA offseason looking to fix the mistake they made last year by trading for Russell Westbrook.
The nine-time All-Star has not worked out whatsoever for the Lakers and he is expected to pick up his $48 million player option for the 2022-23 season, leaving Los Angeles with very limited options in terms of moving him.
Buying him out of his contract and stretching the money they owe him over the course of the next several years is certainly an option for the Lakers, but it is much more likely that general manager Rob Pelinka and Los Angeles' front-office will look to give up assets as incentives for a team willing to take on Westbrook's contract.
The Houston Rockets have been brought up as a team linked to Westbrook, as have the Charlotte Hornets in recent weeks.
How Russell Westbrook would fit in with LaMelo Ball and Terry Rozier in the backcourt is a question everyone would need an answer to in this situation, but it is possible that the Lakers could be willing to offer Russell Westbrook, Talen Horton-Tucker and/or Kendrick Nunn, and a future first-round pick for veteran Gordon Hayward, P.J. Washington and another rotational player from Charlotte.
Financially, the Hornets do have the capability to bring in Westbrook's massive one-year contract in a trade involving Gordon Hayward and this move could be somewhat intriguing for the Hornets.
Russell Westbrook fits their explosive, "push the tempo" style of play on offense and being the NBA's all-time leader in triple-doubles, LaMelo Ball could definitely learn a thing or two from Westbrook by his side in the backcourt.
Charlotte has never been a taxpaying team, which is likely a reason why they will stray away from entertaining the idea of a Russell Westbrook trade in the offseason, but the Lakers will be persistent in their efforts to unload the All-Star and the Hornets will be searching for talent to add in an offseason that presents very limited high-level talents available on the open market. 
The Related stories on NBA basketball
What's Next for the Houston Rockets Entering the Offseason?: Finishing with a 20-62 record, the worst record in the NBA this season, the Houston Rockets will face various questions heading into the offseason. CLICK HERE.
Here's What Spurs Head Coach Gregg Popovich Said in Regards to Possible Retirement: The San Antonio Spurs lost 113-103 on Wednesday night to the New Orleans Pelicans in the NBA Play-In Tournament, thus ending their season and leading to speculation about if Gregg Popovich would be retiring. CLICK HERE.