Why eBay Motors Is the Best Destination for Your Auto Needs

+

eBay Motors is better than ever, thanks to two fantastic new features: My Garage and Shop by Diagram. Here's why they're such game-changers for gearheads.
Gearheads and collectors know that eBay Motors has everything from parts to accessories to vehicles. You can source OEM, aftermarket and used parts from sellers, with millions of options for your strait-laced SUV, sporty new roadster or classic muscle truck. Need a full gasket set for a 1935-47 Packard Straight 8 engine? Buy it now. Lamborghini Countach turn signal and wiper controls? Make your best offer. Front struts for a 2014 Ford Explorer? An easy find, with free shipping included.
Now, two new features – My Garage and Shop by Diagram – make it easier than ever to find the perfect parts. My Garage stores your vehicle online and automatically curates your results to match the make, model, year, trim and engine, so that you know anything you buy will fit your ride. You can store up to ten vehicles, and the My Garage homepage even shows you deals and savings, essential care items, and the most popular accessories, tailored for your vehicle for even easier shopping. Once you've got your vehicles stored in My Garage, use Shop by Diagram to streamline the way you search for upgrades and repairs. This new features creates a digital schematic of your vehicle with clearly identifiable pictures, so you can easily identify the specific part you need even if you don't know its name. That way, you can purchase a replacement air conditioning part, head gasket or cooling system component quickly and efficiently.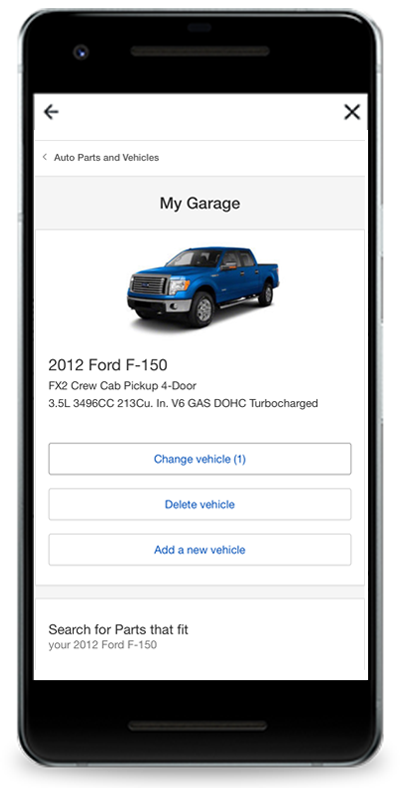 My Garage ensures that when you use eBay Motors, your search results will be limited to parts and accessories that will actually fit your car, truck or SUV. For example, I needed to locate an exhaust header pipe for my 1987 Subaru GL 4WD wagon. It's not easy to find parts for a 30-plus-year-old Japanese commuter car these days, but after entering its particulars into My Garage, a bevy of options popped up. I was then able to narrow my search by individual part type – exhaust pipes, heat risers, etc. – and sort the results by price or relevance, as well as isolate products based on brand, brand type, warranty, fitment and vehicle position. I found the correct part for a great price, and with eBay's Money Back Guarantee, I could trust that I would receive exactly what I ordered with purchase protection.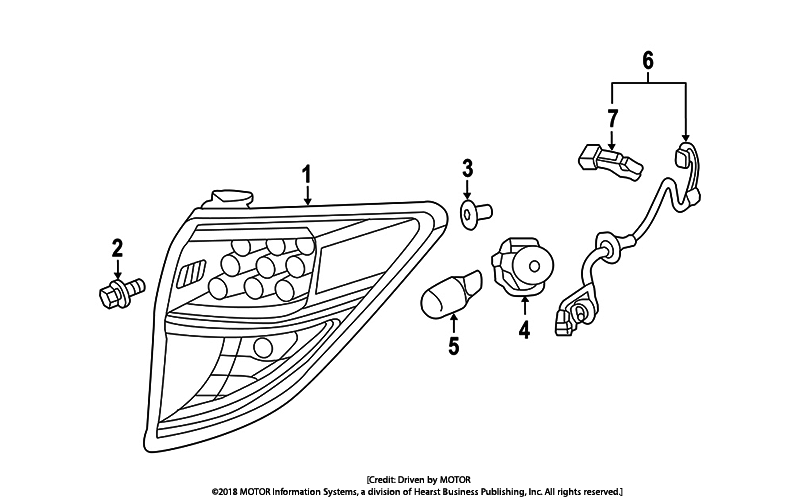 Shop by Diagram is the ultimate visual tool to help you identify exactly what your vehicle needs. With hundreds of vehicle schematics going back more than two decades, you can source a part without desperately searching the ID number online or trying to describe it to your search engine. Instead, simply select your exact vehicle, pick an overall category like "Air Intake & Fuel Delivery" or "Ignition Systems," then click the exact part on the interactive image and start shopping.
For instance, let's say you pop the hood on your Honda CR-V and find that the serpentine belt has snapped. You're ready to buy a new one and replace it yourself, but when you look closer, you realize the belt is still intact—it's actually some sort of pulley that has cracked, and you have no idea what it might be called or how you'd even begin to describe it. No need to worry: Just go to "Find parts on a diagram" on the eBay Motors homepage. Enter all the vital information on your vehicle so that you will only see results for your 2015 CR-V Touring Sport Utility edition with the 2.4L engine. Scroll to "Engine & Components," then refine it further to "Belts, Pulleys & Brackets" so you can see an interactive, fully shoppable diagram of each individual part of the pulley system. Shop by Diagram shows you that the broken component in your hand is the belt tensioner—just click the part, pick an option from the search results and get your CR-V back on the road, all without spending hours digging through the owner's manual.
With all the options at your disposal – and all the ways available to search for parts – eBay Motors can be the first and only stop on your parts shopping circuit. As an added bonus, shipping is almost always free, even on large items like tires, which makes the whole process easier and more cost-effective than heading to your local automotive store. Best of all, you don't even have to leave your chair to find everything you need to keep your vehicle running smoothly.