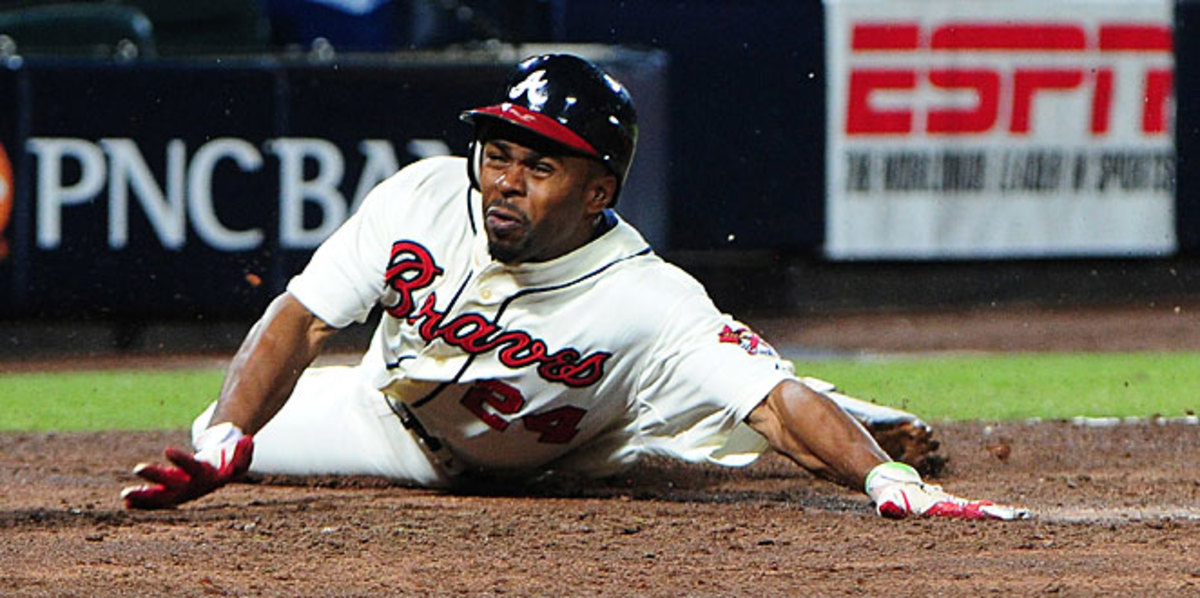 Across Arizona and Florida, major leaguers will be donning uniforms this week for the first time in the new season. Pitchers and catchers are reporting to big league camps with some position players already trickling in ahead of schedule, yet one very prominent name is still not dressing up and has no place to go.
Michael Bourn, a 30-year-old centerfielder who was an All-Star for the Braves last year, remains unsigned, and divining the identity of his future employer has been the offseason's most vexing question. Very shortly, it will encroach on spring training, too.
The possible contenders most needing a centerfielder when the Hot Stove first warmed up in November -- the Braves, Nationals, Phillies and Reds -- found one long ago. Other clubs that could use a centerfield upgrade, such as the Mariners and Mets, aren't expected to be in the playoff mix in 2013 but remain the best long-term fits, though the Mets are concerned about giving up their No. 11 pick in this year's draft as compensation.
If Bourn does choose to sign a one-year deal before re-testing the market next year, the clear-cut best mutual fit is with the Rangers, who lost Josh Hamilton in free agency to the AL West-rival Angels and aren't sure whether Nelson Cruz will face a suspension after the Miami New Times reported a link to performance-enhancing drugs. (Cruz has denied the allegation.) With three middle infielders deserving of steady playing time in Elvis Andrus, Ian Kinsler and rookie Jurickson Profar, one could move to centerfield long-term, meaning Texas likely wouldn't go beyond one year for a centerfielder. There are no indications the club would even do that, though the move would make too much sense to ignore.
Bourn's agent, Scott Boras, is obviously a skilled negotiator so don't expect him to blink and sign a one-year deal just because camps are opening. Last offseason, two Boras clients -- Prince Fielder and Edwin Jackson -- waited until late in the winter to sign. The former got $214 million over nine years from the Tigers after agreeing to a deal in late January. The latter signed a one-year deal for $11 million with the Nationals just two weeks before spring training began. Jackson pitched well for Washington before hitting the market again and landing a four-year, $52-million contract with the Cubs this offseason, albeit only after switching agents from Boras to Greg Genske.
For Bourn, waiting a year could be risky. The top centerfielders likely to be available a year from now are the Red Sox' Jacoby Ellsbury and the Yankees' Curtis Granderson, but both of those traditional big spending teams have centerfield options in-house: Boston could promote prospect Jackie Bradley Jr. or move Shane Victorino from rightfield to center; New York could move Brett Gardner from leftfield to center. Oakland (with Coco Crisp and Chris Young) and Milwaukee (with Carlos Gomez) are the only other teams with starting centerfielders set to be free agents next year, according to MLBTradeRumors.com's 2014 free-agent list.
How did Bourn get to this late stage, still unsigned? His situation has been dissected so thoroughly that it might as well be a biology class case study. There are concerns about giving a long-term contract to a player whose best skill is his speed. There are teams worried about forfeiting a first-round draft pick, which would be necessary because Bourn declined a qualifying offer from his former employer, the Braves. And there may be teams nervous about meeting his asking price, which was rumored to be higher than the five-year, $75.25 million contract his fellow free-agent centerfielder, B.J. Upton, received from Atlanta in November.
That list of grievances has become such an ingrained part of the discourse that it ignores the fact that, by some accounting, Bourn has been underappreciated the past few years. He is a first-rate defender with good plate discipline -- he drew walks in a career-high 10 percent of all plate appearances last season -- and he should still be a threat on the bases, as evidenced by his 42 steals a year ago.
There is no authoritative defensive statistic, but the advanced metrics agree that Bourn is great in centerfield. FanGraphs.com ranked him the No. 1 centerfielder in 2012, indicating that he more than doubled the runs saved of any other player at that position, with a 22.4 Ultimate Zone Rating, with Denard Span's 8.5 UZR in second place. Bourn is also the No. 1 centerfielder over longer durations, including No. 1 since 2008. By Fielding Bible's Plus/Minus system, he ranked No. 1 in the majors in center in two of the last three seasons.
Importantly, defense is more than just speed -- plenty of fast outfielders aren't good defenders, but Bourn is skilled at making reads off the bat and getting good jumps, too, which means he should age well defensively over the course of a four- or five-year contract. That doesn't mean he won't decline, but he shouldn't fall off a cliff.
At the plate, his batting average has deviated by some 30 points over the past four seasons, between the .260s and the .290s but his on-base percentage has been more consistently, varying only from .341 to .354 thanks to improving his walk rate three of the past four seasons. He drew a career-high 70 free passes last year and was the primary reason that the Braves ranked third in the National League in OBP from their leadoff hitters.
If Bourn is ready to settle on a one-year deal to join a contender, the Rangers are a great fit. Otherwise, Bourn will be back to what he's been doing: playing the waiting game, while everyone else gets back to actually playing the game.