Rivera was dominant with just one pitch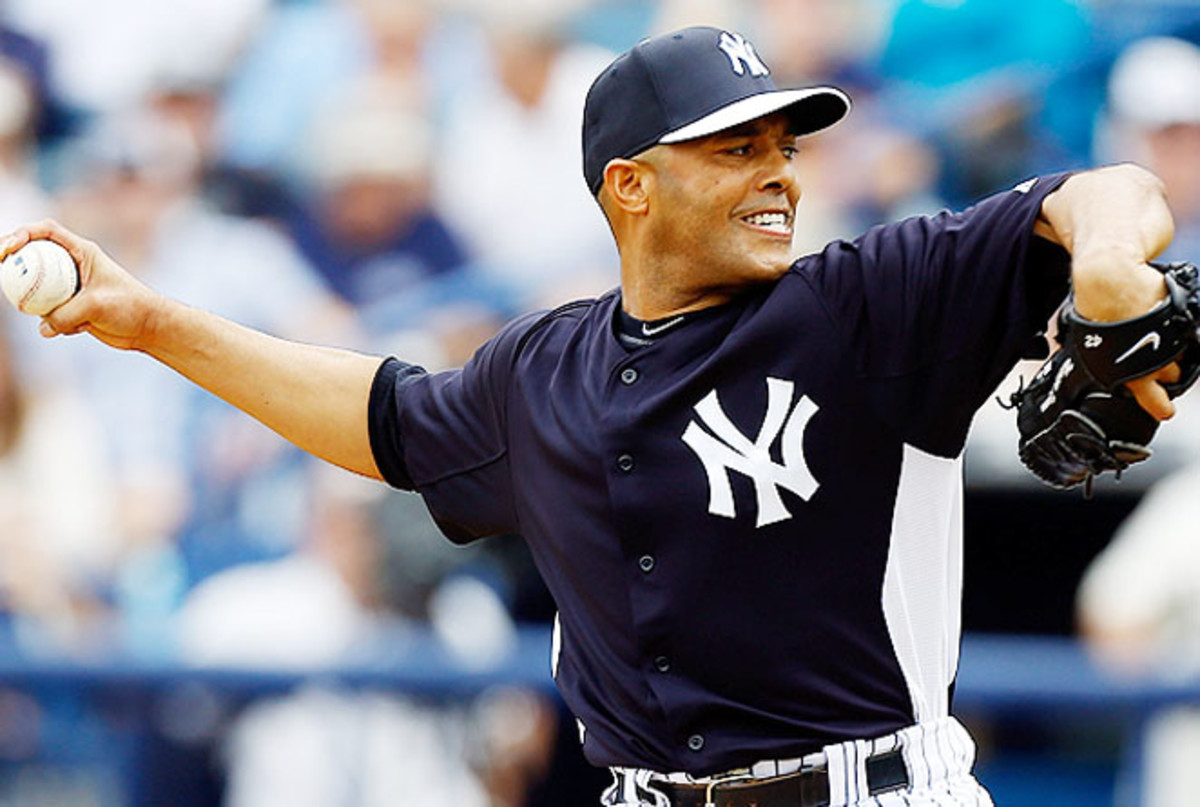 The greatness of Mariano Rivera is in his simplicity. He typically throws one pitch for one inning and gets one result: a save. The longtime Yankees closer never sought attention in a city where self-promotion is inescapable.
He once said he never selected nor endorsed his famous entrance song, "Enter Sandman." He handled each of his many successes and his few, though high-profile, failures with grace.
And so when it came time for the 43-year-old to consider his career and how much longer he would play, Rivera's assessment was much straighter than his signature pitch, the cutter that changes direction at the last instant.
"After this year I will be retired," Rivera said Saturday. "Now is the time. I have given everything. The tank is almost empty, so the little gas that I have left is everything for this year."
Given that Andy Pettitte -- who, like Derek Jeter, is such a close confidant that Rivera considers them family more than teammates -- unretired after a year away from the game, it was inevitable that someone asked whether Rivera would do the same. He jokingly said, "Andy, man, what's wrong with you?"
Indeed, Rivera will close his career with the same finality that he has saved 650 games in his 18 regular seasons and 16 postseasons.
"He's irreplaceable," Yankees general manager Brian Cashman said. "He's the greatest of all time."
New York was able to postpone its search for a long-term successor -- probably top set-up man David Robertson -- for a year after Rivera tore his ACL last May. He said he would have retired at the end of last year if not for the knee injury.
His final season, therefore, is also a comeback campaign, which got off to a strong start a few hours after his retirement announcement when he took the mound and threw a 1-2-3 fifth inning that included a pop-up and two strikeouts looking from the three Braves he faced. (Incidentally, Jeter also made his return after fracturing his ankle in the postseason, smacking a single on the first pitch he saw and grounding out to third in his second at bat.)
Success in sports, the saying goes, is about execution, a principle espoused by many but exercised no better than by Rivera. Deception can help, but the best don't need an element of surprise. Rivera doesn't try to throw his cutter past anyone -- he's just hoping to create mishits and weak contact -- and he hardly needs a catcher's sign for pitch selection.
Rivera threw his cutter so often you could practically set your clock by it. He has thrown it as 89 percent of pitches since 2007, the first year for which data is available at BrooksBaseball.net (which uses the pitch classifications of Pitch Info LLC); the other 11 percent of the time he threw a sinking fastball.
Against lefties Rivera has thrown his cutter 99 percent of the time. Ninety-nine percent!
Despite knowing exactly what's coming -- well, at least 99 times out of 100 -- lefthanded batters have managed a meager .206 average and .522 OPS against him since '07. Righthanded hitters, who saw the cutter 80 percent of the time over the last six seasons, batted .199 with a .539 OPS.
Before the 2009 World Series, the Phillies' second baseman Chase Utley, a lefthanded hitter, custom-ordered a bat specifically to use again Rivera -- and he grounded into a double play with it.
Rivera's career numbers -- including a big league record 608 regular season saves -- practically defy comprehension. My favorites:
*He had more seasons with an ERA below 2.00 (11) than above (seven) despite pitching in the game's greatest offensive era.
*His adjusted ERA -- i.e. his ERA+ -- is 206, the best among all pitchers with at least 1,000 innings.
*He is the only pitcher since the deadball era to throw at least 1,000 innings with a WHIP -- (Walks + Hits) / Innings Pitched -- that's less than 1.00; his is 0.998.
*His postseason ERA -- in 141 innings, or about two regular seasons worth of relief pitching -- is 0.70.
"I was relaxed when he came into the game as a catcher, and I'm relaxed when he comes into the game as a manager," said Yankees manager Joe Girardi, who caught Rivera from 1996 to '99 and has managed him since 2008. "That's probably about the highest compliment you can give a closer."
The course of Yankee history, which includes five World Series titles with Rivera working out of the bullpen, almost didn't happen for two seasons. When Rivera first reached the majors in 1995, he was a starter with, as Pettitte recalled, a "pretty straight fastball" and "not a great slider." By '96, however, with Rivera working in relief, he became a new pitcher.
"It was just amazing in one year to see the transformation, how he could dominate," Pettitte said. "And then from there the cutter and continuing to get better. You never would have thought in 1995 that he would be able to do what he has done."
Rivera almost didn't make that transformation -- to which he later added the transformative cutter in 1997 -- in a Yankees uniform. Cashman recalled that Rivera was nearly traded for Mariners infielder Felix Fermin before the 1996 season when New York entered the year unsure whether Jeter was ready to be the everyday shortstop as a rookie. The front office had to talk owner George Steinbrenner out of an impulsive trade in which New York would have sent either Rivera or reliever Bob Wickman to Seattle for Fermin.
"The life of the Yankees could have changed dramatically if a mistake had been made then," Cashman said.
Instead, as Rivera indisputably became the best relief pitcher in baseball history, he did so in New York, where one day he too will get a plaque in Yankee Stadium's Monument Park.
When asked what he was most proud of in his career, Rivera seemingly harkened Joe DiMaggio's famous line of "I want to thank the Good Lord for making me a Yankee" in saying, "The best thing for me that happened was the Lord blessing me with this uniform, the New York Yankees uniform, and being thankful for every minute that I wear this uniform to the day that I retire."
That day will happen this fall, at which point Rivera will take his rightful place alongside DiMaggio and all the other inner circle Yankee greats.