Healthy Rockies a 'totally different team' but record won't be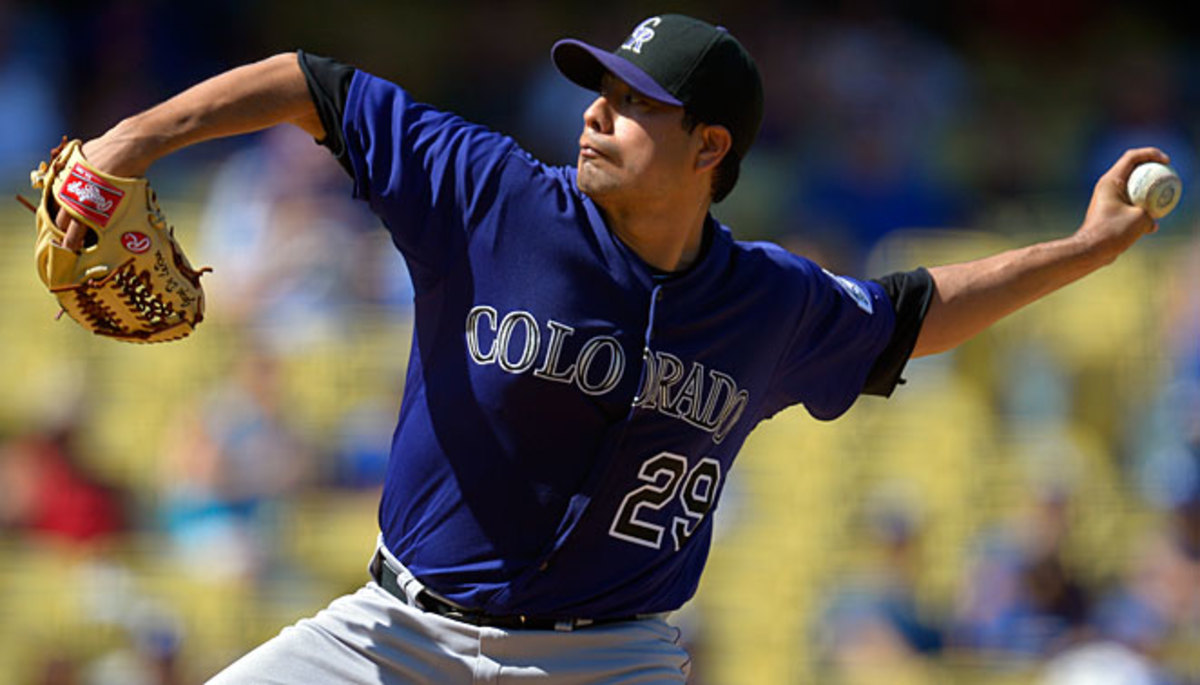 For more of SI.com's 2013 Major League Baseball season preview coverage, click here.
Colorado Rockies
2012 Record: 64-98, fifth in NL West
2013 Projection: 68-94, fifth in NL West
The Rockies are, by necessity, self-referential. The dynamic of playing in the high altitude of Denver's Coors Field is unlike and more extreme than any other home environment, so when the club seeks remedies to ongoing problems, Colorado casts its eyes toward its previous successes, rather than an opponents' perhaps more recent model. More specifically, that means drawing on the lessons of 2009, when it won the NL wild card and especially 2007, when it won the pennant.
"That '07 season will always be our hallmark," senior vice president of major league operations Bill Geivett says, "of getting to the World Series, the best season in franchise history and something we'll always look to and compare and contrast."
That experience, the Rockies hope, will help guide them as they attempt a rapid turnaround after losing a franchise record 98 games last season.
Much of those struggles were due to the fact that three key starters -- Jorge De La Rosa (elbow problems following his 2011 Tommy John surgery), Jhoulys Chacin (shoulder inflammation) and Juan Nicasio (microfracture surgery in knee), combined to make just 28 starts. That trio has returned, along with three key position players (Troy Tulowitzki, Todd Helton and Michael Cuddyer). The roster is essentially the same, but leftfielder Carlos Gonzalez says, "It's a totally different Rockies team."
Well, not totally different. As always, the most pressing challenge for Colorado is the pitching staff. Last year, the Rockies allowed a league-worst 890 runs, while the rotation posted a 5.81 ERA overall and 6.70 at home. In the last three seasons only four pitchers have made at least 10 starts for Colorado with an above-average ERA, as judged by ERA+ which adjusts for league and ballpark. Those four starters are Ubaldo Jimenez (traded to the Indians in 2011 for prospects), Chacin, de la Rosa and Nicasio.
With those three starters sidelined last year, Colorado implemented an experimental and ultimately unsuccessful program in which they shrank the rotation from five to four and held pitchers to tight 75-pitch limits, to be followed in tandem by a long reliever. The cap was designed to protect the young, inexperienced pitchers and to prevent facing an opponent a third time, when offensive numbers are typically their best.
The pitching program -- nicknamed Project 5,183 for the elevation of Coors Field -- has been scrapped in favor of a more standard five-man rotation, with pitch limits likely to be in the 90-to-100 range, which is in line with last year's average major league start of 95 pitches.
The question, however, remains: How can a Rockies pitcher be most effective? That's where the organization is borrowing on its past and emphasizing certain traits from those playoff clubs.
"They are the blueprint," pitching coach Jim Wright says.
Wright -- who was Colorado's pitching coach in 2002, its roving pitching coordinator from '03 to '08 and its bullpen coach from '09 to '12 before his offseason promotion back to pitching coach -- isn't the only familiar face from those teams to have returned. The club also hired Mark Wiley, a former big league pitching coach who was the Rockies' special assistant of baseball operations during in '07, to be the new director of pitching operations, and brought back catcher Yorvit Torrealba on a minor league contract, who was a part of both of their most recent postseason teams.
"[Our starters] kept us in the game, and they went deep in the game," says Torrealba. "The only way you can do that is by pounding the zone. It's not only 'throw the ball down,' you also have to get ahead and don't try to be too fine or too perfect."
Indeed, this spring Wright has stressed the importance of throwing strikes (with a target of 65 percent), getting groundballs (at least a 1.0 groundball-to-flyball ratio) and doing both consistently at home and on the road.
"We're attacking the bottom of the zone," new manager Walt Weiss says. "Be more concerned about that than being perfect in and out. There are a few ways to skin that cat. You don't always have to have a power sinker to get groundballs. We're really stressing the importance of each guy being able to identify how he puts the ball on the ground."
In addition to De La Rosa, Chacin and Nicasio, the Rockies need veteran Jeff Francis, who was the ace of the '07 team and came back to Colorado last year, to contribute in a big way. Pomeranz struggled mightily last season, with a 4.93 ERA and 1.48 WHIP, but he, along with Tyler Chatwood (5.43 ERA) and Christian Friedrich (6.17 ERA) represent the best of the organization's young big-league ready talent.
The bullpen, at least, ought to be a strength with Rafael Betancourt as the ninth-inning anchor behind Matt Belisle, Rex Brothers, Adam Ottavino and the newly acquired Wilton Lopez. The club is considering carrying an extra reliever for long homestands this year -- in Rockies history, they average 3.8 pitchers per road game and 4.2 at home, which equates to four extra relief appearances per 10-game homestand.
The already strong offense, bolstered by the return of Tulowitzki, should be another scoring machine, and the club is hoping the reassembly of its rotation will be enough.
"If I told you we went out in the free agent market and got a Gold Glove shortstop that could hit cleanup, I think everybody in our market would be very, very happy," Geivett says. "If I told you we went out and basically got three starting pitchers that have proven that they can compete and do very well at the major league level, I think everybody would say we had a good winter."
Now the Rockies have to make a pitch for a good summer and fall.
Biggest Addition: Troy Tulowitzki
The injury bug didn't just bite Colorado's pitchers in 2012. Rightfielder Michael Cudddyer played only 101 games because of an oblique strain, first baseman Todd Helon (torn labrum) was limited to 69 and Tulowitzki, the team's franchise shortstop, played only 48 because of a groin injury. When healthy, Tulowitzki is a Gold Glove-caliber defender -- the Rockies were error-prone last year -- and middle-of-the-order slugger with a .916 OPS or better in each of his last three full seasons.
The Rockies will always score runs, finishing 2012 with 758 (third in the NL), thanks to the contributions of their young players: Dexter Fowler had a career year (.300 average, .863 OBP); catcher Wilin Rosario hit 28 home runs; and infielders Jordan Pacheco, Chris Nelson, Josh Rutledge and D.J. LeMahieu all showed promise. That doesn't even include top hitting prospect Nolan Arenado, who should be up this year.
Still, it's the return of their three injured sluggers -- and especially Tulowitzki -- that means they may be able to cover even better for their shortcomings on the mound.
Biggest Loss: Alex White, RHP
No, the 24-year-old righthander never pitched well with the Rockies, going 4-13 with a 6.30 ERA in 134 1/3 innings over the last two seasons. Still, trading White to the Astros for Lopez appeared to be a concession that the high-upside former first-round pick whom the team acquired in the Jimenez trade wasn't going to develop as expected. Lopez, meanwhile, is a quality pitcher -- with a 3.14 ERA and 4.3 K/BB ratio in his four-year career -- but Colorado already had a good bullpen and is in need of more starting depth.
What they do best: Score (at least at home)
The Rockies haven't finished lower than third in the NL in runs scored over the past four seasons, even while missing the playoffs the last three. While they have scored more than 430 runs in their 81 home games each of those four years, they've failed to eclipse 300 runs scored in their 81 road games since their 2009 wild-card season.
What they do worst: Pitch
Last season Colorado allowed the most runs in the majors and 96 more than any other NL team. Only one pitcher logged 100 innings, the first time in baseball history -- including strike-shortened seasons and years with shorter schedules -- that a club hasn't had at least two pitchers reach triple-digit innings. The team's rates of walks-per-nine-innings and home runs-per-nine-innings both ranked 29th of the 30 big league clubs.
Bottom line
The veteran-laden 2012 Rockies had high hopes for the season, until a rash of injuries sent them careening off the rails. Presuming they have better health in '13, they should be much more competitive but they still don't have the pitching to project as a threat in the NL West.