Ailing and aging Yankees relying more than ever on rotation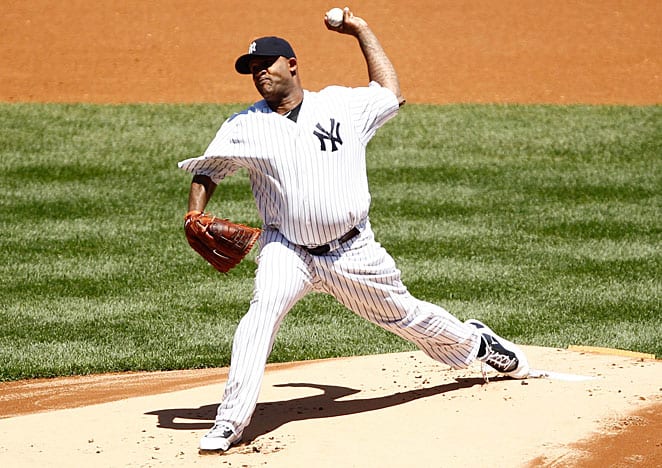 For more of SI.com's 2013 Major League Baseball season preview coverage, click here.
New York Yankees
2012 Record: 95-67, first in AL East, lost ALCS to Tigers
2013 Projection: 82-80, third in AL East
Someone has pinned an article, printed out from the Internet, to the bulletin board in the Yankees' spring clubhouse in Tampa, next to where the lineup is posted each day. The article recommends the consumption of such things as black raspberries, flax seeds and green, leafy vegetables, and the avoidance of butter, doughnuts and salt. Its title: "Seven Best and Seven Worst Foods for Health and Longevity."
The topics of health and longevity have come to dominate discussions about the 2013 Yankees. First, Alex Rodriguez underwent surgery in January to repair a torn labrum in his left hip. He won't return until mid-summer, at the very earliest, and after this season he will have four more years and $86 million remaining on his contract. Then, during his first plate appearance this spring, Curtis Granderson had his right forearm fractured by a pitch. Then Mark Teixeira suffered a strained wrist. Both Granderson and Teixeira will be on the disabled list until at least May.
Then, on March 4, general manager Brian Cashman landed awkwardly after a tandem parachute jump he made to raise awareness of a charity, and broke his right fibula and dislocated his right ankle. Should the groundskeepers and beer vendors at Yankee Stadium be concerned for their safety?
"No, I don't think so," says Cashman, who spent much of March in a wheelchair. "Sometimes you have stretches of good luck, and other times things don't go your way. It's part of the game. Good teams always find a way. We're planning to do what we've done in the past.
"At least they don't need me on the field," Cashman adds. "I can do my job with one leg."
Cashman vehemently rejects the prevailing notion that his job performance has been overly compromised by his club's ownership's desire to get its payroll under $189 million by next season, thereby resetting an escalating luxury tax penalty. "I'm not even talking about our payroll crap anymore," Cashman says. "Tired of it."
Then he talks about it.
"We're always looking to improve our club," he says. "We'll have one of our higher payrolls, if not our highest payroll ever, this year. It's taken on a life of its own. Seems like the media has adopted a storyline they don't want to let go of. The truth of the matter is, we spent a lot of money this winter. We haven't been as aggressive in free agency since '09. Even when George [Steinbrenner] was still alive, we weren't massively aggressive. Those are the facts. But we still spend a lot of money, run 95-win teams out there."
The Yankees did spend a lot of money this winter -- more than $90 million, which exceeds the likely Opening Day payrolls of half the teams in the majors. They spent it mostly on re-signing their own players, by picking up club options (on Granderson and Robinson Cano), by bringing back free agents (Hiroki Kuroda, Andy Pettitte, Mariano Rivera, Ichiro Suzuki), by giving raises to the arbitration eligible (including Phil Hughes, Boone Logan, David Robertson, Brett Gardner and Joba Chamberlain) and even by adding a few new mid-level free agents (Kevin Youkilis, Travis Hafner and, during spring training, Brennan Boesch).
What they did not do was make any expensive long-term investments -- among their offseason signings, only Ichiro got a two-year deal. That reluctance put them out of the running for any of the top free agents, and led opposing front offices, not just the media, to question their strategy.
"I still think they're going to go over 189 next year, and then it'll be the worst of both worlds, as this offseason will have been affected, and they'll still be hit with the tax," says one rival executive. "I think their whole thought process is flawed."
The immediate impact has been that the Yankees' lineup, the league's second highest-scoring a year ago, will include catcher Chris Stewart -- a career .217 hitter -- at its bottom and, at the season's beginning anyway, fill-in cast-offs and declining veterans like Youkilis, Hafner, Boesch and Juan Rivera at its heart. Cashman was so rightly concerned about his lineup as Opening Day approached that he took Vernon Wells off the Angels' hands, and agreed to pay more than $13 million of the $42 million owed over the next two years. Wells, though, is hardly the player he used to be; his .667 OPS since 2011 is higher than that of only five qualified players' over the same time period.
"It's not how you want to start," says manager Joe Girardi. "But baseball's not how you start. It's how you finish. It's a long haul."
The Yankees, from top to bottom, envision a gradual return to offensive normalcy as the season progresses, as, first, Derek Jeter returns to full health (he is dealing with inflammation in his surgically repaired left ankle, and is likely to begin the season on the disabled list), and then the rest of his injured teammates follow.
"We're definitely counting the days 'til they come back, and trying to win as many games as we can 'til they get here," says swingman pitcher David Phelps.
They're also eagerly awaiting the return of Michael Pineda, the flame-throwing former Mariner who suffered a labrum tear in his right shoulder shortly after the Yankees sacrificed top hitting prospect Jesus Montero to acquire him in January 2012. "Our hope is that we can have him join the party at some point," Cashman says. "If he does, and he returns to his previous abilities, we'd love to see the player we traded for." Cashman pauses. "Believe me."
Cashman has heard gloomy preseason prognostications before. "It was a couple years ago, when the Red Sox signed a ton of players and we had Bartolo Colon and Freddy Garcia and Eric Chavez in camp, that they were saying we're dead," says the GM of 2011, when his club won 97 games. This spring seems different, though, the missing pieces are more glaring. The Opening Day lineup might feature just one of the club's top 10 -- 10! -- home run hitters from last season, in Cano, on whom more will be counted than ever.
At least Brett Gardner, the sparkplug centerfielder, has returned to health, after a 2012 season in which an elbow injury limited him to limited him to 16 games. "I feel great," Gardner says. "I feel really rejuvenated and fresh."
That's a rare state of being at the moment in the Bronx.
Biggest Addition: Kevin Youkilis
That's right: the Yankees' biggest off-season acquisition was a 34-year-old former member of the Red Sox whose production is in a free fall. Since 2010, his batting average has dropped from .307 to .258 to .235, his OPS from .975 to .833 to .745. He ranked 91st in the majors in 2012 in that last statistic. He will likely be the Opening Day cleanup hitter.
Biggest Loss: Nick Swisher
"Our offense is going to be different than what we've previously run out, especially without Tex and Granderson at the start," Cashman says. One reason will be the absence of Swisher, who signed a four-year, $56 million deal with Cleveland. The acquisition of Swisher in 2008 from the White Sox in exchange for Wilson Betemit, Jeff Marquez and Jhonny Nunez was one of Cashman's greatest triumphs, as over four years Swisher averaged 26 home runs, 87 RBIs and an OPS of .850. New York will likely miss him more than it imagined.
What They Do Best: Simply, pitch
All of the focus on the lineup's woes, as justified as it is, has served to obscure the fact that the Yankees' pitching staff is stacked, and enters 2013 in better shape than it has any recent season.
"Last year, a lot of people were worried about us," says ace CC Sabathia. "We had a lot of question marks about what was going to happen. So to come in here this year and have it all be on us feels kind of good."
Although Phil Hughes is dealing with a bulging disc in his back, the rotation is strong all the way through thanks to the development of Phelps, and might have too many members should Pineda return. "Not a bad problem to have, especially when you know that very seldom do you get five starters to make 30 starts," says Girardi. "We lost two starters on one day last year, CC and Andy."
The bullpen, too, is deep, now that Mariano Rivera has fully healed from his torn ACL, Joba Chamberlain from his dislocated ankle and former Mariners closer David Aardsma from his Tommy John surgery. "Maybe we'll have a lot more 3 to 2 games this year, not 10 to 5," says Sabathia. "As long as they're wins."
What They Do Worst: Fill vacancies
Best-case scenarios rarely come true, especially for aging rosters like this one. Rehabs won't go as well as expected. Other players will get hurt. The Yankees will be trying to fill the holes in their lineup all season, and they will have few options -- not on the free agent market, not on the trade market, and not in the higher levels of the minor leagues. Of the organization's top hitting prospects -- catcher Gary Sanchez and outfielders Tyler Austin, Slade Heathcott and Mason Williams -- only Austin has played in a game above Single-A. It is not difficult to imagine them scoring 100 fewer runs than last year's 804, a decrease that would place them firmly in the middle of the pack.
Bottom Line
The pitching staff is too good for the Yankees to decline as precipitously as some imagine they will, but a thin lineup makes a second playoff miss since 1995 a distinct possibility.