Darkhorse Padres looking to build on last year's quality finish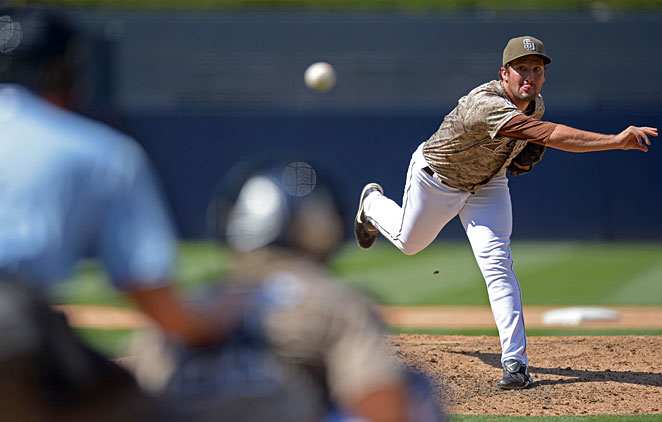 For more of SI.com's 2013 Major League Baseball season preview coverage, click here.
San Diego Padres
2012 Record: 76-86, fourth in NL West
2013 Projection: 71-91, fourth in NL West
Armed with veterans set to hit the free-agent market and an in-his-prime third baseman who would finish in the top-five in NL MVP voting, the Padres figured to be big sellers at last year's trade deadline. Instead, they extended leftfielder Carlos Quentin and closer Huston Street and rebuffed all offers for Chase Headley, whose good season turned great starting Aug. 1 when he finished the year with back-to-back months with at least nine homers and 30 RBIs. In the offseason San Diego re-signed starter Jason Marquis and reserve outfielder Mark Kotsay too.
"Our team was playing better and [with] the long-term problem here -- finding offense -- we felt like we finally built a group that could give us offense," general manager Josh Byrnes says. "We wanted to keep it together. We'll see where that takes us. We still need our pitching to be healthy and get our young arms back, but at least rolling through the offseason into this year we tried to keep this group together."
The Padres were 19-40 through June 8 last year, a dismal record coupled with horrendous run production (a .660 OPS and 3.3 runs per game), before finishing 57-46 -- just four games behind the torrid pace of the eventual World Series champion Giants -- with improved offensive numbers: a .721 OPS and 4.4 runs per game. Put another way: Before the All-Star break, San Diego's 305 runs were last in the NL; after the break, its 346 runs were fifth-best in the league. Contextualized for location, with half its games at spacious Petco Park, that's even more impressive.
"Fundamental baseball," starter Clayton Richard said by way of explanation for the second-half turnaround, echoing the sentiment of many of his teammates. "I know that's probably a lame answer, but really we started to play fundamentally sound baseball -- throwing strikes, playing good defense, things we weren't doing earlier in the season. Up in the middle we played a lot better defensively. We started to pitch better. And the way Chase went off. The addition of Carlos off the DL, that kind of ignited Chase."
This season the Padres' normally malleable lineup is changing as much as their typically inanimate home ballpark, which is to say, a little. The distance to the fences in Petco Park's gaps are coming in -- the consensus is that the ballpark will play more fairly, though remain a pitchers' park -- and the batting order is expected to see only one new addition in Gyorko, a rookie expected to be a strong offensive option at second base. His insertion in the lineup at that position could create a shortstop platoon between Everth Cabrera (against righthanded pitchers) and Logan Forsyth (against lefties), in addition to the pre-existing, effective one in rightfield with Will Venable and Chris Denorfia.
"I think on a payroll like yours we've got to have two-way players in the middle of the field," Byrnes said, "because paying for résumé corner players is just hard to do."
Headley, the organization's cornerstone third baseman, is now starting to earn franchise player money through the arbitration process, but his level of offensive output -- 31 homers, a NL-leading 115 RBIs and a .875 OPS last season -- exceeds what the club can afford on the free-agent market. Now the question is whether Headley can sustain last season's surge, which might become more difficult after he broke his thumb in mid-March, an injury that will keep him out for the first two weeks of the regular season.
More sustainable is the notion that the Padres will always be able to pitch -- they finished top-three in the NL in ERA in 2010 and '11 before falling to 10th last year -- by piecing together staffs of young, emerging talent (previously Mat Latos and currently Cory Luebke, for example); or veteran journeymen (previously Jon Garland, currently Jason Marquis and Eric Stults and potentially Freddy Garcia); as well as a few in-their-prime starters who might ideally slot into the middle of a rotation but in San Diego reliably pitch at the front (Clayton Richard and Edinson Volquez) before handing the ball to the annually strong bullpens the team always seems to churn out despite an ever-changing cast.
Unfortunately for the Padres, several of their top young arms who would have been in or competing for rotation spots have suffered major elbow injuries in the past year. Casey Kelly, the organization's top prospect, is the latest young Padres pitcher to need Tommy John surgery, joining promising big leaguers Luebke and Joe Wieland and minor league prospect Juan Pablo Oramas, all of whom had the operation last year. Also, the hard-throwing, high-upside Andrew Cashner is a little behind schedule after suffering a lacerated tendon in his right thumb in a hunting accident.
The one constant is pitching coach Darren Balsley, who took over in May 2003 and whom Marquis calls "the best kept secret in the game of baseball" for his film study, scouting reports and confidence-boosting reinforcement. Since Balsley's first full season of 2004, San Diego ranks fourth in the majors in ERA -- though only 19th in road ERA, which reinforces the pitchers' paradise that Petco has been.
With star relievers Street and Gregerson anchoring the eighth and ninth innings along with Brad Brach, Dale Thayer and Joe Thatcher in the sixth and seventh, closing out the last few innings shouldn't be a problem for the Padres. Finding the right rotation mix -- and having that offense propel them to a lead -- will be most important in determining whether San Diego is a darkhorse contender or another club expected to sell at the deadline.
Biggest Addition: Jedd Gyroko
As Byrnes notes, "A lot of good teams get a lot of offense from second base." He picked that up in his first job in baseball, when he worked for the Indians in the 1990s, who had Carlos Baegra and Roberto Alomar play second. Gyorko, a 24-year-old rookie, should help that area of need for the Padres. He crushed Triple-A pitching last year with a .328/.380/.588 slash line and 24 home runs in just 92 games. Primarily a third baseman in the minors, he has only played 48 games at second, but the club is optimistic he can make the transition. "He's got good hands, good feet, good arm," manager Bud Black says. "The guy's an infielder, bottom line."
Biggest Loss: Yasmani Grandal
There was no appreciable attrition from the Padres roster this offseason, except for Grandal's 50-game suspension for elevated testosterone, which the league announced in November. San Diego had three catchers play between 54 and 56 games last year -- Grandal, John Baker and Nick Hundley -- and only Grandal produced at the plate, hitting for an .840 OPS while catching, which represented a huge improvement over Baker's .575 and Hundley's .468. Overall, Grandal had .394 on-base percentage and now must sit out nearly one-third of the season.
What they do best: Late-game relief
Closer Huston Street and top setup man Luke Gregerson are the nucleus of one of the game's best back-ends of the bullpen. Last year Street saved 23 of 24 chances with a 1.85 ERA and a 0.72 WHIP that was the majors' third-best among pitchers with at least 35 innings. Gregerson, who's already compiled a very good four-year career, had his best season in 2012, pitching 71 2/3 innings with a 2.39 ERA, 24 holds and nine saves.
What they do worst: Routine defense
The Padres have great range, as evidenced by their No. 1 ranking among National League teams in Baseball Prospectus' park-adjusted defensive efficiency, but they frequently failed to make the standard play. San Diego made the second-most errors in the majors, just one behind Colorado, while turning the fewest double plays by a wide margin despite the pitching staff having the fourth-highest groundball rate.
Bottom Line
The Padres have once again assembled a young and largely anonymous roster but, presuming good health, they could stealthily enter September in the wild-card mix. A few injuries or regressions, however, could quickly sink them.