Posey, Harper headline SI.com's preseason All-MLB team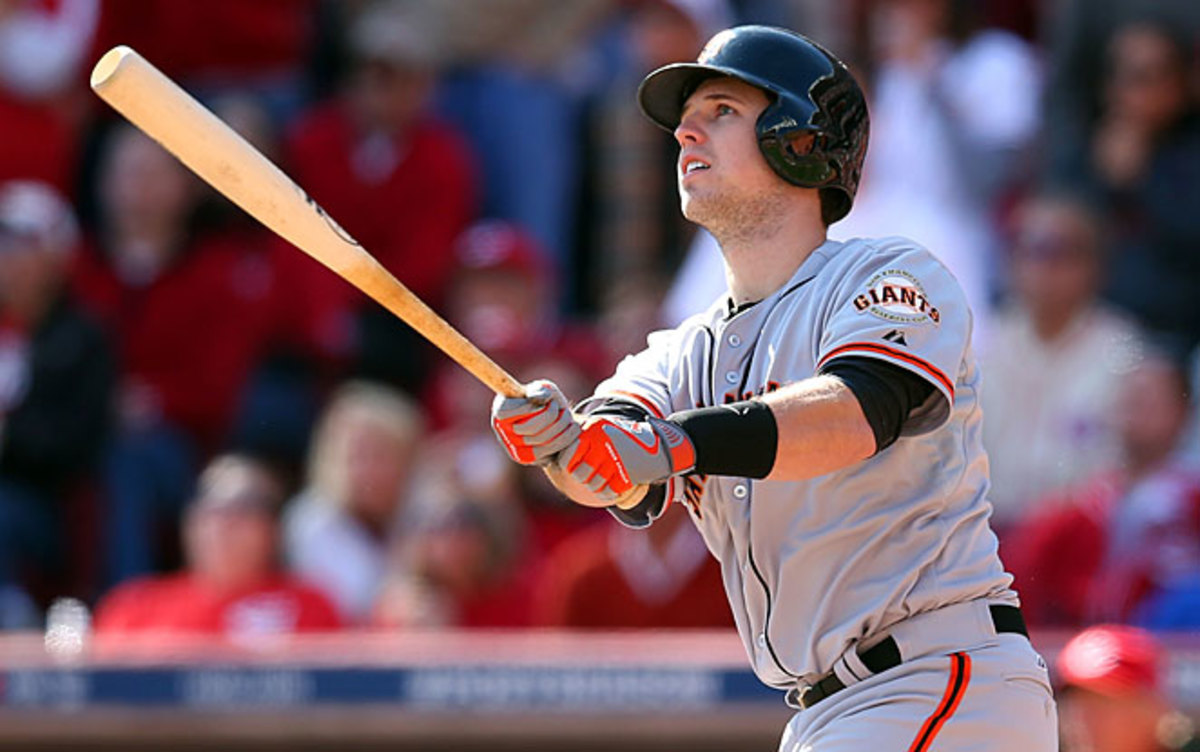 College sports have released preseason All-America teams for nearly a century. In that spirit, we present SI.com's preseason All-MLB team, the top dozen players (and one manager) in the game entering the 2013 season. Some picks were easy and some were incredibly difficult, but all serve as conversation starters. Opening Day is just around the corner, and these are the players set to dominate the league from that day forward.
For more of SI.com's 2013 Major League Baseball season preview coverage, click here.
? Catcher: Buster Posey, Giants
The best of a thriving group of young catchers that includes Matt Wieters and Wilin Rosario, Posey is already an MVP and a two-time world champ -- all before turning 26. He's not just a bat, though: Posey has gunned down base stealers at an above-average rate in each of his three seasons.
? First Base: Prince Fielder, Tigers
Sometimes overlooked on a team that features Miguel Cabrera and Justin Verlander, Fielder turned in his fourth straight year with at least a .400 OBP last season. Just 28, he needs 40 homers to reach 300 and is building a serious case for a spot in the Hall of Fame.
? Second Base: Robinson Cano, Yankees
He ruined a perfectly good who's-the-best-second-baseman debate by burying the other candidates in 2012. Cano set career highs in homers (33), runs (105), walks (61) and slugging (.550) while playing 161 games -- his sixth-straight year of at least 159.
? Third Base: Evan Longoria, Rays
His 2012 season was ruined by a strained left hamstring last April that cost him more than half the year. Still, Longoria recovered to hit .289/.369/.527 in 74 games. Now healthy, the 27 year old is one of the early favorites to take home the 2013 AL MVP.
? Shortstop: Jose Reyes, Blue Jays
Lost in the nightmare that was his 2012 with the Marlins: Reyes played in 160 games (his first full year since '08) and racked up 40 steals, a .347 OBP and double figures in doubles, triples and homers. Dealt to Toronto, he'll be a catalyst for the new-look AL East contenders.
? Leftfield: Bryce Harper, Nationals
Harper over Mike Trout was the hardest call to make on this list. Trout seems likely to take a step back from his monster 2012, while Harper should take a step forward. The latter's play last year at age 19 put him in a class with greats such as Mel Ott, Ty Cobb and Mickey Mantle. Those outfielders became MVP-caliber ballplayers at 20, which is a reasonable expectation for Harper this season. He's the best player on what appears to be the game's best team.
? Centerfield: Andrew McCutchen, Pirates
Put him in New York, Los Angeles or Chicago -- any place where the baseball season doesn't end in August -- and he'd be on the cover of video games every year. McCutchen is as complete a player as there is in the NL, and at 26 he still hasn't reached his peak.
? Rightfield: Giancarlo Stanton, Marlins
His at bats are can't-miss moments in every game; he leads the majors in raw power, rendering him capable of blasting 500-foot bombs. With 93 homers through his age-22 season, he's on the short list of history's best young power hitters.
? Designated Hitter: Billy Butler, Royals
The DH spot isn't just for old guys: The 26-year-old Butler is the best in the game, an iPhone-age replica of Kansas City great Hal McRae. Butler is still learning how to translate his strength into long balls, belting a career-high 29 in 2012.
? Righthanded Starting Pitcher: Stephen Strasburg, Nationals
His 2012 was more about what he didn't do -- he didn't pitch a full season due to management's protecting his right arm -- than what he did accomplish: a 15-6 record, 3.16 ERA and 197 strikeouts in 159 1?3 innings. That's a shame, because he was a Cy Young candidate before the shutdown. Unleashed, Strasburg will earn some hardware this year.
? Lefthanded Starting Pitcher: Clayton Kershaw, Dodgers
His stats -- he has led the majors in ERA and the NL in WHIP in each of the past two seasons -- jump off the page, but that's only half of Kershaw's story. The smooth lines of his lefthanded delivery, the high leg kick, the way his curve tumbles down -- his game is poetry in motion.
? Closer: Craig Kimbrel, Braves
Here's a stat: 116 out of 231 -- better than one out of every two. Kimbrel whiffed the majority of the batters he faced in 2012, a feat that no previous pitcher had accomplished (and that none are likely to repeat). He's easily the best closer in baseball.
? Manager: Joe Maddon, Rays
In today's game, no one blends game management with people skills the way Maddon does, and it shows: Tampa Bay has finished above .500 in each of the past five years. Maddon lets the front-office stats guys procure the players to win, and then he keeps them loose, happy and focused.