A's won the marathon but are still feeling the effects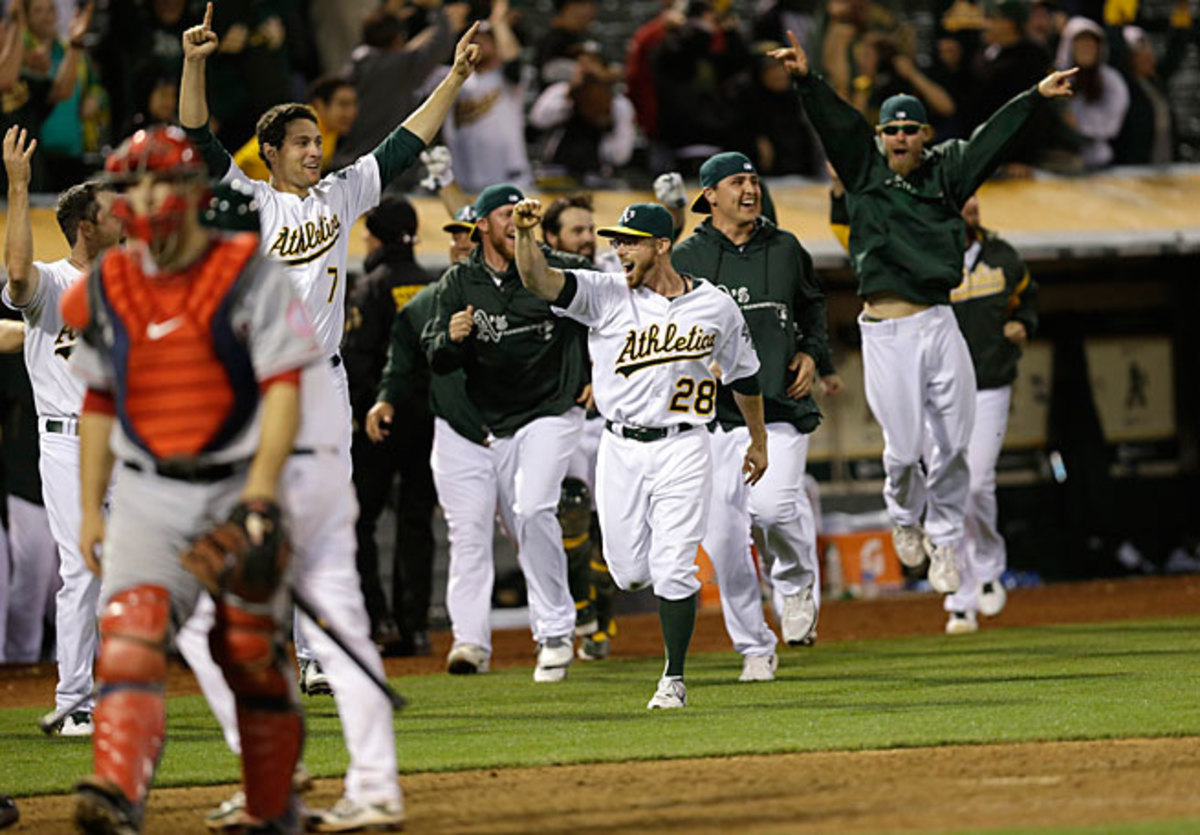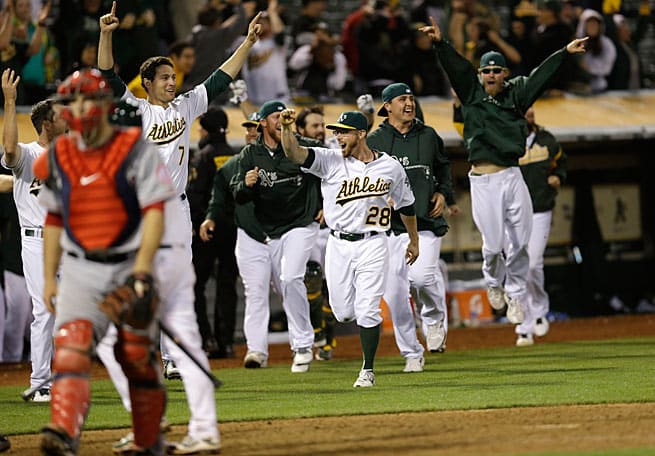 NEW YORK -- The Angels' seventh pitcher of their marathon game against the Athletics on April 29 was righthander Michael Kohn, who entered in the 16th inning with a fresh arm against a lineup of tired bodies. At that point, Oakland leftfielder Seth Smith said, "I could barely keep my eyes open, much less hit a 95-mile-per-hour fastball."
It's of little surprise, therefore, that Kohn threw two perfect innings of relief with four strikeouts. By the 19th inning, the game was six and a half hours old, and fatigue was even more of a factor. The first pitch Angels righty Barry Enright threw to Oakland's Brandon Moss was clocked at 83 miles per hour, and Moss swung and missed.
"He threw a changeup by me -- I was late," Moss said. "That's how bad it was."
But Enright threw a second changeup, this one a little lower in the zone, allowing Moss to get around on it, and he crushed a walkoff homer. It was Moss' second home run of the game but first of the day, as the previous blast came 13 innings ago on the other side of midnight with four strikeouts in-between.
After Moss touched home plate, teammate Josh Reddick told the game's hero he'd have to give himself the customary shaving-cream pie to the face because he was too tired to deliver it. As far as walkoff victories go, the celebration was muted.
"That one had a lot less [exhilaration] than I thought it would," Moss said, "just because the adrenaline was gone and the energy was gone. We were just happy to get the game over with. You don't want to play that long and lose the game."
Every game matters, of course, and it's a lesson the A's know well after besting the Rangers for the AL West crown by just one game last year, avoiding the one-game wild card (which Texas lost). With a second wild card in each league, the standard for playoff entry has been lowered toward the pack, where a single extra victory is more likely to determine who plays in October.
Marathon games are tiring on position players -- 10 A's and Angels got nine plate appearances last Monday -- and can deplete bullpens, as each club used seven pitchers in relief as the two teams combined to throw 597 pitches over 6 hours, 32 minutes. This game even depleted rosters, as four players were placed on the 15-day disabled list with injuries suffered in the game.
The Angels lost centerfielder Peter Bourjos to a hamstring strain, which required a trip to the DL. Oakland outfielders Coco Crisp and Chris Young left with leg injuries and lefthanded pitcher Brett Anderson, who was originally scratched from the start with an ankle injury, pitched 5 1/3 innings of relief but left the game after worsening the ankle ailment; all three were subsequently placed on the 15-day DL, emphasizing the heavy cost of the win.
"It's going to take us at least 15 days and three guys to recover," A's manager Bob Melvin said.
The injury toll could have been worse, with relievers getting pushed to the limit and sometimes position players getting summoned to the mound -- who can forget a pair of fielders, Baltimore's Chris Davis and Boston's Darnell McDonald, deciding a game with their pitching in a 19-inning game last season? Smith, who started at DH and moved to leftfield later, was next in line to pitch for Oakland had the game gone an inning or two longer.
Last Monday's winning pitcher, A's reliever Jerry Blevins, had already pitched in back-to-back games. He told the club he'd be available for a third straight day only in an emergency situation and was called on to replace Anderson in the 18th inning. Blevins laughed at the suggestion that flipping the daily calendar page at midnight helped him gain strength.
"I think that's how it worked, I had a full day of rest," Blevins joked. He added, "We were just happy to win a game like that. It would be heartbreaking and devastating to lose a game when you go that deep and use your whole team."
Oakland's is an extreme case, given the injuries it suffered, but it has gone 3-2 since its 19-inning win. Despite losing Crisp and Young to the DL, they've benefited from good outfield depth, with Smith, Yoenis Cespedes and Josh Reddick all still healthy. The Angels, however, have gone 2-4 since, though their problems go far beyond one extended game.
Across the majors there have been 21 games of at least 18 innings since 2000, and there appears to be only the slightest of hangovers associated with playing in such games.
SI.com studied how teams have played in their next 10 games following marathons of at least 18 innings and found that the average winning percentage was .461. That's a shade below the expected .500 winning percentage for selecting 10-game swaths of 38 teams of varying abilities and varying times during the seasons.
(For the sample, two games and the four teams that played in them were excluded: the recent Angels-A's game because those teams haven't played 10 games since and the 19 inning-game played between the Red Sox and White Sox on July 9, 2006, because it immediately preceded the All-Star break, meaning each team immediately had three days off.)
The most notorious recent example is the Pirates, who entered play on July 26, 2011, in a tie for first place in the NL Central but lost 4-3 in 19 innings to the Braves on a bad call at the plate, when Julio Lugo was incorrectly ruled safe for the winning run. Pittsburgh, which entered the 19-inning game with a 53-47 record, went on to lose nine of its next 10 and went 19-43 to finish the season.
Not all results of a marathon game are bad, however: Hall of Fame pitcher Gaylord Perry threw 10 innings of shutout relief with nine strikeouts on May 31, 1964, a game the Giants eventually won 8-6 in 23 innings. As Perry wrote in his autobiography, that game was the first time he ever threw the spitball in a crucial situation, the outlawed pitch that helped propel him to 314 career wins.
Spitballs aside, the real lesson when playing a game of indefinite length is that every game matters come early October's day of standings reckoning. And maybe this lesson too: If you're a reliever, throw a fastball.