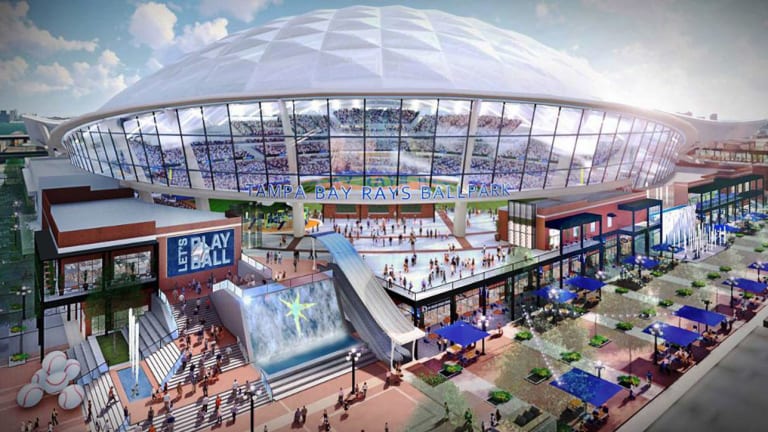 The Rays' Proposed New Stadium Looks Beautiful, But Who Is Going to Pay for It?
Most can agree that the Rays need a new stadium. The new proposal is a great start, but the public should not foot the bill.
Most can agree that the Rays need a new stadium. The new proposal is a great start, but the public should not foot the bill.
The renderings are bright and beautiful: a modern stadium with a glass roof, situated in a vibrant and popular downtown area. As the Rays unveiled the first images on Tuesday afternoon of what they hope will be their new ballpark, it was easy to imagine a future in which baseball in Tampa—long relegated to a dingy Tupperware container of a stadium—is an actual attraction.
There's only one problem with that vision: Nobody knows who's going to pay for it.
That's going to be the question hanging over the franchise as it seeks to go from the old and unpleasant Tropicana Field in St. Petersburg to a gleaming new edifice in Ybor City in downtown Tampa. But with a potential price tag of nearly a billion dollars, at least some of the cost of that relocation will fall on the residents of Tampa—unfairly, undeservedly and, if it comes to pass, disastrously so.
This is a battle that's played out repeatedly over the last decade, and one that cities don't win. Just in that span, taxpayers in Washington, D.C., New York (twice), Minneapolis, Miami and Atlanta have forked over hundreds of millions of dollars through deals made by local governments in exchange for ballparks. Money that could have been spent on improving local infrastructure or better salaries for civil servants instead went to franchises worth billions and their absurdly rich owners, all of whom cried poor when the time came to pay.
PHOTOS: Tampa Bay Rays Unveil Plans for New Stadium With Roof, Sliding Glass Walls
Will Tampa be next? While nothing is set in stone with regards to the Ybor City stadium, the estimated cost of building it—featuring a translucent roof and sliding glass walls but also the fewest seats of any in the majors—sits at $892 million. But as Rays team president Brian Auld told reporters at Tuesday's event when asked about who would be on the hook for that, "We don't have those answers yet."
The math is inescapably bad for Tampa. The Rays have previously said that they will contribute somewhere from $150–400 million on their own, depending on whether they can secure naming rights to the stadium. The team and city hope to get a large chunk of money from private financing and local businesses. But even if the city's resident plutocrats open their wallets, that option is unlikely to bring in more than a few hundred million.
That leaves Hillsborough County responsible for the rest—maybe as much as half a billion dollars. That will be asked of government already trying to trim its budget for 2019 and which needs money for its transportation and education departments; the latter is looking at spending cuts of upwards of $31 million in the coming year. Tampa can't count on Florida for assistance either. The state legislature has repeatedly stated its opposition to spending public money on stadiums after the fiasco that was Marlins Park, which will cost Miami north of a billion dollars over the next 30 years thanks to the horrendous deal the city and county negotiated with the duplicitous Jeffrey Loria.
Tampa has done this particular dance before, too. In 1996, the Buccaneers under new owner Malcolm Glazer got Hillsborough County to pay every penny of the cost for building Raymond James Stadium—$192 million through a tax hike approved by voters. That sweetheart deal even included a lease agreement in which the government paid for nearly all of the stadium expenses while the Bucs kept the proceeds. Glazer, by the way, had a reported net worth of $4–5 billion when he died in 2014. Even though the team won a Super Bowl in 2002, it's hard to imagine there's anyone who looks fondly upon that swindling.
Likely with Raymond James in mind, Hillsborough County commissioners have already said that they don't want taxpayer dollars subsidizing the new stadium. It's unlikely that a combination of the Rays and private investors, meanwhile, would be able to put up enough money to build it on their own. So what happens in this impasse?
Already, the Rays are trying to spin this as something the public should support for civic reasons. "It's not just a ballpark, it's a community asset," said team senior vice president Melanie Lenz, while Auld proposed the idea of the Ybor City stadium serving as a year-round park and facility for residents. "A new ballpark would bring a worldwide attraction to Tampa Bay, further enhancing our reputation as one of America's top places to live," gushed a recent letter to the Tampa Bay Times authored by two members of Rays 2020, a local advocacy group.
Putting aside the ludicrous idea of selling a major league baseball stadium as a billion-dollar community center, the theory that investing public money into ballparks somehow enriches the city around them has been proven a lie over and over and over. There is no financial justification for sinking taxpayer money into athletic facilities.
Want proof? Ask Miami, on the hook for a billion dollars in bonds until 2046. Ask Georgia's Cobb County, which covered $400 million of the $622 million spent to build the Braves' SunTrust Park—which replaced a perfectly functional Turner Field—and now faces a budget shortfall of as much as $55 million in 2019 that will force it to close public libraries. Ask voters in Arlington, Tex., who will spend $1.7 billion over the next 30 years to build the Rangers a new stadium despite the fact that the team's current home, Globe Life Park, is only 22 years old and cost the city $135 million when it was built.
On and on it goes. When sports franchises want new stadiums, it's the public that always loses. Why would it be any different with the Rays, who have shown time and again that they refuse to invest in their own roster? Forbes has the team worth nearly a billion dollars, and the new TV deal the Rays signed over the offseason will pay an average of $82 million per year over the next 15 years. Despite that, Tampa's payroll is just $91 million, third lowest in baseball, after a winter in which the front office cut salary and dealt away veterans. Is this really a franchise that deserves a sizable public investment from a city already strained financially?
The Rays will argue that their current stadium limits their ability to compete—a view shared by Commissioner Rob Manfred—and they're right. Tropicana Field is decrepit and poorly located, and that's a large part of why the team is routinely among the league laggards in attendance. But that's no excuse to siphon cash out of the public coffers. A better home and better results shouldn't be contingent on Tampa residents diverting money meant for more schools and functional roads toward a franchise run by the wealthy that doesn't spend.
The goal for the Rays' Ybor City palace is first pitch in 2023. Perhaps they'll realize that dream, or maybe it will be derailed along the way. But for as happy a picture as the team painted of its better tomorrow, that can't come at the cost of the city's future prosperity and health. If the Rays really want that beautiful glass home, they should pay the price themselves.