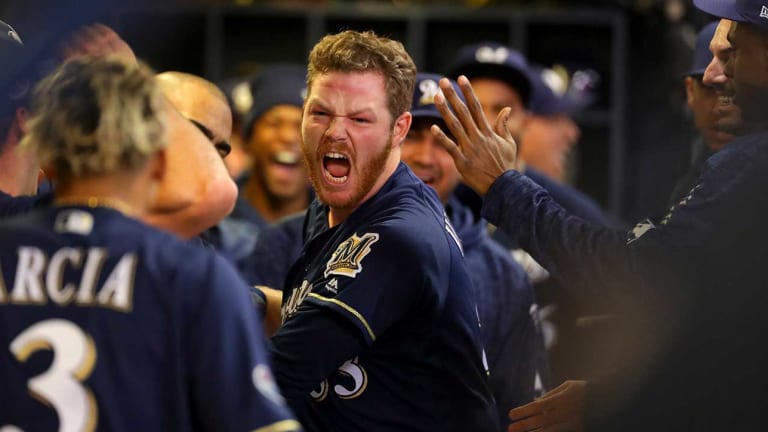 Brandon Woodruff's Home Run Off Clayton Kershaw Reminds Us How the Postseason Likes to Surprise
There are no promises or perfect predictions when it comes to postseason baseball. Relief pitcher Bradon Woodruff homering off future Hall of Famer Clayton Kershaw provides perhaps the best example of that.
There are no promises or perfect predictions when it comes to postseason baseball. Relief pitcher Bradon Woodruff homering off future Hall of Famer Clayton Kershaw provides perhaps the best example of that.
MILWAUKEE — Two of the most analytically driven teams, the Dodgers and Brewers, can spend days and nights crunching data to prepare for any eventuality that might come their way in the National League Championship Series. The smallest incremental advantage in the numbers is sought like precious metals buried in a vast mine.
And after all that cold, hard study the game can turn on something nobody could have foreseen, not any of the algorithm-writing data analysts, not the wildest-eyed fiction writer, not even the father of the pitcher who caused such chaos.
"I just never saw him run around the bases before," said Richard Woodruff, the father of 25-year-old Brewers pitcher Brandon Woodruff, when asked his thoughts upon seeing his son homer off three-time Cy Young Award winner Clayton Kershaw in NLCS Game 1 Friday night. "That's what I was thinking. 'Man, I've never seen him run the bases.'"
"Ha!" the son said when told of his father's reaction. "That's him. He's crazy."
The Brewers were losing to Kershaw and the Dodgers, 1-0, when Woodruff, leading off the third inning, hit one of the most shocking home runs you will ever see in a postseason game. How shocking? Just consider these circumstances:
• Kershaw never before had given up an extra-base hit to a lefthanded-hitting pitcher in his career. They were hitting .089 against him, with 11 singles in 124-bats, 82 of which ended in strikeouts.
• In two-strike counts against Kershaw, lefthanded-hitting pitchers were 4-for-107, a .037 batting average.
• Kershaw is the toughest lefty for lefthanded batters to hit all-time (minimum 250 starts), holding them to a .195 batting average.
• Woodruff had only 90 at-bats in eight years since high school–three years in college, three years in the minors and two years in the majors.
• Only two relief pitchers had ever hit a postseason home run before Woodruff did it: Rosy Ryan of the 1924 Giants and Travis Wood of the 2016 Cubs.
Brewers Tag Clayton Kershaw Early and Hang on for NLCS Game 1 Win
Woodruff's home run was baseball's version of a godwink, a light-hearted bit of evidence of some power beyond all the algorithms and permutations that defies humanity's attempt to control outcomes. Why, even before the game Brewers manager Craig Counsell, anticipating his finely crafted bullpen usage, talked about how the start of the game was paramount to his "decision tree," a phrase Connie Mack never uttered.
Once in a while, baseball just has to laugh at the idea that everything can be controlled. With Woodruff's home run, it let out one great big belly laugh.
The Brewers won the game, barely, 6-5, with the seventh Milwaukee pitcher, Corey Knebel, striking out Justin Turner with the tying run 90 feet away. But Woodruff's home run changed the entire night, sending a joyful jolt through the Miller Park crowd but even more importantly through the Brewers' dugout.
"Crazy," infielder Travis Shaw said. "We were all going nuts. Everybody was fired up. In fact, we had to chase him out of there because he still had to go back out and pitch. He was too fired up."
The fact that Counsell, more Admiral Hook than Captain Hook with his bullpen usage, let Woodruff hit at all is something of the start of the surprise. Counsell pulled his starter, lefty Gio Gonzalez, after just two innings in part because after Kershaw the next six Dodgers due to bat were righthanded. This is Counsell's plan throughout the LCS: get Dodgers manager Dave Roberts to flip his lineup early, creating better matchups mid-game and endgame as he switches back to a pitcher who throws same-sided as his starter. In Game 1, Woodruff was the middle step in his left-right-left dance.
The only hitch was that Woodruff was due to lead off the bottom of the inning. Counsell wasn't about to burn a hitter that early.
"I was hoping if anybody was going to take that [pitcher's first] at-bat it would be Brandon," Counsell said.
Though Woodruff hasn't hit much, Counsell and everybody around the Brewers know from batting practice sessions that the guy can swing it.
Watch: Brewers Reliever Brandon Woodruff Blasts Homer Off Clayton Kershaw
Woodruff is from Wheeler, Miss., an unincorporated community along side Booneville, which was named for one of Daniel Boone's relatives. It's about 25 miles from Tupelo. Woodruff attended Wheeler High School, where his dad works in the maintenance department. Woodruff played basketball and baseball there. He was so good on the mound–he threw 94 even then–the Texas Rangers selected him with their fifth-round pick of the 2011 draft. Mississippi State offered him a scholarship.
And yes, he could hit. Woodruff hit .618 his senior year in high school with three home runs.
"Oh, man, could he rake," Richard said. "He played anywhere on the field–anywhere they needed him. He could really rake."
The Rangers sent a scout to the Woodruff home to get him signed a pitcher. The scout offered him $400,000 to sign.
"Let me ask you something," Richard said to the scout. "Did you play college baseball?"
The scout said, "Why, yes, sir, I did."
"Okay," Richard said. "Would you trade that experience for any amount of money?"
"No," the scout replied.
"So then, why are we talking?"
And off his son went to Mississippi State. As a freshman, Woodruff pitched in 12 games and took 19 at-bats as a backup rightfielder. He hit .105–and didn't hit again until four years later in the minors.
NLCS, ALCS Predictions: Which Teams Are Headed to the World Series?
Asked why his son didn't hit more in college, Richard smiled and said, "You know, that's a very good question. A very good question."
His at-bat against Kershaw was a masterpiece. Kershaw worked ahead, 1-and-2, when he figured he would dismiss him with a curveball. Woodruff spat on it, though it barely tumbled below the bottom of the zone. Kershaw came back with a 92 mph fastball over the plate. Woodruff fouled it back.
That's when Kershaw made the mistake of throwing the same pitch to virtually the same place–if you can call challenging a .222-hitting relief pitcher a mistake. Woodruff crushed a no-doubter. The yard went bonkers.
The at-bat typified the dropoff in Kershaw's stuff from what he brought to the mound in NLDS Game 1 against Atlanta, when he threw eight shutout innings. Time and time again Kershaw worked to the brink of a strikeout, but he simply lacked the stuff to put away Brewers batters.
Kershaw threw 30 pitches with two strikes, and only twice did he manage to get the third one. The Brewers fouled off 24 of his 74 pitches, and swung and missed only five times. Choosing to throw just 10 curveballs, Kershaw was too easy of a puzzle to solve. He threw 86 percent of his pitches in the small window between 88 and 93 mph.
After Woodruff's homer, the Brewers tagged Kershaw for four more runs before he was pulled without getting an out in the fourth inning.
Though the Dodgers lost the game, they did succeed in achieving one goal coming into the series: make Counsell use his bullpen early and often. The way the Dodgers see it, in a seven-game series, the more Milwaukee uses its relievers the more they are subject to fatigue and familiarity. Time, they believe, is on their side when Counsell exposes his relievers to so much work.
ALCS Preview: Can the Red Sox Put an End to the Astros' Title Defense?
Josh Hader, who threw a season-high 46 pitches to cover three innings, will not be available in Game 2. Closer Jeremy Jeffress was pushed into the game in the eighth inning, and the Dodgers reached him for two run-scoring hits.
Asked if he could ask for 21 outs from his bullpen again in Game 2, Counsell said, "Yeah, I could. We didn't even use [Corbin] Burnes. We're in good shape still. I wouldn't say great shape, but on a scale of 1-to-10, I'd say we're about an eight. We're fine."
I'm not sure about the attrition theory. This is how Milwaukee has been playing ball all year, especially lately. The Brewers have won 12 straight games. In those games Counsell has used 72 pitchers. It's extraordinary how reliable his bullpen has been when he relies on so many. Milwaukee is now 35-19 this year in games decided by one run, including 22-5 at home.
Oh, yes, and Woodruff, who threw two scoreless innings, is not likely to be available in Game 2–unless Counsell wants to use him as a pitch hitter. It was an extraordinary night, one that reminded us how postseason baseball loves to surprise us. Nobody saw this coming, not even Richard and his wife, both of them wearing their "Woodruff" number 53 jersey.
"My phone, it's been blowing up from everybody back home," Richard said.
Until Friday night, no relief pitcher had ever thrown two shutout innings and hit a home run in the same postseason game. Until Friday night, the baseball world, including Kershaw, knew very little about Brandon Woodruff. Until Friday night, we thought we knew how Dodgers vs. Brewers might play out. Now? Well, we can't wait for the next godwink.