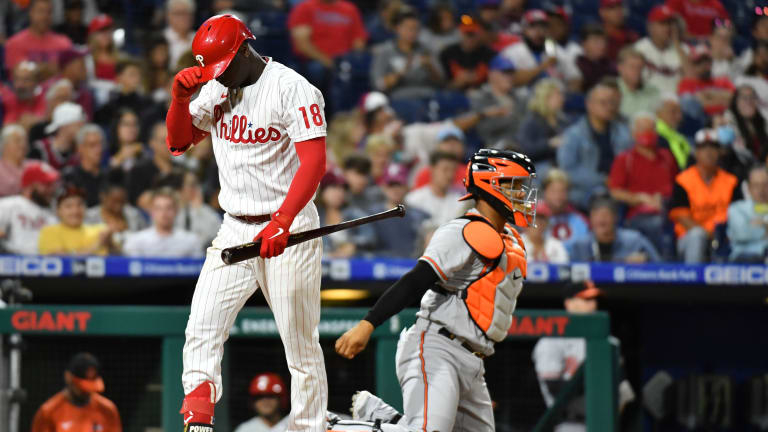 Phillies Bats Go Silent in Shutout Loss to Orioles in Series Opener
The Philadelphia Phillies lost 2-0 versus John Means and the 102-loss Baltimore Orioles on Monday night at Citizens Bank Park.
Stop me if you've heard this before: the Philadelphia Phillies offense failed to produce against a team with 100-plus losses.
This time that team was the Baltimore Orioles, who, at 48-102, hold the worst record in baseball. But, they still managed to shutout the Phillies, 2-0, picking up just their fourth shutout of the season.
The O's batted Phillies starter Ranger Suárez around in the first, singling their way into scoring two runs. Suárez calmed down after this though and produced a solid outing. He went six innings, allowing two runs on seven hits, walking one, and striking out five.
However, Orioles starter John Means, who threw one of the eleven no-hitters in MLB this season, dominated the Phillies offense. He shut them out through 6.2 innings, and surrendered just four hits and one walk, while striking out six, including two Ks of Bryce Harper.
Means continued to impress when he hit a double in the seventh; it was the first hit for Orioles pitching staff this season, and the first extra-base hit of Means' career.
The offense was largely quiet for both teams outside of the two runs Suárez allowed in the first. But, it's expected of a lackluster Orioles offense not to dazzle. In fact, they lost 19 games in a row in August.
But the Phillies have no excuse, especially since Suárez, along with Sam Coonrod, Archie Bradley, and Bailey Falter kept them within reach. And yet, they were unable to get much of anything going offensively in this game.
Harper and Jean Segura can't do everything for this team, right? Some other guys have to step up quickly if they have any hope of securing the NL East division title.
What's Next
The Phillies (76-74) and Orioles (48-102) face off again tomorrow for game two of this three-game series in South Philadelphia. It's another bullpen game for the Phils. Today is a must-win for the Phillies, as they now sit at three games back in the division after the Atlanta Braves beat the Arizona Diamondbacks last night, 11-4. 
---
Make sure to follow Inside the Phillies on Facebook and Twitter!