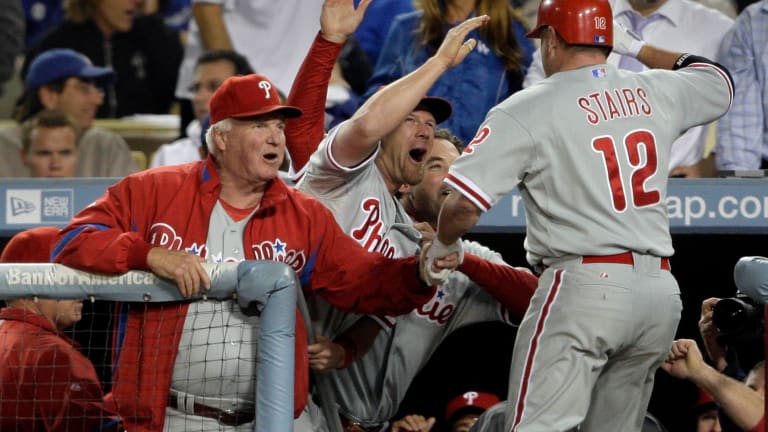 This Day in Phillies History: October 13
On this day in Philadelphia Phillies history, Matt Stairs "ripped one into the night" 13 years ago tonight.
We start off today in Philadelphia Phillies history by going way back. Like, way, way back. In 1887, the Phillies and the Athletics were in the midst of the City Series. Always a contentious rivalry, the Phillies were able to walk off in the bottom of the ninth in Game 2.
Moving on, but not going too far down the road, we arrive in 1888. Philadelphia was facing off against Chicago. Because they didn't have weather radar until 1935, predicting rain wasn't the easiest. Despite the challenge, Chicago's manager Cap Anson tried his best anyways by taking a guess.
With the rain coming down, Anson told his players to remain in their rooms at the hotel as they wouldn't be travelling to the ballpark to play. Anson bet on a wash out and instead the weather eventually subsided.
When Chicago couldn't make it to the park by 4 p.m. they had to forfeit. Turns out Anson wasn't an astute weatherman after all.
In 1915, the Phillies took on the Boston Red Sox in Game 5 of the World Series. Down in the series, and facing elimination, Philadelphia gave up the game in the late innings. Boston won a World Series title on this day in 1915 thanks to Phillies' pitching (as they say, history repeats itself.)
78 years later, at Veterans Stadium, the Phillies beat the Atlanta Braves to advance to the World Series and capture the National League pennant. Phillies starter Tommy Greene out-dueled future Hall-of-Famer Greg Maddux in the 6-3 win. 
The clutch hitting of Darren Daulton, Dave Hollins, and Mickey Morandini proved Philadelphia victorious over the defending champions in Game 6.
15 years later, the Phillies were once again on their way to winning another National League pennant, this time against the Los Angeles Dodgers.
Thanks to a pinch-hit homerun from Matt Stairs in the eighth inning off of Jonathan Broxton, he broke the tie and led the Phillies to a Game 4 victory.
Although the Stairs homer receives all of the attention, and rightfully so, it's important to note that Shane Victorino's two-run bomb that preceded Stairs in the eighth inning was just as crucial since it evened the score at 5-5. Both dingers eventually paved the way for a victory for the Philadelphia Phillies.
More From SI's Inside The Phillies:
---
Make sure to follow Inside the Phillies on Facebook and Twitter!