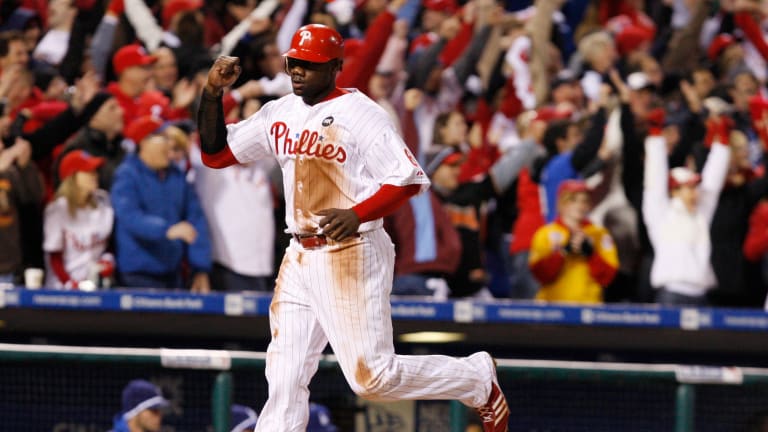 This Day in Phillies History: October 18
The Philadelphia Phillies win Game 3 of the NLCS and a current Phillie celebrates a birthday, all on this day!
There are only so many years in Philadelphia Phillies history that contain something notable in the middle of October. It's sad, but true. 
And although being a Phillies fan can be a test of one's patience, that's why we cherish the teams that win just that much more. Nobody loves and cares about their players more than Philadelphia fans. 
One of those teams that holds a special place in Phillies fans' hearts is the 2009 team. 
And on this day 12 years ago, that team defeated the Los Angeles Dodgers in a rout, 11-0, in Game 3 of the National League Championship Series.
In turn, Philadelphia took a 2-1 series lead over Los Angeles. 45,721 of the Philadelphia faithful took in the win at Citizens Bank Park in South Philadelphia.
Cliff Lee pitched eight shutout innings, allowing only three hits and striking out ten batters. His postseason ERA sitting at a magnificent 0.74.
The Phillies offense got things rolling early against Dodgers starter Hiroki Kuroda. And Ryan Howard, not known for his speed, hit a triple to right field to score Shane Victorino and Chase Utley.
Then Jayson Werth kept things going by hitting a two-run blast to put the Phils up 4-0 in the first inning.
Everyone in the Phillies lineup, excluding Raul Ibanez but including Lee, recorded a hit on the night. It was a pretty promising win for the defending World Series champions.
Also on this day in 1989, current Phillie Brad Miller was born. Happy 33rd birthday, Bamboo Brad!
More From SI's Inside The Phillies:
---
Make sure to follow Inside the Phillies on Facebook and Twitter!