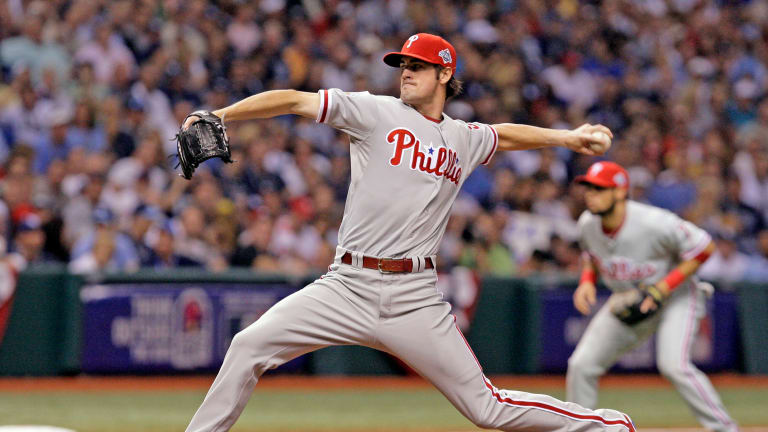 This Day in Phillies History: October 22
Tragedy strikes and Game 1 of the 2008 World Series takes place on this day in Philadelphia Phillies history.
As October winds down, notable events in Philadelphia Phillies history are getting harder and harder to come by. But for now, the 2008 and 2009 Philadelphia Phillies teams will have to keep things interesting.
And today, our focus is once again on the 2008 Phillies. 13 years ago, Game 1 of the World Series took place at Tropicana Field in Tampa Bay.
Philadelphia took on the Rays, and for only the third time in World Series history, both starting pitchers were under the age of 25.
Phillies ace Cole Hamels and Rays' Scott Kazmir were both 24-years-old at the time. It was the first time since 1970 World Series Game 1, when 25-year-old Jim Palmer of the Baltimore Orioles faced 22-year-old Gary Nolan of the Cincinnati Reds, that this had occurred. 
Chase Utley hit a two-run first-inning homerun to get the Phils on the board early, and Carlos Ruiz hit an RBI-groundout in the fourth to make it 3-0. The Rays would gain two runs back against Hamels, but the three runs would be all the Phillies would need, as Brad Lidge saved the game to give Philadelphia a 1-0 series lead.
Sadly, on this day in 1929, Phillies' starting catcher Walt Lerian died from injuries sustained when a runaway truck pinned him against a brick wall for hours before his extraction in Baltimore. RIP Peck.
More From SI's Inside The Phillies:
---
Make sure to follow Inside the Phillies on Facebook and Twitter!