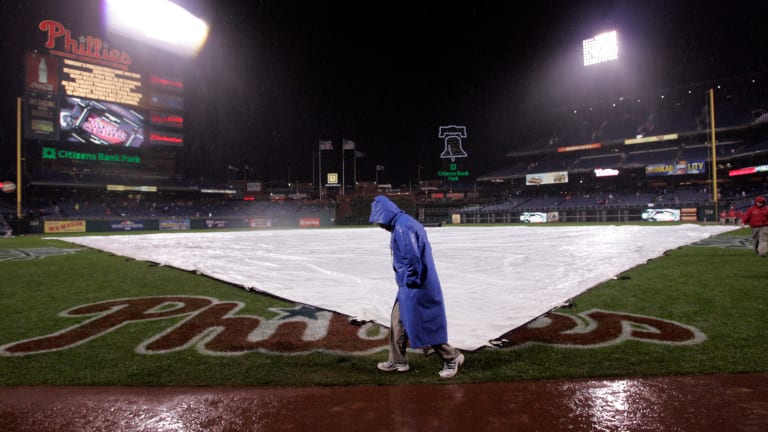 This Day in Phillies History: October 27
Game 5 of the 2008 World Series began on this day, but rain prevented the game from being finished until two days later.
Even Mother Nature couldn't believe the Philadelphia Phillies were in line to win a World Series, so naturally, she tried her hardest to prevent the Phillies from being crowned champions.
October 27 marks the 13-year anniversary of the start of Game 5 of the 2008 World Series at Citizens Bank Park.
Cole Hamels started the game for Philadelphia, pitching six strong innings, allowing two runs on five hits and striking out three before the game got suspended.
Shane Victorino got the scoring going for the Phillies in the first inning, hitting a two-run single to left field to make it 2-0.
Tampa Bay Rays rookie Evan Longoria drove home Carlos Pena in the fourth to bring his team within one.
In the sixth, the Rays tied it on a Pena RBI-single off of Hamels. The rain was coming down hard, make it nearly impossible for Hamels to grip the ball, and the base paths were a muddy mess.
This left then-Commissioner Bud Selig no choice but to suspend the game until Wednesday, Oct. 29. This was never before seen in a World Series, because of course it wasn't. It was the Phillies, after all.
So, with the game tied at 2-2 in the bottom of the sixth inning, Game 5 would resume two days later, and should the Phillies declare victory, would become World Series champions. 
More From SI's Inside The Phillies:
---
Make sure to follow Inside the Phillies on Facebook and Twitter!