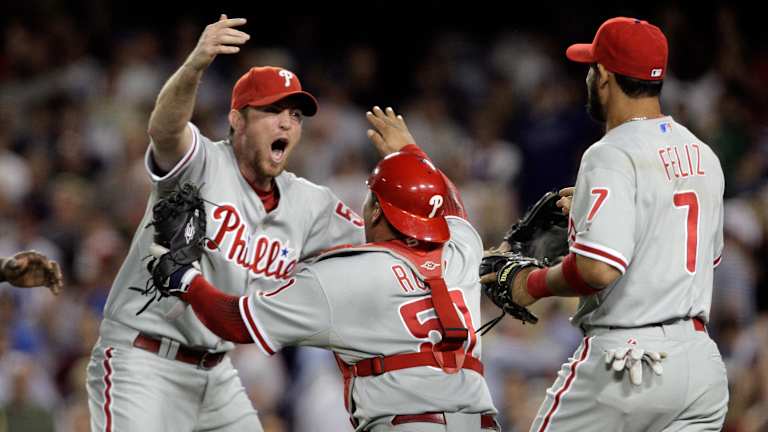 This Day in Phillies History: October 15
The Philadelphia Phillies advanced to the World Series for the first time in 15 years on this day in 2008.
October 2008 was a magical month for Philadelphia Phillies baseball. As the team was cruising through the postseason, nearly every day holds something momentous, and the 15th of the month is no exception.
On this day 13 years ago, the Phillies defeated the Los Angeles Dodgers in Game 5 of the NLCS, 5-1, to advance to the World Series for the first time since 1993.
Jimmy Rollins got things started for the Phillies early, belting a leadoff solo homerun off of Dodgers starter Chad Billingsley.
The Phillies kept tacking on runs in the third, when Ryan Howard and Pat Burrell went back-to-back with RBI singles to put Philadelphia up 3-0.
Two innings later, in the fifth, Greg Maddux (yes, that Greg Maddux) was on in relief for Los Angeles. He allowed a single to Jayson Werth to start the inning, but Werth was subsequently thrown out at second on a force out, with Chase Utley now at first.
Howard then singled to reach base, and him and Utley were eventually able to score on errors committed by shortstop Rafael Furcal. It was now 5-0 in favor of Philadelphia. 
Cole Hamels dominated for the Phillies, pitching seven innings of one-run ball, allowing five hits, three walks, and striking out five. "Hollywood" went on to be named the NLCS MVP.
Hamels set it up beautifully for Ryan Madson to enter in the eighth and pitch a scoreless inning. Then it was Brad Lidge's turn, and although it wasn't a save situation, "Lights Out" Lidge still delivered, sending the Phillies on their way to the World Series.
Here's Harry Kalas with the call:
More From SI's Inside The Phillies:
---
Make sure to follow Inside the Phillies on Facebook and Twitter!