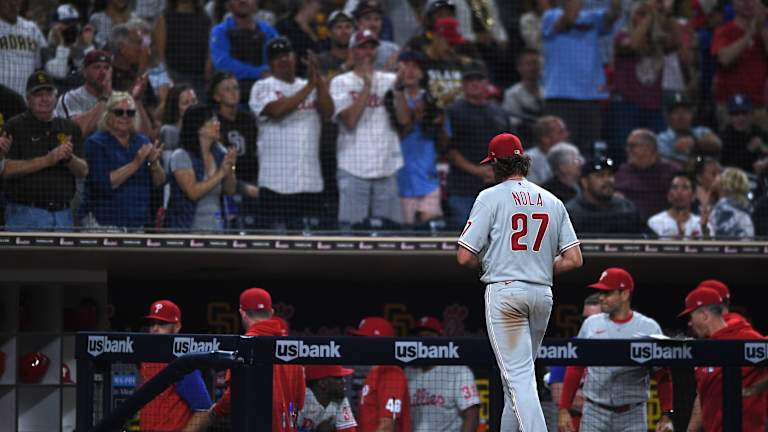 How Should the Phillies Approach Starting Pitching This Winter?
The Philadelphia Phillies need rotational help. Who could they target in free agency this winter?
This season has not been easy on the Philadelphia Phillies starting rotation.
Between Zach Eflin missing almost the entire second-half due to injuries, Aaron Nola not performing up to standards, and having to convert a reliever to a starter in Ranger Suárez (although that worked out well), to say that the Phillies are looking to bolster their starting rotation is an understatement.
The Philadelphia front office is in luck because this offseason will see several notable pitchers enter the free agency market. 
The first pitcher that the Phillies could look at is New York Mets Marcus Stroman. Stroman is in his second year with the Mets after opting out last season due to the COVID-19 pandemic. 
Stroman's performance this season has been solid. In 32 starts, he has posted a 3.00 ERA, 1.138 WHIP, 3.4 WAR, and 3.44 FIP across 174 IP.
If the Mets decide to not re-sign Stroman, Philadelphia should consider pursuing him to help bolster their starting rotation. 
Another Mets pitcher that the Phillies should keep their eye on is Noah Syndergaard.
Although it has been over two years since Syndergaard last threw a pitch in MLB, he is currently staging a comeback after tearing his UCL in March 2020.
Prior to his injury, Syndergaard was phenomenal for the Mets and there is reason to believe he would be a perfect fit in Philadelphia. The Phillies could look to offer Syndergaard a short-term contract to reevaluate him after his recovery, and if it works out, Philadelphia could look to sign him to a longer-term contract in the future.
Another option for the Phillies to consider is Los Angeles Dodgers franchise player, Clayton Kershaw.
Kershaw is coming off of his first World Series ring with the Dodgers. In Los Angeles, he made a name for himself, netting numerous accolades in the process, including three NL Cy Young awards, an NL MVP, and eight All-Star Game selections. 
This season has been a bit of an off-year for Kershaw, but he is still producing productive numbers for the Dodgers. In 21 starts, Kershaw has an ERA of 3.27, a WHIP of 0.968, and a FIP of 2.80 through 120 IP.
Getting Kershaw to leave the Dodgers is unlikely, but if it is to be done it would require another Harper-like deal from Philadelphia's front office. Whether he stays or leaves Los Angeles, Kershaw will be starring in a lethal rotation.
The next possible candidate for the Phillies is Max Scherzer, recently acquired by the Dodgers at the deadline.
Scherzer is having yet another Cy Young-caliber year, and currently has an MLB-best 2.28 ERA, an 0.83 WHIP, the lowest in MLB, and is fifth in MLB in FIP at 2.90. He is 15-4 and has struck out 232 batters across 174 IP.
At the end of the season, Scherzer will be 37-years-old, but with yearly performances like this, it's safe to say that he may be pitching well into the future. 
In the off chance that the Dodgers don't re-sign him, the Phillies will need to put forth their best offer if they are truly serious about being contenders. 
All four options would successfully fill the spot that is needed in the rotation. However, the likelihood that Philadelphia could drag Kershaw and Scherzer away from Los Angeles is doubtful. But there are far more realistic possibilities that include but are not limited to Stroman and Syndergaard.
Deputy Editor Lauren Amour contributed to this report.
---
Make sure to follow Inside the Phillies on Facebook and Twitter!