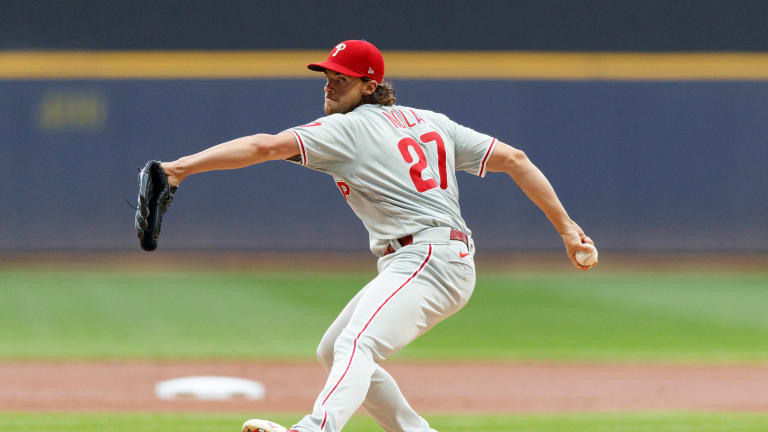 Phillies Season in Review: Aaron Nola
Inside the Phillies continues their season in review series with Philadelphia Phillies starting pitcher Aaron Nola.
Going into the 2021 season, Aaron Nola only had one thing on his mind: Bounce back from a lackluster season in 2020. In 2020, Nola had a win-loss percentage of .500, only the second time in his career to do so, or worse.
To open the season, the Philadelphia Phillies had Nola take the mound against the Atlanta Braves. Nola had a good season opener, pitching 6.2 innings, striking out six Braves, and was only taken out after allowing a two-run home run to Pablo Sandoval.
The rest of April was hit or miss with Nola, his only other notable performance would be his complete-game shutout against the St. Louis Cardinals where he struck out 10 batters in the process, whilst only allowing two hits. This would be Nola's only shutout of the season. Exiting April, Nola had a 2-1 record with an ERA of 3.11.
The month of May would prove to be a rather difficult month for Nola. Out of the five games that Nola started, he'd only walk away with one win which came against the Brewers. His performances got progressively worse following his win against the Milwaukee Brewers in early May. Nola's ERA would rise to 3.72 as the month came to an end, driven upwards by three straight appearances where he gave up three or more earned runs.
Nola tried to bounce back from his set of appearances in May but fell short of his expectations. His performances in June were spotty at best, notably putting on one of his better performances against the New York Yankees on June 13, going 7.2 innings, striking out nine batters, and only allowing three hits. 
But in his next start on June 19 against the San Francisco Giants, he put on arguably one of his worst performances where he only lasted 2.1 innings, allowing six earned runs, fueled by two home runs. Then on June 25, Nola looked beyond sharp again, striking out ten consecutive New York Mets to tie the all-time record held by Hall-of-Famer Tom Seaver. Overall, he allowed 20 earned runs in June, a season-high.
July began with what became a relative breather for Nola, after being put on the COVID-19 related list on July 11. His stint lasted for nine days before being activated to face off against the Yankees on July 20. Nola started to look a lot better, winning two out of his next four appearances, with his best outing being against the Braves on July 25 where he'd keep their batters in check, striking out nine and allowing only four hits. 
August saw a new issue arise for the LSU-product. Nola began having trouble going deep into games and helping the bullpen. Out of his five starts, he would only make it past 5.1 IP once when he faced off against his brother Austin and the San Diego Padres. He looked like Vintage Nola, tossing a gem through 8.2 innings, until allowing a two-run homer to Jake Cronenworth in the bottom of the ninth to tie the game at 3-3. It was a heartbreaker for Nola and the Phillies. This resulted in Nola's second-lowest amount of total innings pitched in a month.
The final stretch saw Nola pitch in three big games which had serious implications for the Phillies' playoff aspirations. 
The first game was a win against the Mets on Sept. 18 where he struck out eight batters, while only allowing four hits and one earned run. The win would help pull Philadelphia to within one game of Atlanta who was atop the NL East.
The second big game was against the Pittsburgh Pirates on Sept 23. This was a much shakier game for Nola as he allowed six earned runs across the first two innings, while striking out eight. Although he struggled, it was enough for Philadelphia to pull out a win. This would help the Phillies get within a 1.5 game of Atlanta.
The third big game would be on Sept. 29, Nola's final start of the season, when he took the mound against the Braves in Atlanta. Despite Nola having their number all season, the Braves lineup flipped the script, snagging seven hits, three earned runs, and four walks before Joe Girardi called to the bullpen. This loss would bring the Braves magic number down to one, and all but seal the Phillies fate.
In all, Nola had quite a rocky season in 2021, finishing with a record of 9-9 (.500), an ERA of 4.63, the highest it's been since 2016, and a WAR of 2.4. 
Now, not all of Nola's losses or no-decisions came down to his pitching. A growing trend throughout the 2021 season was that Nola would pitch decent baseball, but not have the offense to back him up. Philadelphia ranked above average or below average in several offensive categories which would help explain some of their woes.
For the first time in awhile, it also appeared that Nola wasn't the "ace" of the Phillies rotation. With the addition of Zack Wheeler, there was going to be competition for the number one spot, and if this season was any implication, it seems the Phillies might have found their new ace. 
Nola has two years left on his contract, which is still more than enough time for him to bounce back from the previous two seasons and get back to having his name in NL Cy Young award talks.
More From SI's Inside The Phillies:
---
Make sure to follow Inside the Phillies on Facebook and Twitter!