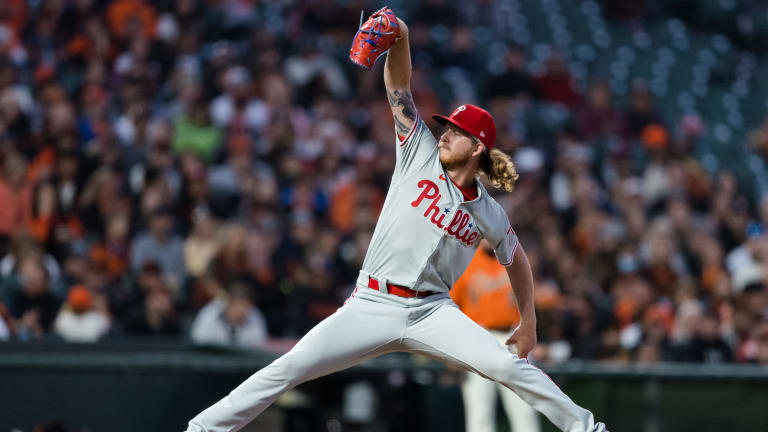 Phillies Season in Review: Bailey Falter
Inside the Phillies continues their season in review series with Philadelphia Phillies reliever Bailey Falter.
Few would have thought that the Philadelphia Phillies fifth round pick in the 2015 MLB amateur draft would make the majors before their first round choice. But on April 25, 2021, 144th overall pick Bailey Falter made his MLB debut, while 10th pick Cornelius Randolph still languished at Lehigh Valley.
Throughout Falter's minor league career he pitched in 83 games, with only three of those appearances coming in relief. Yet, when it came time to pitch for the Phillies, Falter was used almost exclusively out of the bullpen.
A unique pitching form and 6'4" frame made him a peculiar tool out of the bullpen. Though Falter's fastball only tops out at 95 mph, his long reach makes it seem much faster. Coupled with a deceptive lefty delivery, Falter became a fearsome multi-inning weapon for manager Joe Girardi once the 24-year-old arrived with the Phillies for good in June.
From his second callup on June 14 to just after the All-Star break on July 18, Falter pitched to a 3.94 ERA. Even including a five-run blowup in Chicago on July 6, he had become a force in relief.
Disaster struck on July 20. That morning, Falter tested positive for COVID-19. Zach Eflin had just gone down with a chronic knee injury which had plagued him his whole career, and Falter had been being developed to replace Eflin as a starter. 
Falter took a glove and three balls with him and spent the next 12 days quarantined in a Marriott hotel. The virus took its toll on him.
"It hit me like a truck," Falter said.
He lost eight pounds in that hotel room. Not only was he no longer being built up to start, Falter would now need to gain his strength back to even come out of the bullpen.
He reappeared on the mound for the Phillies again on August 15, nearly a month removed from his initial diagnosis, but Falter wasn't the same. He was leaned on more heavily as a middle reliever down the stretch for the Phillies, appearing in 13 games over the next month and a half, with his ERA rising to 6.89.
Though there was not enough time to gear Falter back up to be a full starter, he did make one bullpen game start on the Phillies final day of the season. Falter threw two innings and allowed three runs to bring his season ERA up to 5.61.
It's unclear how Falter could have altered the course of the Phillies' season had he stayed on track and not contracted COVID-19. Perhaps he would have continued building up to replacing Eflin in the rotation, and the Phillies never would have traded for Gibson and Kennedy. Perhaps Ranger Suárez never moves to the rotation and has his breakout campaign. Maybe Falter would have failed as a starter and solidified his spot in the bullpen for 2022. 
The only thing we know for certain is that things would've been different.
More From SI's Inside The Phillies:
---
Make sure to follow Inside the Phillies on Facebook and Twitter!