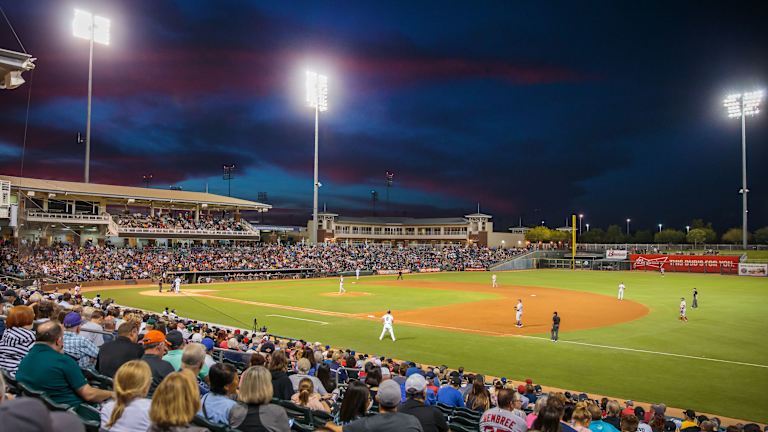 Stott, O'Hoppe Finish Fall Campaigns on High Note
Philadelphia Phillies prospects Bryson Stott and Logan O'Hoppe end their Arizona Fall League seasons with encouraging impressions.
The Arizona Fall League wraps up this week, with the championship game between the East and West Divisions taking place on Saturday, Nov. 20. While the Peoria Javelinas currently sit in last place of the West Division at 14-12 with three games remaining, it's been a successful campaign for Philadelphia Phillies prospects Bryson Stott and Logan O'Hoppe. But let's take a final look at how all seven of the Phillies prospects will end their Fall seasons.
Stott has been taking the Fall League by storm all season long, and it's looking like he will finish with a slashline around .325/.458/.500. The shortstop also clubbed his first home run of the fall on Nov. 11, and the following day, smashed his second one, after being homerless through the first four weeks of the season. 
His 26 hits are tied for most on the team, while leading the club with 40 total bases in 107 plate appearances. Stott also leads the Javelinas in walks with 22, and has collected six doubles, a triple, 26 RBI, and five stolen bases through 23 games.
Fellow Phillies prospect and teammate O'Hoppe has been making a name for himself in the Fall League as well. The 21-year-old catching prospect has slugged three home runs, second only to Atlanta Braves' prospect Drew Lugbauer's five. He also has 22 hits, eight doubles, 17 RBI, eight walks, and 39 total bases—second behind Stott's 40.
His .306 batting average and .976 OPS through 20 AFL games have made a considerable impression on the team that drafted him, and may move him up in the prospect rankings.
Damon Jones, the lefty who made his MLB debut with the Phillies this past season, has also strung together an impressive Fall campaign, with a Fall Stars Game selection to prove it. The 27-year-old's 0.96 ERA through seven games and 9.1 innings impressed. He allowed only one earned run, struck out 12, and walked seven.
Right-hander Hans Crouse, who made his debut with the big-league club in 2021 as well, ended his Fall campaign on Nov. 6. The 22-year-old, acquired by the Phillies at the deadline from the Texas Rangers, finished with a 5.06 ERA, 1.31 WHIP, nine walks, and led the Fall League in strikeouts with 24 in 16 innings pitched through four starts.
Simon Muzziotti, while not posting as impressive of numbers as Stott or O'Hoppe, has still pieced together a serviceable Fall. The 22-year-old batted .254/.382/.270, with 16 hits, 13 RBI, and 13 walks through 76 plate appearances.
The 6-foot-7 right-hander James McArthur started his fifth and final game of the Fall on Nov. 8. McArthur pitched three innings, allowing three runs (two earned) on four hits, striking out two, and walking two. McArthur finishes his AFL season with a 8.10 ERA, 1.68 WHIP, and 18 strikeouts through 16.2 innings pitched.
Left-hander Erik Miller has been solid in relief for the Javelinas this year. In six games, the 23-year-old has pitched to a 1.80 ERA, 1.30 WHIP, and collected 12 strikeouts through 10 innings.
More From SI's Inside The Phillies:
---
Make sure to follow Inside the Phillies on Facebook and Twitter!