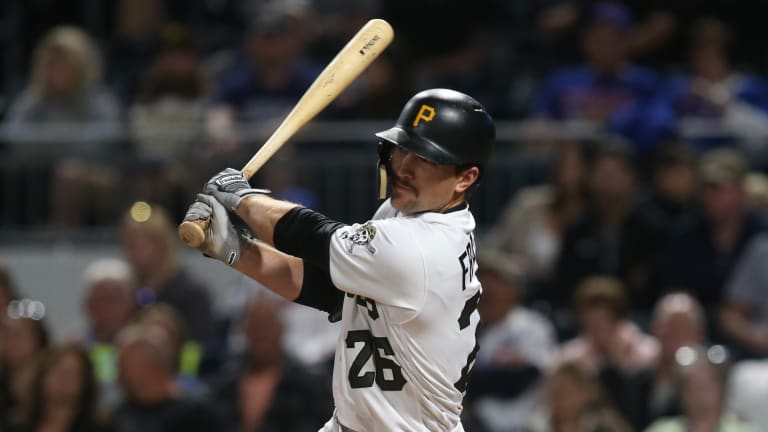 Adam Frazier Could be a Valuable Trade Asset for the Pirates
Adam Frazier had a fantastic year for the Pirates. He flashed a gold glove-caliber glove and his usual steadiness at the plate. But, with the Pirates in a rebuild, it may make sense to move him to a contender.
Rumors swirl this time of the year, as surely as my wife will bust out the Christmas tree after the last Trick-or-Treater leaves with a handful of chocolate. Dominoes will start to fall as the Pirates answer the bell on hiring their new GM, but we needn't wait for that to identify some potential Pirates' trade scenarios.
The Pirates have some big chips to be sure, Starling Marte, Chris Archer, and Josh Bell to name a few. Each of them are options to move in an effort to rebuild a roster so that the Pirates can compete in arguably the most competitive division in baseball, the NL Central.
I'd like to touch on one such member of the roster, Adam Frazier. Frazier transitioned last season from "super utility" player to everyday second baseman, he started the season as the penned-in leadoff hitter and played gold glove-caliber defense. For much of the season Frazier didn't look comfortable at the plate. However, for a player like Adam, that adds up to a .278 average with 10 HR and a 2.7 WAR. Those numbers don't reflect someone who was uncomfortable with a bat in his hands.
So why am I suggesting the Pirates trade Frazier? Simple, the Pirates must trade someone of value in order to expect value in return, and with Cole Tucker waiting in the wings, a replacement with potentially minimal drop off seems plausible. Players like Frazier can be spark plugs and that intangible is worth considering, but that role too is one Mr. Tucker can amply fill.
I wouldn't happily give up on him. I'm a believer in what he brings to the table and I still think he has sneaky power that could emerge as he becomes more comfortable putting it on display. When he really gets a hold of one his bat speed creates arguably more raw power than anyone not named Bell or Marte. 
During the preseason, I opined that Frazier would be in the conversation for batting champ and I still hold that as the level his potential has the capability of taking him. His compact, quick swing is perfect for a player who thrives on contact and his frame make his strike zone measurably harder to target.
The long and short of it is, Adam is an established big-league talent with a proven track record and under team control through 2022. That is very attractive to the GMs of the world and the perfect type of player to help a club right now. A trade would return some much-needed prospect depth for the Pirates organization. 
As I mentioned earlier, there are several players the Pirates could consider moving but first they must identify when the window can feasibly open and who we'll see when we look through it. Make no mistake, trading one of the only bright spots in an otherwise bleak defensive unit doesn't leave much to spark optimism for 2020, but the Pirates need to be thinking more along the lines of being prepared for all the chips to fall into place near the arrival of players like Quinn Priester. 
The way I see it, building toward an arbitrary date is useless unless you can identify several players you believe will be there when it arrives. Quinn is ahead of schedule in many ways as my colleague pointed out in his prospect update. Without pushing him, I believe 2022 is a reasonable landing spot for his debut. This would put the window somewhere in the 2022-2024 seasons. Decisions are shaded by this window, anyone who will be here due to team control and fills the role they play in a fashion the Pirates believe will contribute stays. Anyone who won't be here, either extend them or move them. Its not a romantic way of looking at building a baseball team, but it is practical. Its also what turns "we want to win a championship" from empty words, to a real possibility.
In all likelihood the future is not now for the Pirates but moving Frazier to a contender for Single or Double A prospect pitcher could go a long way toward ensuring the future has a chance of shining bright, maybe this time the brightest the sport has to offer.