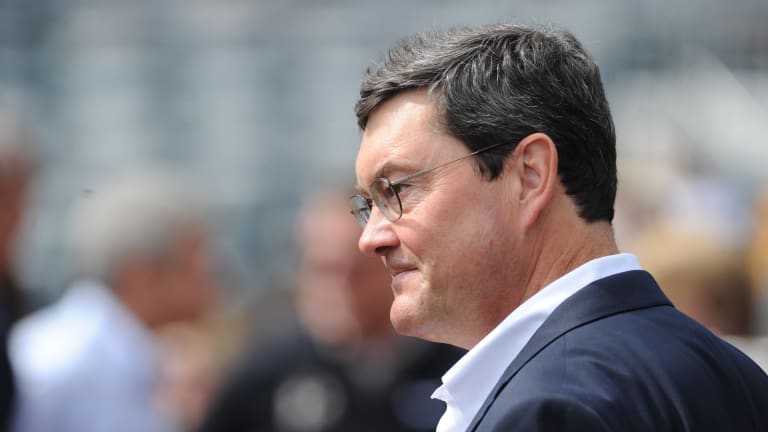 Expectations for the Pirates' New Management Team
Expectation is sky high whenever a franchise undergoes a facelift. What exactly should we want the new direction of the Pittsburgh Pirates to look like?
Bob Nutting and Travis Williams are on the cusp of hiring Neal Huntington's successor as the new General Manager. News is starting to come quickly now, and the field has been narrowed to three, two of whom we've actually been told about. Everyone has different thoughts as to the direction the team should take to bring the Pirates back to the promised land. I, for one, am going to allow them room to build and execute their plan. While I think it would be great if fans did the same, we shouldn't do it blindly. 
These are key things I'll be looking for, and I'll stop short of generalizations like 'good trades', or 'spend money'. Instead I'll focus on the intangible things that can be observed without having a mole at 115 Federal Street. 
Transparency
This is one of those often used in politics, but it means more than that with a sports franchise. What I mean by transparency regarding this club specifically is, be direct, open, and honest. If you are rebuilding the roster, tell us you're rebuilding the roster. If the GM fell asleep at the wheel and left the manager with three relievers available to pitch, don't pretend that was the plan. Don't bid on free agents just to end up intentionally short of the asking price so your name get's mentioned on SI.com for trying to sign Gerrit Cole.
This was one of the things most responsible for losing the trust of the fans in Pittsburgh during the last regime. Take for example the unwillingness to admit trading Neil Walker for Jon Niese was not a 'baseball trade'. I could write for days illustrating the many ways Huntington and crew contributed to a lack of transparency, but I'd prefer to spend time looking forward, and I doubt anyone wants to feel these again.
Love Our History, Don't Live in It
Throwbacks, anniversaries, and patches, are all part of the nostalgia that makes baseball special. Having so much history to call back on and hold in reverence is how we connect to our club through previous generations, and its important to never lose that. But…
We as a fan base are now 40+ years from the last championship, and, as I've already said, I'd prefer to look to the future, or better yet, the present. I don't expect the new leadership team to take the Pirates to the World Series in 2020 but I'd like a clear vision of the future. Be bold, tell us what its going to take to get there, and I don't mean imploring fans to populate PNC with interested butts so you have money to spend.
Long way of saying, lets be proud of who we've been, but give us something new to cheer for and look to.
Draft and Develop with Purpose
The Players themselves have some responsibility here as well, but I'd like to see a little more flexibility in promoting talent through the system with some urgency. Young talent takes time to develop and I'd never suggest pushing people through the ranks when they haven't earned it. However, the Pirates have a history of allowing a youngster to completely dominate a level for most of a season only to promote them late in the season with little time to adjust to the new level of competition. James Marvel, who the Pirates just dropped from the 40-man roster last week, is an example of someone who potentially could have started the season at AAA and been an option to help the MLB club earlier in the season. 
If the issue is being blocked for the next step, institute a philosophy of teaching some position flexibility. Far too often players come to the majors with the expectation that level is the best to learn to play a new position, hello Kevin Kramer, I'm talking about you.
When you draft a college player in the first round like Will Craig, maybe don't have him play a full season at each stop on the way up through the system. Two reasons:
He will be 25 years old on the 16 of this month.
If he needed full seasons at each of those levels, he wasn't a first-round talent. 
If he was moved a bit more swiftly, perhaps the club doesn't feel the need to try to make a first baseman out of Josh Bell and we have a power hitting corner outfielder and first baseman today.
Make Baseball Moves
Money is an ugly reality in sports, and how they effect the decisions of clubs can be equally so. The Pirates often have made moves that shoved this reality right in our faces. Allow me to paint a picture of what I mean. 
At the end of Francisco Liriano's first stint with the Pirates, he had been scouted completely out of effectiveness. Essentially, he was the same pitcher as he was during his highly effective run with the club, but the league finally wised up and waited for him to throw some strikes. Liriano thrived on the swing and miss and it became unavoidable that swinging was a bad plan. He stopped striking guys out and started walking batters. It was time for Liriano to go as he had come to the end of the road. So why did fans get upset he was moved? Because, for once dumping his salary would have been both good for the club financially and on the field but what Huntington did was spend prospect capital to entice Toronto to eat his salary - tossing in Harold Ramirez (you may remember him from belting the ball off and over the outfield wall when the Bucs played Miami last year), and Reese McGuire, a young catching prospect who would look mighty good in the pipeline right now. In exchange the Pirates picked up a contract Toronto wanted out of in the form of Drew Hutchinson, who never made any impact for the club. 
The Pirates would have come out ahead by just cutting Frankie, but saving every nickel was more important. Small-market clubs can't afford to give away young talent unless it's an effort to push the club over the edge for a run. It was a big mistake and indicative of their true intentions.
Go for It
Winning in Major League Baseball is not a one size fits all prospect. Some teams like the Yankees can already possess one of the league's biggest payrolls and still openly state they are going to try to sign both Gerrit Cole and Stephen Strasburg this off-season and mean it. Others like the Pirates must build the old-fashioned way and, when they get close, spend the money and get it done. This goes back to the history section a bit, but this is how it needs to happen. Coming close doesn't count anymore. Neither does being competitive every season. Its time to create a plan, execute the plan, and when close, pull the trigger on that piece that pushes it over the edge.
Easier said than done to be sure, but this, above all else, is what we should hold them to. Not some magic number for spending this season or any for that matter. More a willingness to do so when the team has themselves close. The payroll could and should be lower when rebuilds start, with an increase year over year until finally reaching, if you've done it right, the window of 2 or 3 years in the hunt. Those 2 to 3 years are where the budget for payroll needs to be wide open. It's the Houston model without the sign stealing.
We don't get off without homework either. While I won't tell anyone how to be a "fan", I will say everything the team utters will be and will remain just words until the day we actually see them push for the finish line. Personally, I'll afford them room to show me who they are now. I'll assume that Travis Williams is not the type of man who would accept a job knowingly to wear handcuffs. I'll view everything with the healthy skepticism the Pittsburgh Pirates have earned.
I'm proud of what this franchise has been. I'm disappointed in what the club has become, and finally I'm open to this club changing its ways. Bob Nutting is never going to be a hero in Pittsburgh, too much has happened and too much trust has been broken. That doesn't mean he can't allow his new team president to operate and finish what Clint Hurdle once famously started - to reconnect this baseball club to the city that has so richly loved it through the generations. The options are really this simple, give Nutting a chance to show he gets it now, or don't. Neither will force him to sell and neither will effect the outcome.
It's time for our kids to see their heroes win, not hear about ours.
Follow Gary on Twitter: @garymo2007