Michigan takes early lead at NCAA swimming nationals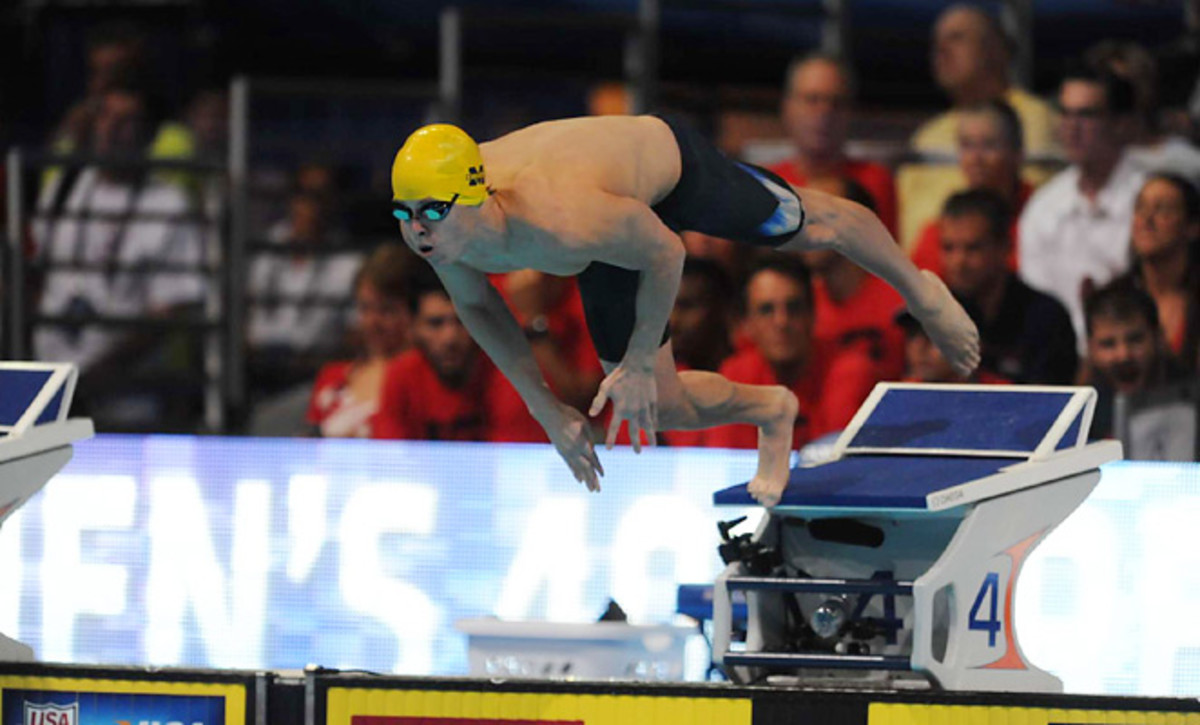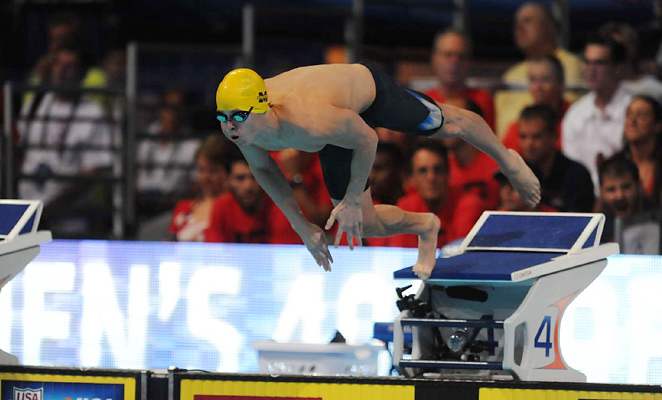 INDIANAPOLIS (AP) Michigan junior Connor Jaeger won the 500-yard freestyle Thursday in the NCAA men's swimming and diving championships to help the Wolverines take the first-day lead at IU Natatorium.
Jaeger won in a personal-best 4 minutes, 10.84 seconds, and the Wolverines finished with 153 points. California was second at 123.5, followed by Auburn at 112.5.
"The first 100, I think I was sixth or something," Jaeger said. "People like to go for it from the start and I just don't have speed like that. A little antsy in the beginning, you want to start pushing it, but I talked it over with my coach and I was just going to stay relaxed the first 100 and then work. So, that's what we did and it worked out.
"Just stoked (the last 25 yards). I took a breath and actually saw the team going nuts and that got me excited. I was falling apart, just trying to get to the wall. Just thinking about that. "
Texas' Michael McBroom was second in the 500 in 4:11.39, and Southern California's Cristian Quintero followed in 4:13.52.
Southern California's Vladimir Morozov broke his own school record in the 50 freestyle, winning the event in 18.63 seconds. Second in the event last year, Morozov became the first Trojans swimmer to win the 50 free since Joe Bottom won three in a row from 1975-77.
Also, swimming the third leg of the 200 freestyle relay, Morozov clocked a 17.86 split, becoming the first person known to go under 18 seconds on a 50 split. The Trojans finished second in the race behind Auburn.
Auburn's Marcelo Chierighini was second in 18.99, and Minnesota's Derek Toomey was third in 19.18.
Stanford's David Nolan chased down Florida's Marcin Cieslak to win the 200 individual medley. Nolan finished in 1:41.21 to beat Cieslak by 0.24 seconds. Indiana's Cody Miller was third in 1:41.99.
"(This) sets me up pretty well," Nolan said. "Just kind of use this positive energy to keep moving forward. This morning (fourth in prelims) hurt a little bit more than I expected, but you've just got to bounce back and hope your training will take care of it. And it did. Just keep a good attitude and let your teammates take you under their wing and cheer you up. That kind of thing."
In the meeting of 2012 Olympic teammates, Stanford's Kristian Ipsen set an NCAA record in 1-meter diving with a score of 473.75 points. Duke's Nick McCrory was second in 436.60. Ipsen didn't even know he broke the record until his media session.
"I had no idea, going into a meet I can't really think about that kind of stuff," Ipsen said about the record. "But that's really cool. That's exciting. (McCrory and I) are both incredibly competitive. In any competition, we're going to be competitors. We're not going to act like friends, but directly after we're friends again. And before, too. It's cool. It's nice having someone like that, that totally gets diving and everything."
Auburn's 200 freestyle relay team broke out a "U-A!" cheer on the podium after it won in front of a rowdy group of supporters in the stands. The Tigers finished in 1:15.48 to easily beat USC, second in 1:16.22. Michigan was third in 1:16.49.
In the final event, Arizona won the 400 medley relay in 3:02.09. California was second in 3:04.46, followed by Michigan in 3:04.73.