Kevin Cordes breaks record at NCAA swimming championships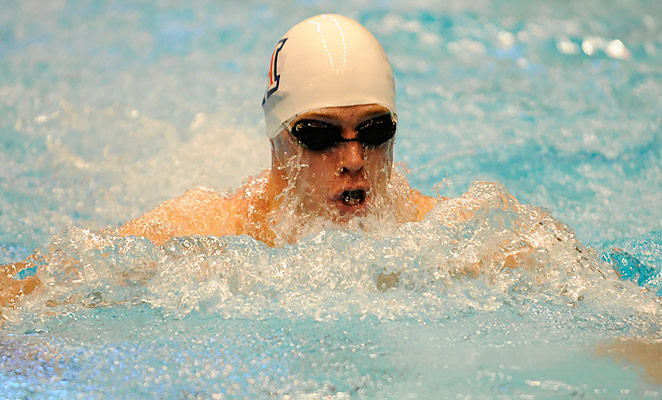 INDIANAPOLIS (AP) -- Arizona's Kevin Cordes broke the U.S. short-course and NCAA records in the 100-yard breaststroke Friday night, and Michigan remained atop the team standings after the second day of the NCAA men's swimming and diving championships.
Cordes won the final in 50.74 seconds to break the American record of 50.93 that he set in the preliminary heats at IU Natatorium. California's Damir Drugonjic set the previous NCAA record of 50.86 in 2009.
"I guess I have times in my mind, but I just really go out there and try swim as fast as I can to the best of my ability," said Cordes, more excited about a 1-2 finish with teammate Kevin Steel than the records. "It's the best-case scenario. ... A bunch of points for Arizona."
Steel finished in 51.69, and Michigan's Richard Funk was third in 51.84.
"(Cordes) makes things very easy," Steel said. "He pushes the envelope and you just try to keep up. This guy's breaking records regularly. ... Can't let the gap spread too much. Just riding that wave."
Michigan had 336 points. Two-time defending champion California was second at 301.5, followed by Arizona with 234.5.
Michigan's 200 medley relay team broke the NCAA record with a time of 1:22.27. California was second and broke the American record at 1:23.17. Arizona finished third in 1:23.23.
"(The team points) is always in the back of our heads," said Sean Fletcher, a member of the Michigan relay. "We're kind of just moving onto the next thing, making sure we're doing everything possible to try to move up spots, keep each other motivated. ... It's just all about the team.
"Everyone's just trying to move up and stay focused. Tonight, everyone's energy is really high. After the session's over, it's kind of celebrate a little bit maybe and on to tomorrow because tomorrow's a big day."
California's Tom Shields earned his 10th NCAA title, winning the 100 butterfly in 44.59. Florida's Marcin Cieslak was second at 45.35, and Michigan's Fletcher followed at 45.54.
Georgia's Chase Kalisz won the 400 individual medley in 3:38.05. Wisconsin's Michael Weiss was second in 3:39.61, and Florida's Dan Wallace finished third at 3:39.87.
Louisville's Joao De Lucca won the 200 freestyle after barely making the final, finishing in 1:31.51. De Lucca made the final turn in NCAA-record time, but couldn't hold on down the final stretch. Southern California's Dimitri Colupaev was second in 1:32.74, and Stanford's Tom Kremer finished third in 1:33.07.
Stanford's David Nolan added his second title of the meet, taking the 100 backstroke in 44.99. He won the 200 individual medley Thursday. Shields failed to make it 11 NCAA titles with a second-place 45.21. Indiana's Eric Ress finished third in 45.31.
Olympic teammates Kristian Ipsen and Nick McCrory took the top two diving spots for the second consecutive day. Stanford's Ipsen won again, this time with a score of 450.60 in the 3-meter diving. Duke's McCrory finished with 440.40. Indiana's Darian Schmidt was third with 425.50.
Ipsen went into his final dive with the win on the line.
"I usually don't look at scores," Ipsen said. "I came out a little bit late and saw his scores on the last dive and knew it was really close going in, too, because kept hearing everyone cheering for him after every dive. I knew it was going to be really tight again like it was yesterday.
"I knew a door had opened. And for my last dive I feel really confident with it. That's why I have it last, because if there's a situation like that where I'm under pressure and I need to do a good last dive, I can count on that one.
Florida won the 800 freestyle relay in 6:13.27. Michigan was second at 6:15.54, and USC finished third at 6:15.94.