Up-to-the-minute news on the bombings in Boston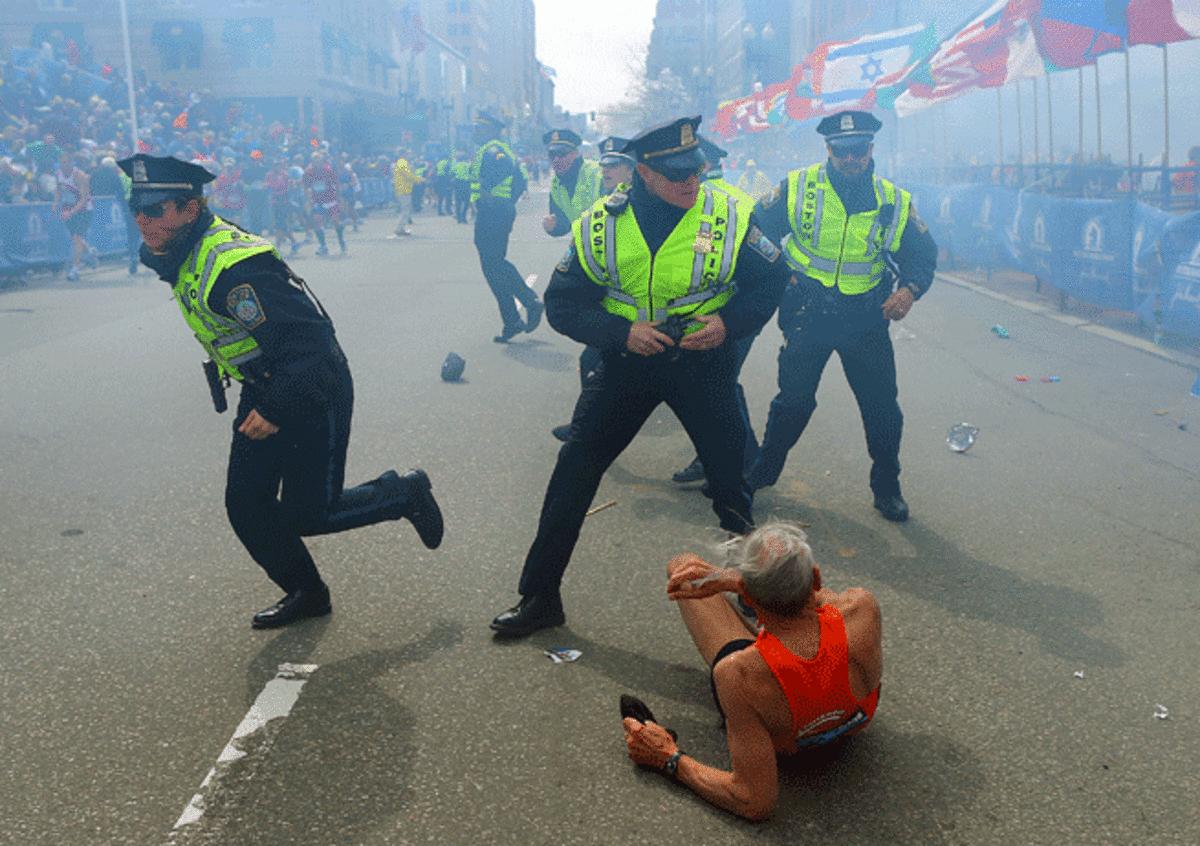 SI's team of writers will be filing updates from Boston on the Boston Marathon bombings throughout the day.
The Finish Line Official Gives His Perspective
For the last 17 years Tommy Meagher, 68, has been the official in charge of the finish line at the Boston Marathon. Here is his story of the tragedy at the 2013 Boston Marathon, as told to David Epstein:
Who do you think I met Monday morning not only at 8:30 a.m., but also at 10:00 a.m.? The bomb-sniffing dogs. They went through the grandstands, they went up on the photo bridge, they went into the announcer's booth, where they have the computers and the guys who operate the clocks. They do all that stuff.
When [the bomb went off] there was this huge wave of smoke and glass, and I saw bodies flying. I immediately ran over there. I'm reactive. I'm going to do something to help. I knew it wasn't a transformer because there were bodies flying, moving this way, that way, flipped upside down. So I ran, then the barricades and the snow fencing were there. The police started racing over there, and they all had their guns out. And then the medical people all came over. I want to get in there and help someone, so my reaction was, when there was an opening to go, I started, but then I stopped. I said to myself, 'They're experts, you're not an expert. They know how to treat these things, you don't. Stay right here.'
It was horrific. I saw the guy that lost both of his legs. I saw a guy that lost his arm. He was holding his arm on, probably in shock. They took a girl out, there were people in the stretcher pushing and pulling, and [a medic] straddling it and doing compressions, CPR, trying to get her heart going. Someone said she was one of the people who died. She was a young girl, probably late 20s. And there was an older guy, white hair, orange singlet, black shorts. He went right down. I thought he had gotten hit with something, so I started down to try to get to him, and somebody else got to him. There's a picture in the Globe sports page, and it's me, standing there, and he's behind me being helped up by someone.
I mean, they were taking people away in stretchers, the bodies were mangled. All I could think was 'Oh my God.' As I said, if that's what war is like, I couldn't be a soldier.
The Boston Marathon will never be the same. Somebody said to me, 'So do you think this will be your last year?' This will not be my last year.' I had the same feeling after 9/11 when we were supposed to go down 11 or 12 days later to the Boston College/Navy football game.
My oldest daughter was horrified. 'You're going to get on a plane?' 'Yes I am.' 'Dad!' 'Honey, this is exactly what they want me to do. They did this. They don't want me to get on a plane. They want me to be afraid of getting on a plane, and I'm not that kind of person.' You bet your life I'll be back next year. There'll be military up and down the streets on both sides.
You know, I'm there every year, and at crunch time when the professional runners come in there's a lot more people there, spectators. A lot more.
It's amazing how it puts life in perspective. Just when you think, oh I've seen it all, oh I've done everything. You haven't.
I see, in the runners in the charitable program, I see the emotion at the finish line. And it truly, truly makes my day to see that. And I saw that perspective yesterday, and it was like, it came crashing down with a massive fall and a thud. Ya know, I can't believe this. I was totally stunned. And you know something? I must have been a little bit shocked, because I was trying to recall things that happened. 'Did that really happen? Did I do that?' And, um, I had to basically look at some of the film and say, 'Geeze, I was over here, I wasn't over there.' I'm trying to put the pieces together. It happened so fast. I just wanted to run and try to help as many people as I could. I took one step, but then, 'Stop, stop, those guys are the experts. If you go in there, you're going to get in their way.' But it's great to see our medical people. They're on alert all the time. They know how to deal with 103 or 104 temperature people, pack them in ice or whatever. But to transition into this, a war zone! It's amazing, they're amazing people.
It's never going to be the same. There's going to be military and state police on the sidewalks in front of all those places. They're going to have multiple bomb-sniffing dogs. The crowds line all up and down Boylston Street. I'm OK physically, but it's never going to be the same, and the horror scene that I saw, it's going to take some time to get that out of my head.
Would You Run In The Boston Marathon Next Year?
By Michael McCann
Dr. Andrew Ulrich, the executive vice chair of the Department of Emergency Medicine at Boston Medical Center, offers a bold prediction: "I will not be surprised if next year it's the largest marathon field ever. It will be run differently and there will be tighter security, but the attitude will be, 'let's not let them win.'"
Ulrich knows about the marathon and the impact of Tuesday's bombing, because he coordinated the emergency care and triaging of the victims who were sent to Boston Medical Center. He won't forget the experience or the victims' devastating injuries.
"We saw metal and flying debris cut through patients. Parts of bodies were mangled. There was a high volume of significant traumatic injuries."
Ulrich also won't forget the remarkable coordination of area hospitals in treating bombing victims and communicating with victims' families. Boston area hospitals have long been regarded as among the world's best in providing medical care, but coordination of disaster relief requires other skills. Ulrich believes those skills were honed through mock exercises and real-world simulations.
"Emergency medical training prepares you for treating mass casualties. In addition, at Boston Medical Center, we train for disaster events and the emergency care of victims of those events. We conduct mock exercises that involve intake and triage of many victims, which clearly helped us on Tuesday."
While those mock exercises did not hypothesize an attack on the Boston Marathon, Ulrich mentions that one concerned a large gathering at the Boston Esplanade for July 4th fireworks. The July 4th exercise simulated coordination of area hospitals and law enforcement agencies in responding to victims and securing the area. These types of simulations, Ulrich contends, are vital. "All of our training and preparation went into play and helped to save lives."
"The sick irony is that the Boston Marathon is about health and well-being, and the devastation occurred in that setting," Ulrich reflects."But we have to continue who we are. The Boston Marathon is like the Boston smile. It will continue."
A Boston Native's Recap Of The Tragic Day
By Pete Thamel
There's no day as quintessentially Boston as Patriot's Day. At its core, it's Boston's celebration of itself, its history and its love of sports.
It begins at dawn in Lexington with a re-enactment of the start of the Revolutionary War. It gets revved up when the Boston Marathon runners break from Hopkinton hours later, about the same time that the Red Sox begin play, and continues to unfold in an all-day bacchanal of fans screaming support, college kids crushing beers and a city alive with the dawn of spring.
My Patriot's Day began with a Monday morning ride on the T over to Fenway Park to meet a few friends before the 11 a.m. Red Sox game. It ended with a sobering -- both literally and metaphorically -- three-mile walk home at dusk through empty streets, blank faces and with sirens of all kinds providing the searing soundtrack.
In between, a perfect Boston Monday got hijacked by an imperfect world, and what unfolded around me reminded everyone that Boston's inner beauty came through on one of its ugliest days.
When the Red Sox beat the Tampa Bay Rays on a walk-off hit by Shane Victorino at about 2 p.m., my group of friends walked out of Fenway with a full day ahead of us. We'd planned to walk down to the finish line, where one of my buddies lives.
But a friend of a friend happened to be seated in our section and told us we could skip the line at a bar around the corner. And that's Boston, America's smallest big city. You're never far from a college buddy, acquaintance from the gym or a mutual friend. It's a city of familiar faces and close ties, a place that's fiercely and proudly provincial.
We jumped into Copperfield's, ordered a few Bud Lites and toasted a Sox win and the possibilities of the day ahead. We tracked our friends running in the race on the Boston Marathon app. We plotted the course to the other side of town for a friend's post-race celebration.
Until the text messages started coming in, and everything changed. They trickled in at first with vague questions like, "What's going on in Boston?" And "Are you OK?" Then they arrived in fits and stops -- none for 10 minutes and then 14 at once.
That's when we realized our hometown was becoming a crime scene; it was so real and surreal, all at once. We looked at up a the televisions and saw the blood on Boylston Street, the place where so many dreams were supposed to be reached, goals met and celebratory hugs exchanged. It instead became a place where lives were altered forever.
We all sat and stared silently at the images on television, thumbing our phones to refresh Twitter with hopes that some sort of rational explanation -- a short circuit? And electronic malfunction? -- could make this understandable.
Instead, our worst fears became reality. And just as fast, Boston showed strong. Two of the people in our group, police officers, sprinted 1.3 miles from the bar to the finish line to help. When we saw marathon runners wandering Brookline Avenue aimlessly looking for their families, strangers gave them jackets for their cold shoulders and cell phones to call their families.
God bless the Best Buy store at Landmark Center, just down the street from Fenway, for realizing in that moment they needed to be more of a corner store than a corporate heavyweight. Over the next hour, my friends and I grabbed dozens of Powerades to hand out to stranded, dehydrated runners. Never mind making us pay, the workers there gave us bags to help ferry the blue, red and orange bottles out of the store faster.
The Celtics have a t-shirt that boasts "Boston Is a Brotherhood." On Monday, that phrase just kept running through my mind as tale after tale of brave officers, runners and medical personnel came to light. There was former Patriot Joe Andruzzi carrying an injured woman, deflecting any credit. There were images of restaurants opening their doors to hungry runners, and locals letting runners warm up, hydrate and use the restroom in their apartments. A giant Google doc sprouted up, inviting runners to local homes for a safe place to sleep. In a day when Boston annually celebrates itself, the city did even better -- it showed the nation during a dark hour exactly who the people of Boston are.
My emotions have been jumbled all day, trying to distance myself from the tragic bombing enough to write about it yet try to convey the emotion of being in the heart of a city in turmoil. None of my friends or family were directly involved with the bombing, but Boston is too small a place to not know the neighbors, teachers and friends of those struck by the tragedy. My heart bleeds for them and my prayers go out to them.
Tuesday was a weird day in Boston, canvassed by the pall of a hangover that no one could imagine. Everyone got back up and went to work, back on the T, downtown to State Street or wherever their daily toil takes them.
After more than 24 hours of shock and sadness, I know this for certain. The next time I go to Fenway Park to cheer on a Red Sox win, I'll belt out a little louder and a little prouder the final line from the team's victory anthem, "Dirty Water" -- "Boston, you're my home."
A Reserve Police Officer Springs Into Action
By Matt Gagne
Was that a gunshot?
A few blocks beyond the Boston Marathon finish line, nursing a beer at a bar called Lir shortly before 3 p.m. on Monday, Myles Mason was trying to determine what he'd just heard. When the thunderous clap resonated a second time, the man next to him said, "I'm a Marine. That was definitely an explosion."
Mason, a 22-year-old senior at Northeastern and a sprinter on the school's track team, threw his drink on the floor and bolted out the door. Fighting back tears and a trembling sensation, he took off toward the rising smoke as his teammate, Tejorn Davis, pleaded with him, saying, "Don't go down there. Don't go down there."
Mason knew his girlfriend, Christiana Gallagher, was at a bar in the vicinity of the blasts. But he wasn't sure where exactly, and he couldn't get close to see. Police officers were already pushing the panicked crowd in the opposite direction and Mason soon found himself three blocks away, pleading with a cop to let him go back as an ambulance roared past.
"Hearing the sirens snapped me out of it," said Mason. "I realized I had a badge in my wallet and I could help."
A criminal justice major, Mason is also a reserve police officer in York, Maine, a part-timer who patrols on a mountain bike in the summertime and deals mostly with public intoxications and parking tickets. After showing the Boston cop his badge and getting a nod of approval, the co-captain of Northeastern's track team took off, looking not for his girlfriend but for anyone in need.
"I can't say I was in a war zone. I've never experienced war and I have the utmost respect for people who have," said Mason. "But it was by far the most overwhelming situation I've ever been in. All track of time was gone."
His girlfriend, a former mid-distance runner at Northeastern who is now a graphic designer for Reebok, had been watching the race from a second-story window at Forum -- the Boylston Street bar where former NFL lineman Joe Andruzzi was holding a function for his charitable foundation.
Gallagher had a perfect seat. Her brother, JP, was running his first Boston Marathon and had raised $5,000 for the Red Cross in order to earn his bib number. Joined by her mother, a college friend, and JP's wife, Christiana pressed up against the glass, waiting ... and waiting ... for her brother to come into view.
"He didn't run as well as he wanted to," said Christiana. "Had he gotten the time he wanted, he would have been right there at the blasts. It's crazy to think of all the what ifs."
The first explosion confused people. "I thought it must be like at a Patriots game, when they blow off the canon for a touchdown," Christiana says. But then there was no doubt about what was happening. "Another explosion went off right in front of our faces. Smoke filled the window. It was so loud and rattled the whole place. You could feel the force through your insides."
As Mason was making his way back toward the finish line, Gallagher was trying to make her way out of the bar.
"Everyone was in survival mode, but nobody was pushing anyone out of the way," she says. "We were all crying and shaking. I thought I was going to die."
The scene outside will haunt her forever. There was man whose only distinguishing feature was the blood gushing from his face. Jagged bone protruded sideways from a woman's hip; another was missing a foot. Blood covered the sidewalk like splattered paint.
"It seemed like an apocalypse movie, people were screaming for loved ones," Gallagher says. "I always go running near the Charles River, by myself, even at night. I had never felt unsafe in Boston until this point."
This wasn't a movie, and Mason and Gallagher didn't find each other in the chaos. Fearful that another explosion would go off, she made her way to a bar called Daisy Buchanan's, chosen because it's situated below ground level like a bunker. She was just two streets removed from the carnage, but reality hadn't set in for everyone. The bouncer didn't let her in before checking her I.D., and when she asked the bartender to turn the volume up on the newscast, the 24-year-old blonde snapped at a guy who had just ordered two Miller Lites. "Are you kidding me?" she said.
In the fog of the terrorist attack, Mason cleared debris from the sidewalk, helped pick up the fallen and move dazed victims out of the street to make room for approaching ambulances. He also moved crowds away from what first-responders believed were more incendiary devices.
"They said they found one under the grandstands," Mason says. "At that point they weren't even letting the fire department get close."
Telling their stories as they sat on a park bench in Boston Commons on Tuesday afternoon, Mason and Gallagher were caught between two conflicting, confusing worlds. Just a few blocks behind them, the largest crime scene in Boston's history was still being scoured for clues. Throughout their field of vision, a few hard-bodied marathoners were getting in workouts while others lounged on the grass, soaking in a quintessential spring day in Boston.
"I saw one firefighter, a seasoned veteran, who was visibly shaken. He had to be helped into a chair and was just shaking his head," Mason says, the constant rubbing of his thumb and index finger impossible to miss. "The look on his face wasn't hopelessness or defeat, it was more like, What the f--- did I just see? What just happened?"
Sitting on that park bench, it was hard not to think the young cop was also talking about himself.
Will There Be Subsequent Security Issues?
By Michael McCann
In the wake of the Boston Marathon bombings, should fans fear going to games? And should security at sporting events be dramatically elevated into "police-state" type affairs?
So far, leaders and experts firmly say no.
"We can't turn arenas and ballparks into armed camps," says Congressman Peter King (NY), the former chair of the House Committee on Homeland Security. He emphasizes that organizers of sporting events have already adopted a bevy of counterterrorism and security measures. They include pat downs and surveillance technology. While it is difficult to prove these measures have worked, it is notable that yesterday's bombing was the first successful terrorist attack on a U.S. sports event in the post-September 11 world. Kings adds that the best measure against another attack is good intelligence.
Gerry Leone, who successfully prosecuted Richard Reid (the shoe bomber) and coordinated the Anti-Terrorism Task Force in Massachusetts following 9/11, agrees.
"The obvious [security] measures are in place at sports venues and intelligence sharing is always key. Unfortunately, part of the risk of going to any special event like a major sports game is that it is an accessible and attractive target."
Leone, who was also a district attorney in Massachusetts, distinguishes the challenge of safeguarding marathon races from most team sports, where games are played in closed facilities within physical boundaries. With races sprawled across 26 miles and open to the public, the possibility for an attack is much higher.
In light of the practical challenges of preventing attacks on marathons and other sporting events, should profiling be considered? Profiling would surely be controversial and possibly illegal -- the U.S. Supreme Court recently rejected parts of an Arizona law that in some cases required law enforcement to determine the immigration status of detained persons. In addition to its dubious legal status, profiling may also be ineffective.
"Look at Richard Reid -- he was a U.K. citizen," Leone remarks. "Eric Rudolph [the Olympic Park Bomber] is from the U.S. Terrorists' backgrounds are not all alike."
Legal constraints could also emerge for other types of heightened security at sporting events. This is particularly true should organizers employ more aggressive forms of "suspicionless" searches where everyone entering a venue is searched. The Fourth Amendment to the U.S. Constitution bars unreasonable searches by government agents, including when private authorities act as government agents, and some states bar unreasonable searches by private actors. To be sure, spectators at sporting events arguably consent to searches by attending those events -- no one is forced to watch a marathon or an NFL game. Hosts of games also feel obligated to protect because of potential tort liability in the event of an attack and injuries to spectators. Still, if searches of those entering sports venues become more invasive in the aftermath of the bombings, legal challenges are possible.
While sports still appear safe, King and Leone agree that leagues and athletes need to adapt their security policies as necessary. And, after three divisive lockouts over money in the last two years, perhaps there will be greater attention over security matters in future bargaining discussions.
One thing all persons connected to sports want to avoid: sports without fans. "If we stop going to games," King stresses, the culprits behind yesterday's bombings and other attacks "will have won."
A Spectator Recalls The Blasts
By David Epstein
Christopher Traynor, a senior at Catholic Memorial High, was waiting with his father near the finish line for his mother, Kate, to come in. It was her first marathon, and she was only about a mile away. "She wanted to knock it off her bucket list," Traynor says.
And then the calm, clear day exploded, wrapped in smoke. See the British flag hanging in the darkened air? Traynor and his father were standing right below it, no more than 30 feet from the explosion.
Traynor was knocked back on his feet and ducked instinctively, but it wasn't the force or the noise that worried him the most. It was the smell. "I stood in shock, and by the smell of the air, something told me it wasn't electrical," he says. "Something told me to get out of there."
Traynor and his father started running down Boylston Street, and 10 or 15 seconds later, another blast, about a block behind him. He lost his father in the crowd. Quickly, both men turned around to find one another. But in just that short time, Traynor saw things no 18 year old should see. "I saw people," he says, haltingly, "and I saw, um, other things." What other things?
"Looking down at the sidewalk, there were shoes and bags thrown all askew. There were trails of blood." He saw body parts. "It was indescribable." Traynor thinks he can see himself and his dad in video of the explosion. "If I had been 10 feet to the right, we wouldn't be having this conversation."
In the few moments when he was seeing things nobody should see -- not having heard from his mother who did not have a phone on her -- Traynor was doing things everybody should do. He saw a woman running in front of him fall and the crowd pressing close to her. He and another man both moved on her instinctively, not exchanging a word, but scooping her beneath her arms and "propelling her forward," Traynor says, until she ran away into a store on her own power. "I don't know what happened to her," Traynor says.
(Traynor heard from his mother an hour and a half later after she borrowed a stranger's cell to send a text.)
He ran into an electronics store that had opened its doors to let people in, but soon went back out and started pushing other people into open stores. "I don't know how to describe it," he says. "Something inside of me just kind of ticked on and I kind of had a clear mind to grab people and throw them in the building."
To borrow from Rudyard Kipling's poem that ends with distance running, so many responders -- pros and bystanders alike -- seemed to keep their heads when all about them others were losing theirs. For Traynor, the enduring image of the day is the instantly iconic photo of three police officers flanking an elderly runner who fell when the blast went off. Two officers are springing to action and moving to pick the man up, while the other has her gun drawn and is sprinting toward another area. "For me, that defines the day," Traynor says. The day we celebrate Patriot's Day.
Traynor was already planning to study criminal justice at Iona next fall. "If anything, it reassures my decision to go into this career path," he says. "After seeing what I saw, I just have a more profound respect for officers and law enforcement and EMS than I've ever had." That, we hope, will define the day.
AP: Bombs at the Boston Marathon made from pressure cookersVIDEO: A timeline of the Boston Marathon tragedy
FBI Takes Over Investigation
By Michael McCann
The FBI has taken over the investigation into the Boston Marathon bombings. The first steps of the investigation are crucial for not only identifying those responsible but also stopping any other attacks. As the investigation develops, expect it to spark difficult questions about how spectators should watch live sporting events in a "new normal".
Matthew Hager, a security consultant and former intelligence analyst with the FBI's Counterrorism Division, tells SI.com that the FBI will initially focus on whether there could be a trend of attack -- that is, will another bombing happen in the near future? If so, where and for what purpose? Most importantly, how can it be stopped? Court-approved wiretaps, surveillance strategies and other investigatory devices will likely be used in answering these questions. These methods will also help to identify the culprit or culprits and their motivations.
Although the FBI is in charge, sources familiar with the investigation tell SI.com that state and local police -- in Massachusetts and in other states implicated by the investigation -- will continue to play significant roles, particularly in a "task force role" where they collaboratively obtain evidence and deploy resources. The FBI overtaking the investigation should not be interpreted to mean the Boston Police Department and other first-responders are dismissed. Indeed, police helped to search an apartment last night in nearby Revere.
While much speculation has centered on potential links between foreign-based terrorist organizations and the bombings, sources highlight how the bomber or bombers did not appear to be on a suicide mission -- a trait often associated with terrorist attacks abroad. While the absence of suicide does not preclude foreign involvement or sympathy for terrorist causes, it could signal a more domestic-oriented plot.
No matter what the investigation uncovers, Hager cautions that sporting events will remain appealing targets for terrorists and others who want to wreck havoc. "These are relatively soft targets in insecure environments, where there are many people, limited police presence and media and broadcasters fixated on the events," Hager says. "Even a small bomb could cause pandemonium, with a large stampede of people fleeing and unintentionally injuring one another. Plus, so much information about building dangerous devices is available on the Internet -- it's an open playbook to make a spectacular impact."
Worse yet, preventative steps by leagues, teams and event organizers are limited. "The way you stop these bombings is long before the bombers are at the game or race," Hager says. "And it's before they're tailgating in the parking lot. It's even before they buy a ticket. It's when a coordinated effort by law enforcement agencies prevents this person or his group from planning an attack and seeing that plan through."
That's not to say those who organize and manage sports can't help prevent attacks. As Hager emphasizes, they can collaborate with law enforcement. "Security guards and police officers play a vital role by providing a visible deterrent, preventing access to sensitive areas of the venue and detecting suspicious activity." Event organizers can also develop mufti-faceted response plans in the event of an attack, with crowd control and life-saving medical support protocols. These types of protocols appear to have been in place at the marathon and probably saved lives.
Still, there may be hard choices ahead for event organizers and athletes in designing their competitions to appeal to fans while deterring terrorists and criminals.