Orb has potential to bring something special to 138th Preakness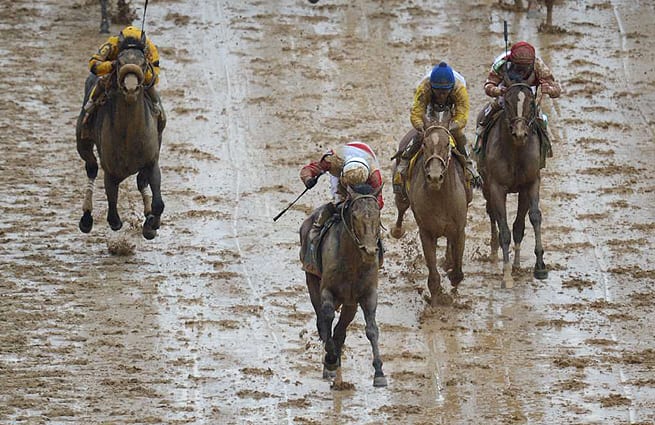 In his final workout at New York's Belmont Park on Monday, Orb buzzed through four furlongs in just over 47 seconds; that was after pulling exercise rider Jennifer Patterson through the first quarter-mile in 24 2/5. It was a breathtaking, powerful move, and the big bay colt left his normally understated trainer, Shug McGaughey, with no room to describe the performance as anything other than "breathtaking" and "magnificent." That workout set the tone for the week leading up to the 138th Preakness Stakes, causing many to cautiously whisper about the idea of a potential Triple Crown run.
The 62-year-old McGaughey is about as old school as you can get at the racetrack nowadays. Consider the source, and place your bets accordingly.
Only time will tell if Orb can live up to that billing, of course, but the numbers are in his favor -- only eight other horses will go to the starting gates with him on Saturday. In other words, McGaughey's rival trainers have seen enough. Golden Soul, Revolutionary and Normandy Invasion, who finished 2-3-4 in the Kentucky Derby, are passing on the Preakness. Among the five Derby starters coming back are Itsmyluckyday (who finished 15th) and Goldencents (17th); neither seem nearly as imposing as they did two weeks ago.
Orb's dominant, come-from-behind victory at the Derby is a big reason for that. Just as he got faster during his Monday morning workout, he's also improved with each race of his young life. He stalks the pace and seizes the moment (as he did in the Florida Derby on March 3), and he waits for the front-runners to burn out before making a big run in the stretch (as he did in the Fountain of Youth on Feb. 23 and in the Kentucky Derby). He's won on both fast and muddy tracks, and he wins with increasing speed. His Beyer Speed Figures in his four starts this year (all victories) have progressed smoothly: 83-97-97-104. Right now, it seems there's nothing he can't do.
"What really surprises me is how he comes out of his races, not only mentally, but physically," McGaughey said yesterday morning of his colt's potential. "I looked at him just a second ago with the blanket off of him. Looking from behind, the sun was shining on him, and I was looking at a different horse than I saw a week ago, and two weeks ago."
The last time McGaughey brought a 3-year-old star to the Preakness was in 1989. That year, Easy Goer, the 2-year-old champion, finished second to Sunday Silence in Louisville and Baltimore, but got better as the Triple Crown progressed. After coming up just a nose short in the Preakness, he trounced his rival by eight lengths in the Belmont. McGaughey likes to take his time developing talent -- he hasn't had a horse in the Preakness since '89, after all -- and Orb, who lost the first three starts of his career, seems to be following the trainer's preferred pattern.
But while the colt is a worthy choice as the chalk of the race -- he's even money on the morning line -- he needs to do more than just prevail at Pimlico to stamp himself as a favorite for the Triple Crown. He needs to win with a truly great performance. Orb certainly seems capable of further improvement. Itsmyluckyday and Goldencents both should run better than they did in Louisville, because past form says as much. But it's hard to excuse their dismal showings in the Derby to pick either to defeat Orb in the Preakness.
And if Orb wins, will an end finally be at hand for the 35-year Triple Crown drought?
"I think there's more there, but he's got to tell us that," said McGaughey of his colt yesterday. "I can't wait to run him on Saturday afternoon. Maybe we'll see something special."