Oxbow's Preakness win provides a different kind of history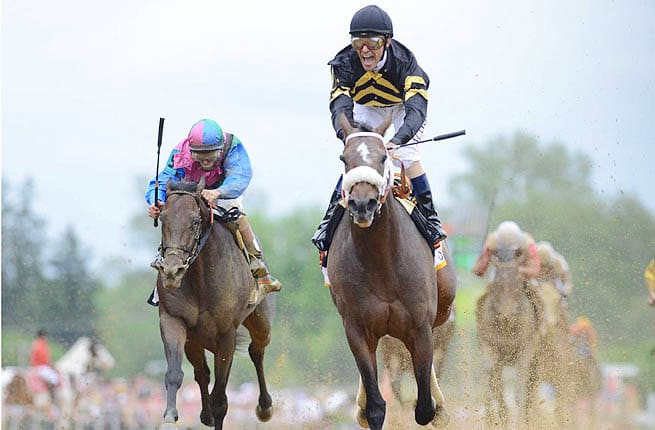 Watching Kentucky Derby champion Orb labor his way to a fourth-place finish in the Preakness Stakes on Saturday, it was impossible not to feel the emotion rush out of dilapidated Pimlico Race Course. The sport has been waiting 35 years for a Triple Crown winner, and it will now have to wait at least one more. Can anyone possibly be surprised when a horse comes up short anymore? And yet there was only a muted cheer from the grandstand as upset winner Oxbow cruised under the wire. Casual fans -- and that's what most of the 117,203 who came out to Old Hilltop on an overcast and unusually chilly day were -- tune in to racing only a few times a year. As much as anything, they want to see history.
But history -- while it may not have been the kind people came to Baltimore to watch -- is actually what they saw this time. With Oxbow's front-running victory, 77-year-old D. Wayne Lukas won his record 14th Triple Crown race, pulling ahead of James E. (Sunny Jim) Fitzsimmons for the all-time lead. It also gave a boost to owner Calumet Farm, once the dominant force in the sport for much of the 20th century, but which had declined precipitously in the 1980s and '90s, and which hadn't produced a winner of a Triple Crown race since Forward Pass won the Kentucky Derby in '68.
"I'm just so happy for [farm director Brad] Kelley," said Lukas after the race. "He's trying to revitalize Calumet, and now Calumet is back in a Classic race. That's just very gratifying."
GALLERY: SI's best photos from 138th Preakness Stakes
Equally gratifying to Lukas had to be the way that Oxbow dominated the Preakness. After getting brushed by Will Take Charge leaving the gate, the big bay colt, who went off at odds of 15-1, surged to an easy lead that he would never relinquish. He was in front by a 1½ lengths at the quarter-mile mark, despite a casual early pace of 23.94 seconds. The split at the half-mile mark was a positively dawdling 48.60, and still nobody challenged. "When he threw up the 1:13 and change [at the three-quarters of a mile mark], I knew we were in good shape," says Lukas.
"I couldn't believe that no one challenged me going into the far turn," said Gary Stevens, Oxbow's jockey, who won his third Preakness at the age of 50, "but when no one did, I said, I think everybody's in trouble right now."
Behind Oxbow, the field, especially 3-5 favorite Orb, was just muddling through. The Derby winner, under jockey Joel Rosario, broke slowly and had to work to close ground on the leaders on the inside going around the first turn. Rosario kept Orb in mid-pack down the backstretch, then tried to move forward between horses on the far turn. It was at this point that trainer Bob Baffert (whose Govenor Charlie finished eighth), watching on a television monitor in the paddock, murmured, "Oh, he's in trouble." Orb finished a dull fourth, despite making a mild bid in the stretch.
"They were going slow up front and he was fine," said Rosario after the race. "When I got to the half-mile pole, he had a hard time keeping up... He always runs hard, but today he never took off. He just steadied."
"The pace was slower than I anticipated," said Orb's trainer, Shug McGaughey. "I still thought he would close into it, but it just wasn't his day. "He was just never real comfortable once he got down there."
Oxbow got a masterful, if minimalist, ride from Stevens, a Hall of Farmer who came out of a seven-year retirement in January. "I didn't expect to be on the lead," he said. "In these classic races, you don't give up anything that they give you free, and they gave me a free three-quarters of a mile today. I was smiling pretty good midway down the backside... I was just a passenger today."
GALLERY: Triple Crown winners throughout history
During his time away from racing, Stevens had worked as an actor on the ill-fated HBO series Luck, and also as a television commentator. His victory atop Oxbow came at the end of a long dry spell. His victory aboard Skyring in the Dixie Stakes in the race immediately preceding the Preakness was his first, he says, in a month. "I thought maybe this was a mistake," he said at the press conference after the Preakness. "I've been questioning myself. And when riders go through slumps, I don't care if you're 15 years old or 30 years old, you start changing your stirrups."
But as Oxbow showed, a rider can break a slump merely by being on the right horse in the right race. Certainly the colt had shown both Lukas and Stevens something in the Kentucky Derby, where he had gotten too close to a hot pace and faded in the stretch -- though only to sixth. It was a gritty, courageous finish. More importantly, it didn't take too much out of him.
"Everybody else caved in, he didn't," said Stevens of the colt. "I had a heck of a time pulling him up after the race, and it showed me how much heart he had."
What now for the feature players from this Triple Crown drama? Orb will head back to his home base of Belmont Park. While McGaughey's plans for the next few weeks are unknown, there can be little doubt that Lukas will take Oxbow on to the June 8 Belmont Stakes. He loves the Triple Crown -- he had three runners in the Preakness; Will Take Charge finished seventh, Titletown Five was ninth -- and he very much likes his chances with Oxbow in the 1½-mile Belmont.
"Gary and I were talking about [what] really impressed us was that [Oxbow] was not even blowing when he was walked into the winners circle," said Lukas, before joking, "but you know me, I like to rack them up in the big events. So I'll probably go."
Without a Triple Crown on the line, casual fans might not follow, a fact that would hardly bother Lukas. "I was telling one of your colleagues," he said to a reporter in the moments after Oxbow's victory, "that I get paid to spoil dreams."