Tar Heels give loaded ACC best hope at ending championship drought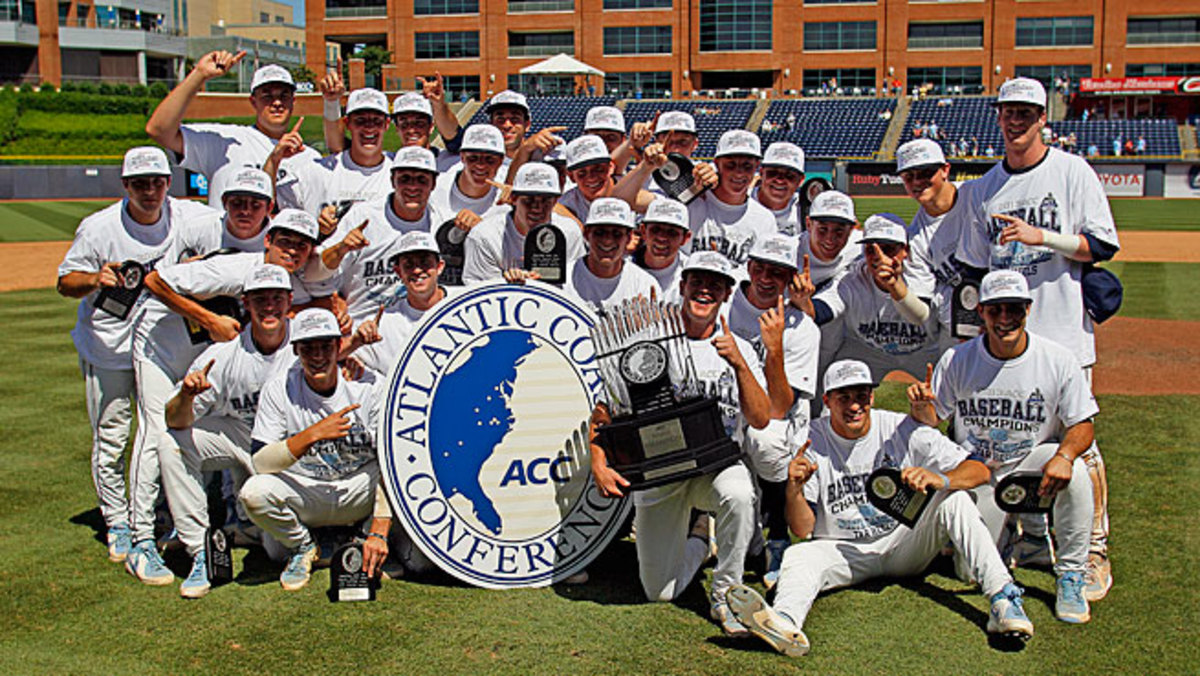 As the win totals got silly, North Carolina baseball coach Mike Fox tried not to think too much about it. Tried not ask himself stupid questions like, "Are we winning too much?"
Because that's how baseball guys think sometimes, crazy as it sounds. A guy goes 10 for 12 at the plate and he just knows -- doesn't he? -- that he can't possibly stay that hot.
So Fox tried to keep his eyes fixed straight ahead, even as his Tar Heels began the year with 16 straight wins. Tried not to blink when his team rolled through April.
And then, it hit the coach after finishing off a three-game sweep of Duke on April 21.
The Tar Heels were 39-2. They had not budged from the No. 1 spot in the Baseball America poll since the preseason rankings came out. And they were on pace for the best winning percentage in college baseball history, better than Arizona State's .914 in 1972.
"I never thought I wanted us to lose more, because that can't be our mindset," Fox said. "And I wasn't really thinking that the odds were going to catch up with us. But I was thinking, you know, we're probably still going hit a patch at some point. I did not think we would win every ACC series. I still figured there'd be a stretch where we would not be playing at as a high a level, or we'd get a guy injured, or a guy would break up with their girlfriend or whatever. There are just so many different dynamics going on with all these kids that it's never going to be totally smooth from Game 1 through Game 55."
So, Fox, who's in his 15th season at Carolina, swears he was prepared for what happened next. The Tar Heels lost two-of-three to both Georgia Tech and Virginia and finished the regular season with a 47-8 record and the No. 6 rank in the country, though they did win the outright ACC regular season championship for the first time since 1990.
"People will say, 'This is adversity,'" Fox says. "But to me this is not adversity, it's just baseball. We haven't played our best down the stretch, and we played some good teams. So it's going to happen. But I do wonder if it's going to sharpen our blade. I hope it does."
It would be hard to imagine UNC needs any added motivation. Despite reaching the College World Series five times since 2006 and regularly producing major league talent like Mets phenom Matt Harvey, the Tar Heels are still seeking the program's first national championship. They finished as the runner-up to Oregon State in back-to-back years (2006 and '07), and last made it to Omaha in 2011. If those near-misses aren't enough to stoke Carolina's pride, there's another thorn that's been stuck in the side of the Heels and the rest of the ACC since Dwight Eisenhower was in office: No team from the conference has won a College World Series since Wake Forest did so in 1955.
"Yeah, there's that," Fox said. "And it's the time of year for that question. Again."
The ACC may finally have an answer. In addition to UNC, the ACC had three other teams in Baseball America's final regular season top 10: Virginia (No. 5), Florida State (No. 7) and N.C. State (No. 9). Eight ACC schools ranked among the top 22 of the final RPI and five will be regional hosts in the NCAA Tournament field that was announced on Monday, the most of any conference in the country. North Carolina is the field's No. 1 overall seed and at 52-8, carries the nation's best record into the NCAAs.
This past weekend's ACC Tournament showed showcased both the conference's strength and Carolina's mettle. After a mercy-rule win over Miami on Thursday, the Heels defeated Clemson (No. 18) in 14 innings on Friday and N.C. State in 18 innings on Saturday, a game that ended at almost 2 a.m. Less that 12 hours later they were back on the field at Durham Bulls Athletic Park but still triumphed over Virginia Tech (No. 21) to win their first tournament crown since 2007 and re-establish their position as the team that gives the league its best hope for a title since two years before Fox was born.
"They have that look about them," said St. John's coach Ed Blankmeyer, whose Red Storm squad eliminated UNC from the regional the Heels hosted a year ago. "We played them early in the year and they just beat us, 18-5. As I've checked in on them throughout the year, it's obvious they are so much better than they were last year. It's not even close."
The Tar Heels are the only team in the nation to have not lost consecutive games all season. They boast both the ACC Player of the Year in third baseman Colin Moran and the ACC Pitcher of the Year in Kent Emanuel, as well as one of the nation's top freshman, rightfielder Skye Bolt.
"We've got some talent on this team, but we've got some grinders, some tough kids who love to play and hate to lose," said Fox. "I haven't had to say a whole lot to them."
The Heels stand out from college baseball's top teams of recent vintage in that they are not built on speed and small ball, but rather on pure hitting. Fox, who in the past has never been shy about bunting and playing for one run, especially since college baseball mandated less-lively metal bats in 2011, said he adjusted his thinking. The result has been a North Caroina team that leads the nation with 490 runs scored, over 300 more than its opponents.
"We've had a few good offensive teams here, but not like this, especially in the new-bat era," Fox said. "I think everybody goes in wondering how they're going to score runs. You just don't see that many home runs anymore, so this was a little unexpected."
Moran, the nephew of former Tar Heel and major league All-Star B.J. Surhoff (the No. 1 overall pick in the MLB Draft in 1985), is a 6-foot-3, 215-pound lefty hitter with power to all fields. He is expected to go in the top 10 picks in the June draft and be fast-tracked to the big leagues. He's hitting .357 with 13 homers and 84 RBIs, and his 55 bases on balls helped him post a .485 on-base percentage. Senior first baseman Cody Stubbs, the ACC Tournament MVP, hit a team-best .362 with seven homers and 72 RBIs and Bolt batted .349 despite missing a month at midseason with a broken foot.
"We take pride in our offense," said Moran. "The balance throughout the lineup has been great. In the past maybe we've had some holes, maybe were a little top heavy, but this team's very balanced up and down. I always feel like we're going to score runs."
Yet the Tar Heels acknowledge that postseason baseball at any level can look different. When a couple of slip-ups can end a team's season, players can get tight. Fox is already hinting that the team might have to alter its approach slightly in the postseason.
"We haven't been swinging the bats quite as well as we were," Fox said "And we just can't go into these games thinking we're going to out-slug people. I think our style is going to have to change a little, and it has already, down the stretch. We are going to have to manufacture some runs now. I guess we'll see what we're capable of."
Fox is philosophical about Carolina's quest to finally bring home a College World Series title, not just for the university but also for the ACC.
"I look at a guy like Mike Martin at Florida State," Fox said. "If he coaches another five years and ends up going to 20 College World Series and doesn't win one, is that really what people are going to write about him? I certainly would hope not. What is a bigger accomplishment, going to 15 World Series, which he's done, or winning one? It is a complete crapshoot once you get to the College World Series. No one out there cares what league you come from or how you got there. It's eight teams, they're all good and if the ball bounces one way or another. . . . I'd like to see our league win one, so it wouldn't be asked anymore, but who knows? The best team doesn't always win in Omaha."
And the Heels, according to Fox, know better than to even mention Omaha. Too many of them watched St. John's celebrate at Boshamer Stadium in Chapel Hill last spring.
"Last year taught us that you've got to make it out of your regional first," said Emanuel, who is 10-3 record and a 2.11 ERA. "We have the experience to know it's not a given that we're going to make it to Omaha. We know that."
"It's hard to forget walking off that field a loser," said Moran. That was tough."
"That is a light that's on in the room," said Fox. "No one's had to mention it."
If Fox's Tar Heels return to their dominant ways from the start of the season over the next few weeks, no one will ever have to mention it -- or the ACC's title drought -- again.