NCAA tournament preview: What to watch for on Road to Omaha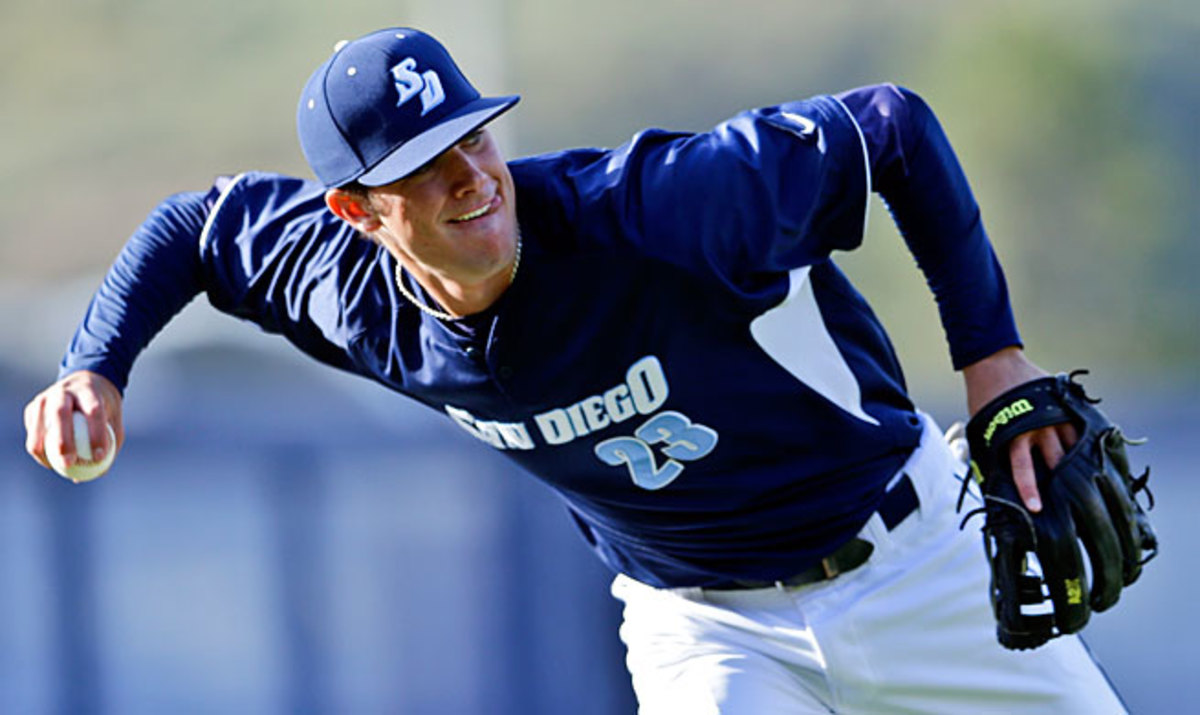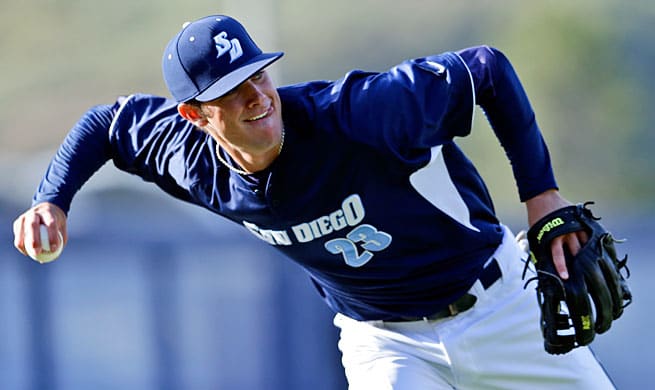 Imagine, if you will, what college baseball's catch phrase would be had the NCAA kept its baseball final in the same location after staging its first national championship in 1947:
"The Road to Kalamazoo."
Several songwriters have used the name of the Michigan city in their lyrics through the years. We'll never know if it would have caught on with fans.
The event moved to Nebraska three years later and it is "The Road to Omaha" that stirs everyone's emotions and can only mean one thing: the NCAA baseball tournament is about to begin.
With Monday's announcement of this year's field, there are 64 teams that will have the same destination in mind when the tourney opens on Friday. Here are a few things to watch for in this year's championships, including a team that was nearly disbanded during the season, another playing for an entire state and several of the top picks in next month's MLB draft.
Five Intriguing Teams
1. North Carolina
Among the reasons to like the Tar Heels' chances at winning their first national championship: They have both the ACC Player of the Year (Colin Moran) and Pitcher of the Year (Kent Emanuel), as well as the nation's best record at 52-8, and they are the only team in the country to not lose consecutive games all season.
There are two things working against the Heels, however: They're the No. 1 overall seed in the tournament and they come from the ACC. The top-seeded team has not won the national championship since Miami did it in 1999 (the first year of the 64-team format) and an ACC team hasn't won the College World Series since Wake Forest did so in 1955.
BRADLEY: ACC is loaded but UNC is best bet to end league's long championship drought
2. Vanderbilt
A decade ago, Vanderbilt was among those programs bidding to join college baseball's elite. A string of regional appearances began in 2006, but the breakthrough didn't come until the Commodores reached the CWS in 2011. This team, which compiled an SEC-best 26-3 record in conference and received the No. 2 national seed, is expected to return to Omaha. The nation's winningest pitcher, Tyler Beede (14-0), leads the way.
3. Towson
Two months ago the Tigers were on the brink of extinction. Now they're going to the NCAA Tournament for the first time in 22 years. The Maryland school's president announced in March that the baseball program was being discontinued over financial and Title IX considerations. The players responded by putting black tape over the word Towson on their jerseys when they opened Colonial Athletic Association play. State funding saved the program in April when they literally received a reprieve from the governor. The Tigers (29-28) defeated William & Mary on Saturday to win the Colonial championship and gain a berth in the field.
4. Kansas State
Picked to finish seventh in the Big 12 in a preseason coaches poll, Kansas State went out and won its first conference title since 1933. This is just the Wildcats' fourth tournament appearance ? all since 2009 ? but the NCAA selection committee was impressed enough to make them a regional host for the first time. Among the team's strengths is a lineup that includes eight players batting over .300 and a pitching staff sporting a 3.83 team ERA.
5. Indiana
The Hoosiers are the Big Ten's next great hope for postseason success. The conference hasn't had a team reach the CWS since Michigan made it in 1984. Indiana has enjoyed unprecedented success this season, winning the Big Ten regular-season title for the first time in 80 years on the way to a school-record 43 victories. Hosting a regional for the first time should give the team a leg up. Coach Tracy Smith is hoping the momentum from Sunday's 4-3 walk-off win over Nebraska ? which delivered the Big Ten Tournament title ? will carry over into the NCAAs.
One That's Missing
Arizona: The Wildcats (34-21) won't be able to defend their national championship after finishing sixth in the Pac-12. The last champion to stay home the year after winning the title was Oregon State in 2008.
Five Intriguing Players
1. Kris Bryant, San Diego, 3B
With 31 home runs, Bryant not only leads all of the nation's players but 226 teams as well. His homer total ties for 16th all-time, an accomplishment made all the more impressive since he leads the nation in walks (62) and is required to swing the restrictive composite bat introduced three years ago by the NCAA. If he can do this at sea level, imagine what the 6-foot-5, 215-pound Bryant could accomplish at altitude. That day may come. The Rockies may be able to land him with the third pick in June's MLB draft, if he isn't gone before then.
PERKIN: Predicting the first round of the 2013 draft
2. Jonathan Gray, Oklahoma, RHP
He's 6-foot-4, weighs 245 pounds and possesses a fastball that touches triple digits. That size and velocity would interest any major league team, but most of them won't have an opportunity to take him, since he's almost certain to go in the top three picks of the draft. Gray has gone 9-2 with a 2.89 ERA , 127 SO/21 BB in 110 IP for the Sooners, who are hoping to need his services for another few weeks in their hopes of bringing a championship to their school for the first time since 1994.
3. Colin Moran, North Carolina, 3B
North Carolina has produced four first-round picks the past four years. Moran should make it five. He's moved up draft boards all season and is now in the upper half of the first round after batting .357 with 13 homers and 84 RBIs in 60 games. Uncle and fellow Tar Heel B.J. Surhoff, the No. 1 overall pick in 1985, should still have bragging rights for being drafted higher, but the 6-foot-3, 209-pound Moran has impressed scouts with his lefthanded swing and intrigued them with a frame that projects for power down the road.
4. Carlos Rodon, North Carolina State, LHP
All anyone needed to know about Rodon was revealed Saturday in the ACC Tournament, when he limited the nation's best team, North Carolina, to one hit in 10 innings and struck out 14 batters. He is 8-2 with a 3.48 ERA and nation-leading 151 strikeouts this year after going 9-0 with a 1.57 ERA and 135 strikeouts last year. He's 6-foot-3 and 234 pounds, possesses a plus fastball and slider and more than enough mound presence. So why are scouts disappointed? Because he's only a sophomore, meaning he can't be drafted for another year.
5. Thomas Eshelman, Cal-State Fullerton, RHP
Eshelman was the first freshman in 26 years to start the season opener for Fullerton. He proved why he deserved the honor, going 11-2 with a team-leading 1.63 ERA and 71 strikeouts. Here's the most amazing stat: In 99 2/3 innings pitched this season, he allowed just two walks.
One Who's Missing
Mark Appel, Stanford, RHP: The Cardinal's absence from the postseason means the potential first pick in the draft won't be showcased during the season's biggest games. Maybe Houston should just go ahead and take him now, and have him in the Astros' rotation before the tournament even ends.
NEXT: Picking the winners of all 16 regionals
Fearless Predictions
America loves an underdog, so it was understandable last year when Kent State and Stony Brook were enthusiastically embraced upon their arrival in Omaha.
Kent State became the eighth No. 3 seed to reach the CWS and Stony Brook just the second No. 4 seed to make it (after eventual champion Fresno State in 2008). The fact is, only 10 percent of No. 3s (23-of-228 the past 14 years) and less than two percent of No. 4s (3-of-228) even make it to the Super Regionals. Do any of this year's lower-seeded teams have a shot at advancing? Here's a look at this year's regionals and the predicted winners:
Baton Rouge Regional (1. LSU; 2. Louisiana-Lafayette; 3. Sam Houston State; 4. Jackson State)
LSU, coming off an SEC Tournament title, is 52-9 while playing in perhaps the nation's toughest conference. Take the Tigers.
Blacksburg Regional (1. Virginia Tech; 2. Oklahoma; 3. Coastal Carolina; 4. Connecticut)
Oklahoma, playing with added purpose for those hit by last week's devastating tornado, gets the nod over a Virginia Tech team hosting a regional for the first time.
Bloomington Regional (1. Indiana; 2. Austin Peay; 3. Florida; 4. Valparaiso)
Florida isn't what it has been the past few years, but first-time hosts like Indiana frequently get caught up in the moment, so this sets up favorably for the Gators to advance.
Chapel Hill Regional (1. North Carolina; 2. Florida Atlantic; 3. Towson; 4. Canisius)
North Carolina was upset by No. 3 seed St. John's last year in Chapel Hill. The Tar Heels won't let that happen again.
Charlottesville Regional (1. Virginia; 2. UNC Wilmington; 3. Elon; 4. Army)
The Cavaliers should reach the CWS for the third time in five years.
Columbia Regional (1. South Carolina; 2. Clemson; 3. Liberty; 4. Saint Louis)
South Carolina and Clemson are meeting in the same regional for the third time in four years. Too bad for Clemson.
Corvallis Regional (1. Oregon State; 2. Texas A&M; 3. UC Santa Barbara; 4. UT San Antonio)
Oregon State has its best team since winning back-to-back national championships in 2006 and '07 and benefits from a bracket that includes two teams ? Texas A&M and UCSB ? that were considered bubble teams to make the field.
Eugene Regional (1. Oregon; 2. Rice; 3. San Francisco; 4. South Dakota State)
Oregon should use last year's CWS near-miss as added incentive, and Ducks over Rice sure sounds good.
Fullerton Regional (1. Cal State Fullerton; 2. Arizona State; 3. New Mexico; 4. Columbia)
A potential Fullerton vs. ASU regional final would match two of the nation's most storied college baseball programs. The Titans, who received the No. 5 national seed, get the nod here.
Los Angeles Regional (1. UCLA; 2. Cal Poly; 3. San Diego; 4. San Diego State)
The Bruins may not have the horses to get back to Omaha for the third time in four years, but they should advance to a Super Regional.
Louisville Regional (1. Louisville; 2. Miami (Fla.); 3. Oklahoma State; 4. Bowling Green)
Louisville should continue to roll after closing the regular season with a school-record 16 straight wins.
Manhattan Regional (1. Kansas State; 2. Arkansas; 3. Bryant; 4. Wichita State)
Arkansas' last two trips to the CWS (in 2009 and 2012) came on the road and the Razorbacks look to do it again by taking advantage of first-time host Kansas State.
Nashville Regional (1. Vanderbilt; 2. Georgia Tech; 3. Illinois; 4. East Tennessee State)
Vanderbilt received the No. 2 national seed and the Commodores shouldn't be too taxed here in their bid to get back to the CWS for the second time in three years.
Raleigh Regional (1. North Carolina State; 2. Ole Miss; 3. William & Mary; 4. Binghamton)
Winning a regional hasn't been a problem for the Wolfpack. It's the Super Regionals where N.C. State usually gets stuck, but it will get another chance at breaking through to Omaha this season.
Starkville Regional (1. Mississippi State; 2. South Alabama; 3. Mercer; 4. Central Arkansas)
Let's make this the upset special with Central Arkansas, which took two of three games during a midseason series that ended Mississippi State's 17-game winning streak to open the year, moving on.
Tallahassee Regional (1. Florida State; 2. Alabama; 3. Troy; 4. Savannah State)
Florida State lost three straight games at the ACC Tournament, providing an opening here for Alabama to give the Seminoles another early exit.