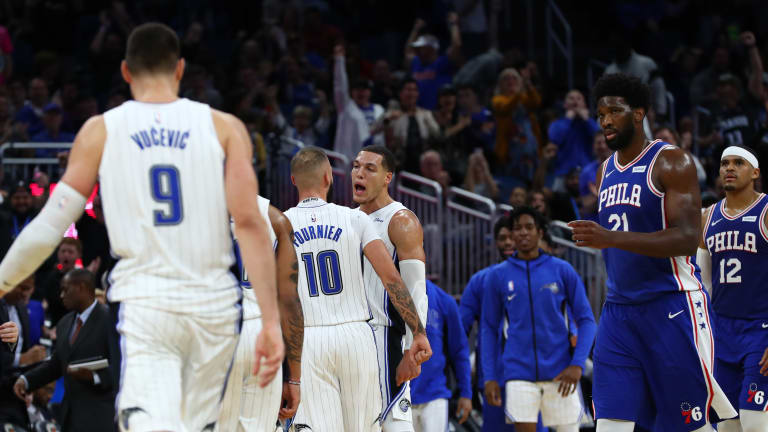 Philadelphia 76ers Follow Up Monster Win With a Dud Against Orlando Magic
Just a few days ago, the Philadelphia 76ers appeared on prime time and snagged themselves a major win against the Milwaukee Bucks. Considering that the Bucks are the NBA's hottest team with the number one record, many viewed the victory as a statement win for Philly.
Not only did the Sixers beat the Bucks -- they completely controlled the game and held the league's reigning MVP in check for all four quarters on Christmas day. It was an impressive performance, which many called the Sixers' best win all season as a team.
Typically, teams that manage to pick up a big victory like that gain enough confidence to go on a hot streak and defeat the teams they should beat. The Sixers, however, must've used up most of their energy against the Bucks, as it looked like they didn't have much effort left to help them take down the semi-decent 14-17, Orlando Magic.
While the Sixers are a clear-cut better team than the Magic in terms of talent on the roster, Orlando just knows how to get the best of Philly -- especially when the game is on the road for the Sixers. Friday's 98-97 loss marked the sixth-straight game the Sixers lost in Orlando. 
And once again, the Sixers' effort was questioned throughout the night as it looked like they weren't in it to win it for a good chunk of the matchup. The score indicates it was a close matchup, but Sixers' head coach Brett Brown will tell you his basketball team did not have a ton of fight.
"I don't believe we should have been in that position [to make a comeback]," Brown stated, according to NBC Sports Philadelphia's Paul Hudrick. "I'm not going there. It's a physicality issue that we lost. In fact, it will probably end up serving us well."
On Saturday, the Sixers will have to recover from their loss in Orlando quickly, so they can attempt to bounce back in Miami against the Heat. Brown hopes the Sixers will learn from Friday night's mistakes, as a win over the Heat is absolutely critical.
The last time these two teams met, Miami exposed the Sixers' inability to score against zone defense. Considering that Philly struggled on the offensive side of the ball on Friday night, it wouldn't come as a surprise if the Heat have a similar type of trick up their sleeve for Saturday's matchup too. 
Now that the Sixers threw up a dud against a lesser opponent after a statement win, it's time to see if they can bounce back from a poor effort, with a victory after the second game of a back to back matchup away from home.