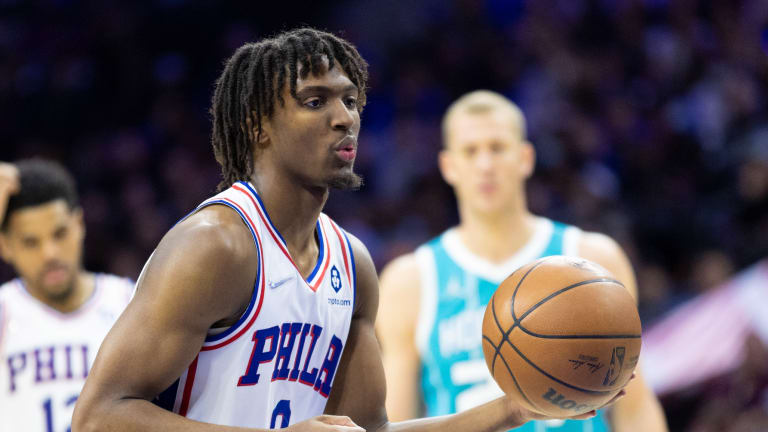 Should the Sixers Consider Tyrese Maxey Untouchable?
With Tyrese Maxey's name being put in mock trades and rumors around the league, should the Sixers' front office consider the youngster as untouchable?
After being featured several times in mock trades at the deadline when Philadelphia was trying to ship out Ben Simmons, Philadelphia 76ers rising star Tyrese Maxey seemed to carve himself a spot in the Wells Fargo Season for years to come.
Maxey did so by having himself a breakout second season with the Sixers, with the offensive part of his game being elevated to another level as the youngster took Simmons part in the lineup.
The youngster averaged 17.5 points, four assists, and three rebounds per game last season, which doubled his production during his rookie season. From the field, Maxey started to become a lot more confident with his shot, taking an average of six more per game while becoming more accurate as he shot 48 percent from the field. 
The additional twenty minutes Maxey received as Simmons sat out has done wonders for his stock, which to no surprise, has meant Maxey is again in the mix of trade rumors.
With the Sixers' rising star maxing such great improvements in only his sophomore season, should they consider making him untouchable in the trade market?
Perhaps the biggest tool that Maxey yields for securing his spot on the team is his youthfulness and high ceiling. There aren't many players who leave their rookie season and come back stronger the next season, but Maxey did.
While Maxey's ceiling is exactly what makes him so special in the eyes of the Philadelphia Front Office, it is also what makes him desired by other teams in the league.
Maxey's name has been featured in trade rumors and mock trades for the likes of superstars like Kevin Durant and Donovan Mitchell. Although Kevin Durant is late into his career, he still possesses the ability to be the difference in big games.
On the other hand, Mitchell, who turns 26 in September, has his whole future ahead of him, averaging 23 points on 44 percent shooting per game across his first five seasons. That being said, if the Sixers did make a trade for the Jazz guard, they would still have a blossoming guard to be a part of their future.
Another aspect of Maxey which is appealing to Philadelphia is his performance while on his rookie contract, a contract that could expire as soon as next season if the club doesn't exercise his 2024-25 option by November 2022.
If Maxey wants to guarantee his status as untouchable with the Sixers, he should continue from where he left off last season, playing as his job depends on it.
---
For live updates on the Philadelphia 76ers, follow @All76ersSI on Twitter!