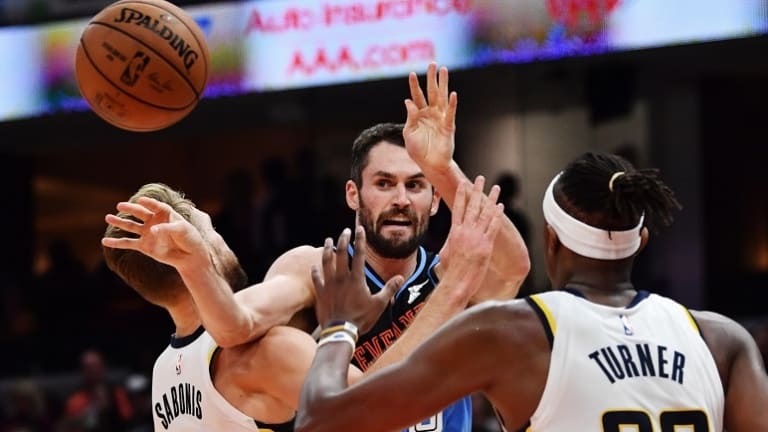 Dribbles: All Goes Right on 50th Anniversary Night, as Cavs Control Pace for Victory
CLEVELAND -- Random dribbles from the Cavaliers' 110-99 win over the Indiana Pacers on Saturday.
1. Larry Nance Jr. grabbed the game ball and handed it to coach John Beilein. "Then we gave him a little water bath," Nance said.
2. Before that, Kevin Love and Beilein embraced. All of it happened after the final buzzer, the result of Beilein's first win as an NBA coach. And aside from the first quarter and a shaky moment or two late, this was a certified blowout.
3. Beilein on the victory: "We feel really great. I am thrilled for them and here we go. We have 80 more and we are just trying to take them one at a time."
4. Love received plenty of touches on this night, a concept stressed by Beilein after the loss to Orlando. He put together an interesting and impressive stat line of 21 points on 5-of-8 shooting, with 13 rebounds. Yes, you read that right -- Love scored 21 on just eight attempts. 
5. Along with that, he finished with nine assists, falling one shy of his fourth career triple-double. "It's definitely about touching the ball and making things happen," Love said. "It's those good opportunities we need to continue to look for."
6. Through two games, Tristan Thompson has been the Cavs' best player and it's not really even up for debate. Thompson finished with 25 points and tied Love with a game-high 13 boards. 
7. On a night that featured Cavs legends (more on that in a minute), the highlight may have been when Thompson hustled for an offensive rebound, dribbled to beyond the 3-point arc ... and buried the first three of his career. "I was pretty hyped," said Cavs guard Jordan Clarkson.
8. As Nance Jr. noted, the Cavs have held each of their first two opponents to less than 100 points. In today's NBA, that's no easy task. Especially when you're talking about a young and fairly undersized backcourt in Collin Sexton (18 points, five rebounds) and Darius Garland (12 points, four assists). Bottom line: The defense has been solid, and surprisingly very good at times.
9. More Nance Jr.: "We played with a lot of pace. We were just playing basketball. Anytime it's fun, you know you're playing the right way."
10. He concluded, "Kevin and Double-T were monsters. That was really the story of tonight."
11. Rookies Garland and Kevin Porter Jr. put together another notable sequence, when Garland found the high-flying teammate for a alley-oop that brought the sellout crowd of 19,432 to its feet faster than you could say, "Wow." There is some definite potential there.
12. Garland on the win: "It's crazy. It's amazing, just getting the first win with Coach Beilein and the other rookies. It's really cool."
13. The Cavs are celebrating their 50th anniversary season and with the exception of Zydrunas Ilguaskas, those with their numbers hanging in the rafters were in the building and recognized during player introductions. The list consisted of Brad Daugherty, Mark Price, Bingo Smith, Larry Nance Sr., Austin Carr, former radio play-by-play man Joe Tait and Marci Thurmond, the wife of the late Nate Thurmond.
14. Ilguaskas had a prior commitment but will be at Rocket Mortgage FieldHouse for the team's Wall of Honor ceremony Nov. 17.
15. Daugherty briefly addressed the crowd, then joinined Carr and John Michael for the duration of the FOX Sports Ohio telecast. Daugherty will be doing that regularly throughout the season.
16. Love spoke with Daugherty, Price and Nance Sr. before the game. "I went to the bench before the national anthem and I was looking at some of the names of those who have been a part of the organization for so long. It made me feel good to be a part of that. I thought it was cool."
17. Along with all that, members of the media adorned ties worn by late TV play-by-play man Fred McLeod, who died suddenly of a heart attack over the summer. The Cavs also paid tribute to McLeod during a timeout midway through the first quarter. The fans gave a standing ovation at the end.
18. The Pacers are coming off a strong season, finishing with the fifth seed in the East despite playing most of the year without star guard Victor Oladipo. They remain without Oladipo and were also minus Jeremy Lamb, Oladipo's injured replacement. They have not looked good early.
19. Pacers coach Nate McMillan: "They pretty much did whatever they wanted. They dominated the paint and were more physical than us for the entire game. We're getting dominated in the paint right now."
20. Point guard Malcolm Brogdon was a true bright spot, though, finishing with game-highs of 30 points and 10 assists. He sure rings up some memories of former Cavs guard Andre Miller.
21. Next up: The biggest test of the early season awaits, as the Cavs visit Giannis Antetokounmpo and the Milwaukee Bucks on Monday.