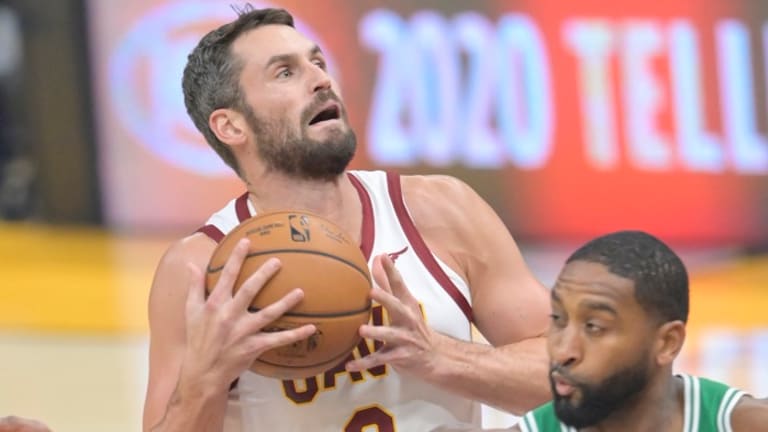 Love Staying Upbeat as Cavaliers Experience Expected Growing Pains
CLEVELAND -- Kevin Love grabbed a sports drink from the cooler in the Cavaliers' dressing room, smiled briefly and took a seat in front of his locker.
"Let's knock this out first, before I get treatment," Love said, addressing a small crowd of reporters.
The Cavs had just suffered a 20-point home loss to the Dallas Mavericks, a game that had been back-and-forth until a meltdown in the fourth quarter.
So why was Love smiling?
Well, for one, he likely knew his willingness to answer questions so soon after the game would please the media. The quicker they can talk to the home team's power forward and key performer, the better. There are still deadlines and air times to meet, after all.
But mostly, perhaps was Love was just in a decent mood. He has been around long enough to know that in this league, you never get too high, you never get too low. You just sort of roll with it. "On to the next one," is a rally cry often uttered by players and coaches around the NBA.
It means there is always another game, another opportunity to grow, another chance to win. It's important not to get too hung up one one bad moment, quarter or full 48 minutes.
That is especially the case for Love and this year's Cavs (2-4), who play another home game Tuesday. This one is against the Boston Celtics, an Eastern Conference contender. Tipoff is 7 p.m. on FOX Sports Ohio.
Love is well aware of and has talked extensively about his role as a leader. He knows the Cavs start a rookie guard in Darius Garland, a second-year guard in Collin Sexton and a third-year small forward in Cedi Osman. 
Love also knows rookie shooting guard Kevin Porter Jr. can sometimes be the first player off the bench. Along with that, the Cavs have a first-time NBA coach in John Beilein.
That means Love, 31, and center Tristan Thompson, 28, are the seasoned starters -- and the only two starters who remain from the 2016 championship team.
Those two realize it's a long season, that things can get rocky with so many young guys playing important roles, not to mention a new voice shouting instructions from the sideline.
It's up to Love and Thompson to maintain their poise, to set a positive example. They know it and have gone out of their way to work on it, both together and individually.
"Our lack of communication was pretty apparent in the fourth," Love said after the loss to the Mavericks. "A lot of things didn't work for us."
He remained diplomatic when asked about the play of Sexton and Garland, both of whom suffered through a night of tough lessons.
"We just have to find the proper balance," he said.
LEARNING PROCESS
Love leads the Cavs in scoring (19.2 ppg) and rebounding (15.3 rpg). It's up to the guards to deliver him the ball in his spots. He seems to prefer to receive it on the low block, or at least somewhere inside the 3-point arc, where he can take some mid-range shots or draw some fouls.
But on this night, he ended up attempting more threes (11) than twos (seven). Some of that was the result of the taller Mavericks' length underneath. Some of it was the guards just missing him once he established position.
Love has no choice but to live with the latter. For now, he seems OK with it.
"We have to find the proper balance," he said. "In the last two games, I've just taken what's been there. I'd like to get the number of threes (attempted) down and take some more shots near the basket."
But he didn't stay focused on that thought too long, as the conversation quickly shifted to the Celtics (4-1).
"It's key that we do a better job defending the 3-point line," he said. "Boston can score from all over the floor. They are going to be a really good test for us."
Another game, another test, another chance for everything to come together.
For these Cavs, it's on to the next one, and Love appears perfectly fine as one of the main figures leading that charge.