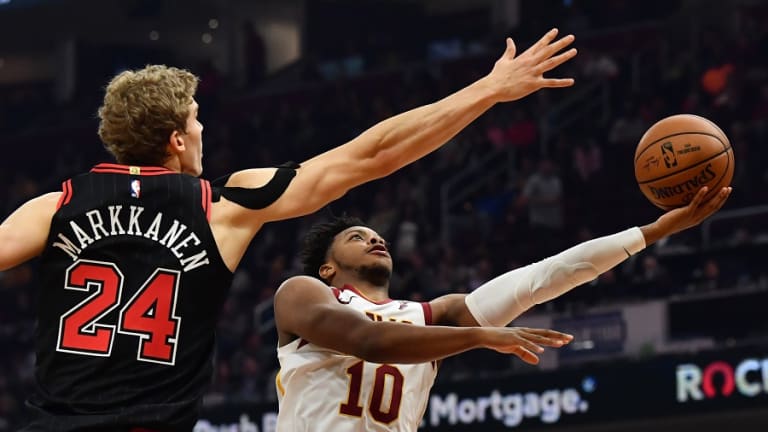 Lo and Behold, Youngsters Play Role in Firing Cavs to Victory
CLEVELAND -- Hey, what do you know? The Cavaliers' young guys aren't half bad, after all.
That's undoubtedly one of the positive takeaways from their 117-111 win over the Chicago Bulls on Wednesday.
How else do you explain rookie Darius Garland burying a baseline 3-pointer with the shot clock expiring and a defender in his face?
How how about fellow rookie Kevin Porter Jr. blocking a shot at one end ... then getting the ball, driving down the middle of the lane and dunking at the other end?
Or what about second-year man Collin Sexton? He took a pass underneath the basket in traffic, jumped straight up in traffic, and threw down a massive one-handed slam (you guessed it) in traffic. Or more accurately, in the mug of Bulls center Wendell Carter Jr.
Ballgame,
The big plays by Garland and Porter came midway through the fourth and both sequences were pivotal.
Now, Garland (nine points) and Porter (also ) were hardly the only story on this night, but man, they did pump life into a team desperately in need of some.
Until those plays, and the dunk by Sexton, the Cavs were sort of scrapping and clawing and running around ... and getting nowhere. All they managed to do until then was sort of stumble their way to keeping things close.
But Garland, Porter and Sexton undoubtedly thrilled the crowd and seemed to energize their more-experienced teammates.
"That was an exciting few minutes of the basketball game," coach John Beilein said. "There were several times in there where they had several turnovers, and I thought, 'Man, the youth.' And then bam, they made some plays that showed why they're in the NBA right now."
In spite of all that, the Cavs (2-2) had to hang on for dear life, clinging to a two-point lead late in the fourth. That's where veterans such as Tristan Thompson and Kevin Love made sure to finish the job, with Thompson swatting everything in sight and Love simply doing what winners do at crunch time.
Thompson went for 23 points with five blocked shots, and Love scored 17 and grabbed a whopping 20 rebounds. Along the way, Love tied a franchise record for a half with 16 before the intermission. (He finished five shy of Anderson Varejao's single-game Cavs record, set in 2014.)
"Our young fellas are hungry," Thompson said. "They look up to us and we look to them, too. It's up to us to make their jobs easier."
Mostly, these are the types of games you want to win at home against non-playoff opponents. For a while, that prospect looked sort of shaky. The Cavs trailed at the end of the first, second and third quarters. But they led at the end of the only quarter that mattered.
Reserves Jordan Clarkson and Larry Nance Jr. also again gave underrated showings, Clarkson finishing with 17 points on just 4-of-6 shooting and Nance going for 12. Sexton scored 18 on 7-of-12 from the floor.
Cedi Osman (12 points) had nine points in the third quarter on three 3-pointers, but the Cavs still trailed 82-80 entering the final 12 minutes.
The also fell behind 21-11 to start the game, before closing the first quarter on a 14-5 run.
Zach LaVine and Lauri Markkanen led the Bulls (1-4) with 16 points apiece.
The Cavs visit the Indiana Pacers on Friday.