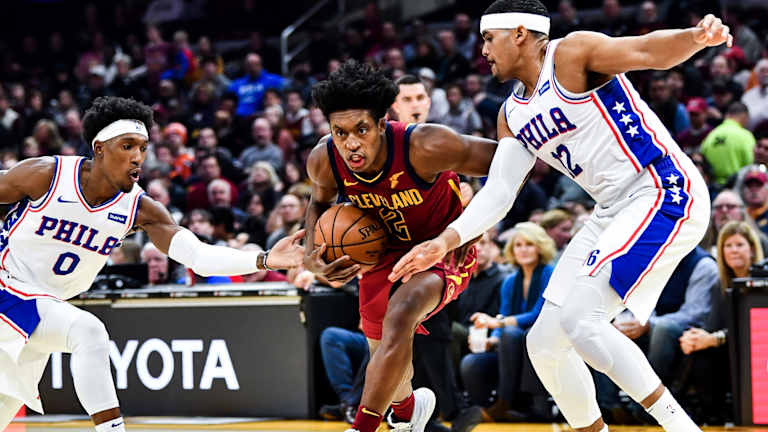 Dribbles: Cavaliers' Lack of Ball Movement Starts at Point Guard
CLEVELAND -- Random dribbles following the Cavaliers' 114-95 home loss to Philadelphia on Sunday.
1. Tristan Thompson has 27 assists through the first 12 games. So does Cedi Osman. 
2. So does Collin Sexton.
3. Sexton is the starting point guard. Thompson a center, Osman a small forward. Thompson and Osman are unselfish players and pass the ball just fine. But neither should have the same amount of assists as Sexton, even this early in the season.
4. This isn't intended to trash Sexton. He has clearly improved or focused on improving in every other area -- just not as a facilitator. Sexton is a willing listener, a good teammate and wants to win. So this isn't about that.
5. But right now, the Cavs' ball movement stinks. That may not be the entire fault of the point guard, but that's where it starts. The position is sometimes referred to as "the head of the snake." In other words, without the head deciding where to go, the body doesn't move.
6. Sexton has occasionally called the offense "stagnant." He is always man enough to admit his mistakes. And he is correct. During Sunday's loss (and Thursday's to Miami), you could sometimes see the Cavs standing ... watching ... wondering. All while a teammate tried to go one-on-one. Sometimes, it's one-on-five.
7. Cavs coach John Beilein went into great detail about the lack of passes after the Miami loss. He raved about the Heat's unselfishness. He did the same after a loss to Boston. Passing became a focal point of film sessions and practice. Beilein said he counts passes and he wants the Cavs to have around 300 a game.
8. It's hard to know how many they had Sunday, but it definitely could not have been to close to Beilein's target. What we do know for sure is the Cavs compiled a measly 14 assists. 
9. Think about that -- 14 assists. For an entire team. Ben Simmons of the 76ers had 11 by himself. Sixers power forward Al Horford finished with seven. Cavs center Ante Zizic tied for the team lead (with Thompson) with three in his season debut.
10. Sexton finished with one.
11. Zizic admittedly isn't in game shape and played 17 minutes. Yet he compiled more assists than Sexton did in 28 minutes.
12. Sexton is just 20-years old, in his second season. Nobody expects him to be John Stockton. And it's not like the Cavs have Ray Allen and Klay Thompson spotting up for jumpers on the wings. 
13. Instead, Sexton is sharing the backcourt with a 19-year old combo guard in rookie Darius Garland. Osman is streaky. Jordan Clarkson generally creates shots for himself, as opposed to scoring immediately after a pass. Those aren't excuses, just realities. Another reality is Sexton must be better at keeping more guys involved as his career moves forward. Garland sometimes runs point, but it is Sexton who usually has the ball to start the offense.
14. Sexton seems to understand this. He definitely says all the right things. "At certain times, we go with no-pass shots," he said Sunday. "We have to make sure we're moving the ball around the horn two or three times, just to get the defense shifting."
15. Sexton (17 points) is echoing the rally cry of his coach. But the young point guard is still learning how to execute that philosophy.
16. Here's another thing: Love (12 points) took just eight shots. Granted, he only played 25 minutes, as Beilein wanted to get the starters some rest once the outcome was decided. But Love's occasional lack of attempts have been a topic since the start of his Cavs career back in 2014.
17. Clearly, some of that is undoubtedly on Love. He can seem a little too comfortable on the perimeter sometimes. But other times, he'll work to get the position near the basket, and ... nothing. Few others will look his way.
18. Rookie swingman Kevin Porter Jr. took six shots in 16 minutes. Nothing wrong with that. The Cavs want the younger players to find their groove and figure out the difference between a good shot and one that could have waited. But in no universe should today's Porter be taking nearly as many shots as today's Love, and in 10 less minutes of floor time to boot.
19. Look, we all knew these Cavs were going to be up-and-down. We knew chemistry might be a struggle. They really didn't even move the ball that well in wins. They mostly got by on guts and hustle. That was another thing that was lacking Sunday.
20. The 76ers (8-5) also do a fantastic job of shutting down the passing lanes. Simmons is second in the league in steals (2.40 per game). And with Joel Emdiid and Horford roaming the lane, they are experts at protecting the basket.
21. So let's not pile on Sexton or the Cavs quite yet. This was expected to be a challenging season, and surprise, it appears it will likely play out that way. What Beilein wants for now is to see the guys play hard, play smart and move the ball. He usually gets the first one, sometimes the second. The third needs some serious work and given his position, Sexton needs more work in that area than anyone.
22. Clarkson added 15 points for the Cavs and Thompson scored 12 and grabbed nine rebounds. Tobias Harris led the 76ers with 27 points on a sizzling 12-of-14 from the floor.
23. For more on the game and what Beilein and others had to say, check out my other story: Cavaliers turn back the clock, and not exactly in a good way.
24. Next up: The Cavs return to New York to face the Knicks on Monday. I feel like I keep copying and pasting the same line about the same opponents. (For example, Wednesday they visit Miami and Friday they visit Dallas.) Anyway, winning in New York again ain't gonna be easy. The Knicks surely remember that the Cavs embarrassed them just last week. Talk to you Monday night.