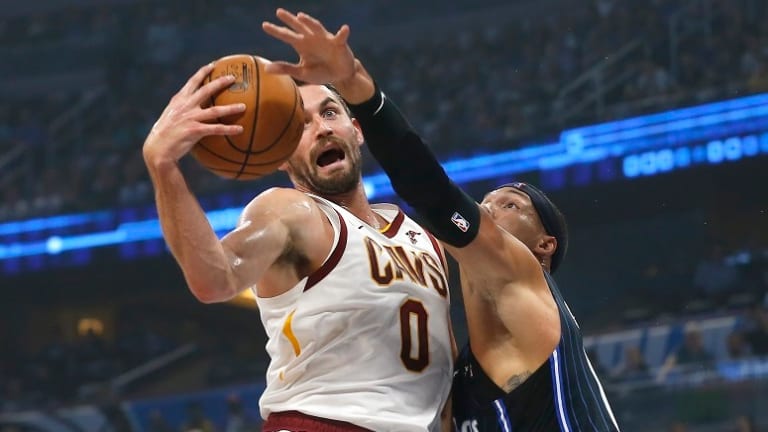 Cavaliers Notes: Beilein, Love Want More Shots for Love
INDEPENDENCE, Ohio -- Cavaliers coach John Beilein wants Kevin Love to get more of an opportunity to score, or "touches," as it is known in pro basketball circles.
Love wants Love to get more touches, too.
Love is the lone member of the Cavs to have made an All-Star team. He can hit 3-pointers and gobble up rebounds. The latter was on full display in the season-opening loss at Orlando, when Love compiled a game-high 18 boards.
But he finished with just 11 points, took just 10 shots, and made just four. If you're the Cavs, the 18 rebounds are awesome. But the 10 shots? Well, that needs to change.
The Cavs will get another chance Saturday, when they open the season at home against the Indiana Pacers (8 p.m., FOX Sports Ohio).
"We're crazy if Kevin doesn't get more touches than he got," Beilein said.
Love is expected to be the Cavs' go-to guy, a 6-foot-10 power forward with championship experience. He can draw his defender to the perimeter or position himself under the basket. Love isn't a the biggest of stars, but he is proven and the offense should go through him.
At least, that's the way Beilein sees it.
And the way Love seems to see it, too.
That means the young backcourt of Collin Sexton and Darius Garland, and starting small forward Cedi Osman, need to be cognizant of Love's whereabouts when on the floor.
Love is nothing if not patient so he is willing to let the young guys pick their spots, and like veteran center Tristan Thompson, stay positive threw the growing pains.
"I just have always felt if the ball touches my hands, something good's going to happen," Love said. "They just have to trust it. I do, too. I just have to trust that the ball is going to find me and I'm going to get more of an opportunity to make some plays for us."
Love then addressed the value of leadership.
"Tristan and I have talked about being positive leaders," he said. "There's some things we could look at and say, 'That was ugly,' and things we could get upset about. But we've got to play the long game with this. It's a helluva process. That cliche, it's not a sprint, it's a marathon."
No matter how you spin it, Beilein and Love and the rest of the Cavs seem to understand that touches for their most-proven scorer are of utmost importance.
"We're working on that right now," Beilein said. "When he did get the ball we had really good numbers. (His teammates) have to see that."
CAVS NOTES
1. Forward/center John Henson took part in practice and is questionable for Saturday's game. He has yet to suit up for the Cavs. Henson underwent surgery on his thumb last November and missed the season. He missed the preseason and opener with a groin pull.
2. Beilein, Osman nor Cavs general manager Koby Altman could comment on Osman's reported contract extension, said to be for four years (three guaranteed). The deal has yet to go through the league office, though it is on the way. Read more here.
3. The Cavs signed claimed forward Alfonzo McKinnie off waivers earlier this week. McKinnie's pro career started overseas, and then he paid $175 to participate in a G League tryout. For more on McKinnie's path to Cleveland, check out the SI Cavaliers feature: "Newcomer McKinnie aims to build off unlikely journey to Cavs."