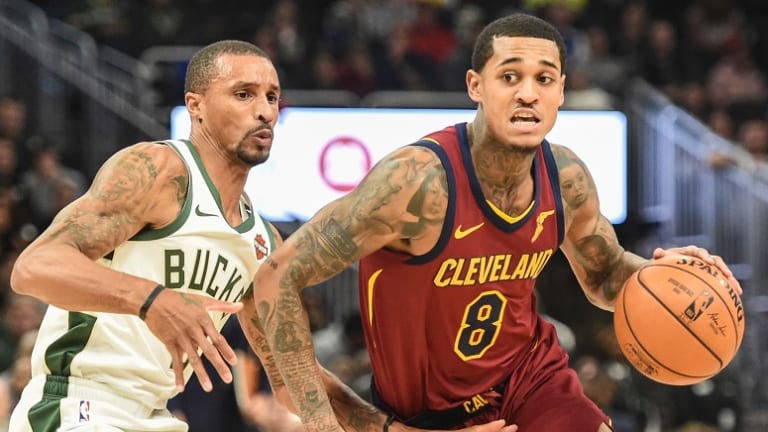 Dribbles: Cavs Show Some Fight, But Beating Bucks on Road a Tall Order
Random dribbles following the Cavaliers' 129-112 road loss to the Milwaukee Bucks on Monday:
1. Look at this way -- at least the Cavs were in it for a little while and did some decent things for most of the game. They can build off losses like this.
2. Milwaukee was coming off a home loss, a game in which it blew a 21-point lead to the Miami Heat. Good teams generally don't lose two in a row at home. The Bucks are a good team. So it's safe to assume the odds were against the Cavs before things even started.
3. The difference really was about a 10-minute span when the Cavs were too slow getting back defensively and stopped driving, kicking and playing as a unit on offense. Other than that, they did an admirable job against a team that finished 62-20 last season and came in with something to prove.
4. Cavs coach John Beilein to reporters on the loss: "They made timely shots and we didn't. They're so explosive, especially in transition. We need to put the ball in the basket at a higher rate. Maybe we got a little tired, I don't know."
5. Beilein seemed proud of how the Cavs trimmed a 16-point deficit in the third quarter to five with 9:20 left in the game. They did something similar in the season-opening loss to Orlando. When you're a newer program, as the Cavs are, it's easy to roll over and die when you get down big on the road. So far, these Cavs have not done that.
6.  It's true there's no such thing as a moral victory in pro sports. But it's also true that these Cavs (1-2) are playing better than most experts predicted. Not many teams are going to beat the Bucks in Milwaukee, and the Cavs lost there plenty of times when LeBron James was still on the team. Overall, you can chalk this one up as a good old "schedule" loss.
7. Tristan Thompson (17 points, 13 rebounds) continues to be relentless, attack the basket and chase down every rebound. Thompson and Larry Nance Jr. (15 points, eight rebounds) also did a nice job on Bucks star Giannis Antetokounmpo. The reigning NBA MVP finished with 14 points but was frustrated into 5-of-15 shooting.
8. Second-year guard Collin Sexton led the way with 18 points, but missed some open teammates and forced some things. He finished with one measly assist. Beilein has made it known he wants that number to greatly increase. But the coach also knows the point guard is also only 20-years old.
9. Sexton on the night: "We fought. We executed the game plan. They just made a lot of shots. We missed some we can make. I felt like I rushed a few shots."
10. Veteran guard Jordan Clarkson (17 points) again provided a nice spark off the bench and was a major factor in the Cavs' late run. 
11. Kevin Love (15, points, 16 rebounds) has been fantastic on the boards in both road games, but maybe not aggressive enough offensively. He didn't seem to post up and demand the ball like he did in Saturday's home win over the Indiana Pacers.
12. Cedi Osman added 10 points and rookie guard Darius Garland scored nine. The Cavs are still seeking more consistency from Osman. Khris Middleton led the Bucks (2-1) with a quiet 21 points. Old friend George Hill scored 19 and Pat Connaughton fired in 17 off the bench.
13. No matter, the Cavs are dead set on continuing to play with this type of nothing-to-lose determination. If they do, they will eventually steal one of these road games and may have a better season than anyone expects. They seem to enjoy the underdog role.
14. Nance Jr. on that very subject: "We're a confident bunch. We saw where everybody picked us (to finish) this year. We're playing with a little bit of a chip on our shoulder."
15. Next up: The Cavs face the Chicago Bulls, another team with lower expectations, Wednesday at home. That's one the Cavs are counting on getting.