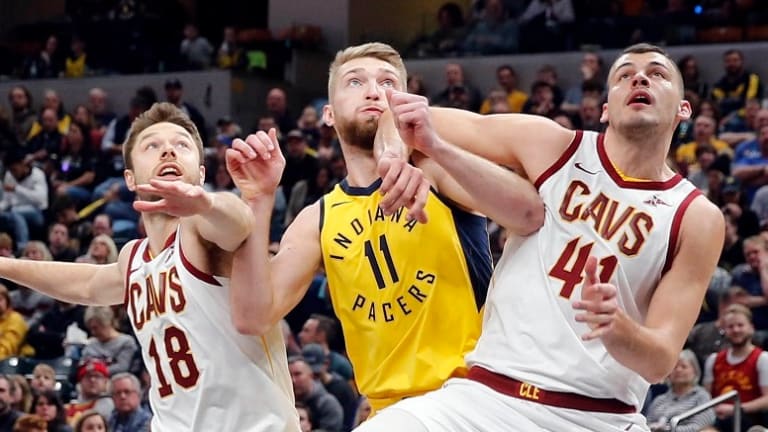 Highest of Hopes Series: Ante Zizic
The Cavs are deep with big men which could lead Ante Zizic to be out of the rotation when he returns from his injury but what is the highest of hopes for the big man?
The Cleveland Cavaliers embark on their newest iteration under new head coach John Beilein for the 2019-20 season with a lot of interesting players on both ends of the experience spectrum. The team's long-term goals are intact: develop the young guys while not creating a culture of losing like they did the last time LeBron James left the team. The Cavs added four young guys in the last two drafts that they believe will be a part of their next competitive team while keeping a few of the veterans that were a part of their previous competitive team.
In our "Highest of Hopes" series, we will take a look at each Cavs player and what is the most that could be expected out of them this season for the Cavs. To do so, we will have to look back at their previous season, understand the team's overall goal as well as how that player fits into the rest of the roster.
Highest of Hopes Series Links
We continue our series with Ante Zizic, acquired as a part of the Kyrie Irving trade, Zizic hasn't been able to establish himself at the NBA level so far but coaches continue to seem high on him.
Ante Zizic
Age: 22
Height: 6'11"
Weight: 254
College: N/A
Europe: Played in Europe from 2013 until coming to the NBA in 2016
Europe Stats (Final Season): 9 points, 65% from the field, 6.7 rebounds
Draft Information: 1st Round, 23rd overall by the Boston Celtics
Last Year: 59 games, 25 starts, 18.3 minutes, 7.8 points, 55% from the field, 5.4 rebounds
With Kevin Love and Tristan Thompson missing time last season, Zizic saw the floor at a much higher rate than he did his rookie season. His statistics above were impressive for his limited minutes on the floor.
Overall, the Cavs were a -80 plus/minus with him on the floor but that was better than all but David Nwaba, Kevin Love, Matthew Dellavedova and Jaron Blossomgame (of players who played 20 or more games for the team).
For Zizic, who was praised by former Cavs coach David Blatt going back to age 16, the 2019-20 season could be a make or break year. The Cavs hold an option on his contract for next season and, after that, he can be a restricted free agent. The rebuilding Cavs are likely to pick up his '20-21 option year but how invested will they be with Zizic by then could depend on this season.
So far, Zizic hasn't been able to show much due to a foot injury that has kept him from playing in any preseason games. This, along with the depth the Cavs have in their big man rotation, could set up for some frustrations for the young big man.
Most recently, Zizic was diagnosed with plantar fascitis and will be out about four weeks. The injury delays Zizic reaching his "Highest of Hopes" which is already blocked in Cleveland.
Love, Thompson and Larry Nance Jr. are expected to soak up a majority of the big man minutes for the Cavs with veteran shot-blocker John Henson (also struggling with injuries) in line for minutes as well. In a league going with smaller lineups more often than not, it could be tough for Zizic (and Henson) to get a lot of playing time with how the roster is currently constructed.
The best case for Zizic starts with the NBA trade market. For Zizic to fulfill his potential on the floor, he needs to be in a situation that will allow him to do so. That could be in Cleveland if the Cavs decide to trade Thompson, Henson and/or Love during the season. Thompson and Henson are in the last year's of their contracts and could bring back picks or players that could fit the Cavs long-term plans better while Love will be constantly mentioned in trade rumors but is less likely to be moved.
The Cavs freeing up minutes for their young big man, next to Love and Nance, fits their long-term goals but isn't the only way Zizic could get a chance to prove himself. The Cavs could also trade Zizic to a team looking for a young big to soak up some minutes and provide an interior presence. For the Cavs, trading a young big blocked for minutes to add either a young wing or a draft pick would make sense while also giving Zizic a chance to thrive with a bigger role.
Highest of Hopes for Ante Zizic: Trade(s) open up minutes for him in Cleveland or somewhere else leading to more than 20 minutes a night allowing him to produce 10-12 points on closer to 60% from the field and 6-8 rebounds.