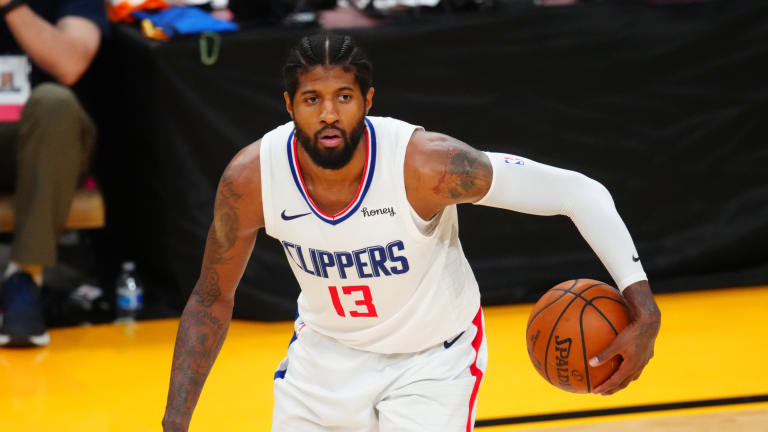 Clippers Believe Paul George Can 'Rise to the Challenge' Without Kawhi Leonard
Paul George will have to carry the Clippers this season.
The Clippers will need Paul George to step up in the 2021-22 NBA season. The team will be without Kawhi Leonard for either the entire season or a majority of it; the margin for error will be slim. 
In order for the Clippers to be successful, Paul George needs to become an MVP caliber player. Clippers President of Basketball Operations Lawrence Frank believes George can do just that.
"I think he's looking forward to the challenge," said Frank. "He's been in this position before, in other places, probably more Indiana than Oklahoma City. But I think Paul has shown throughout his career that he's more than capable to rise to the challenge. And I think as a competitor, obviously you'd love for Kawhi to be there from day one, but we also understand what we're dealing with and he's looking forward to it."
This isn't a new challenge for Paul George, but it may be a tough one for a 31-year old version of himself. George did do a fantastic job of carrying the Clippers to Game 6 of the Western Conference Finals, but the margin for error was just too small for the team. Simply put, the Clippers will likely lose any game that Paul George isn't good in. They may win some here or there, but the probability of them losing will be very high. Regardless, George is ready for that challenge.
"We fully expect Paul to continue to be one of the best players in the world and to do whatever it takes to help the team win," Frank said.
Related Articles
Lawrence Frank Says "No One Knows" If Kawhi Leonard Will Return Next Season
Kawhi Leonard's Pre-Season Ranking Revealed