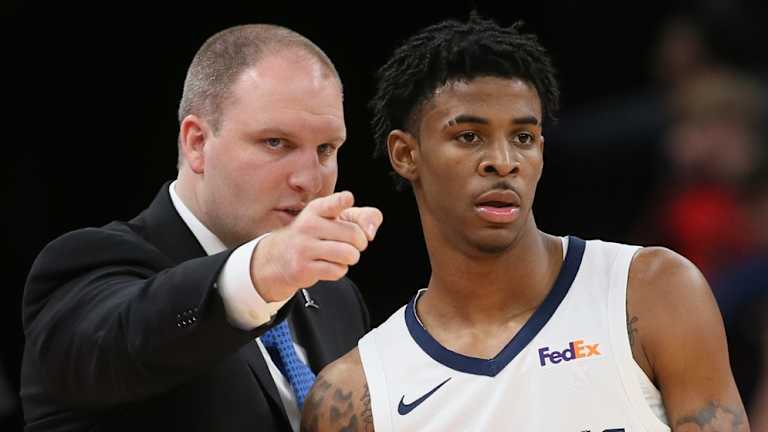 Restricted Area
The Grizzlies fan base can tolerate the losses but the distribition of the minutes restrictions that have been placed on Jonas Valanciunas and even more so Ja Morant, have left fans feeling in a way, restricted themselves.
The Grizzlies fan base can tolerate the losses but the distribition of the minutes restrictions that have been placed on Jonas Valanciunas and even more so Ja Morant, have left fans feeling in a way, restricted themselves.
One of the interesting sub-plots of the Grizzlies season at it's onset was the question of how second year big Jaren Jackson Jr. and veteran big Jonas Valanciunas would mesh as a front-court tandem.  Fans had to wait until the first game of the regular season due to Valanciunas missing the entire preseason due to soreness in his foot from an off-season injury.  He would start in the season debut scoring 7 points in 16 minutes and then followed that with a double with 10 points and 13 rebounds in 18 minutes.  It was later revealed by Grizzlies Head Coach Taylor Jenkins that Valanciunas would be on a minutes restriction to allow him to work his way into his normal allocated minutes and get himself up to speed.  This has been a tad frustrating to some due to the fact that in games that were close down the stretch or in games when the team needed a steadying bucket to end a run, that Valanciunas has not been on the court to provide what he does best.
Although Valanciunas situation requires fans to dial back their expectations not only for Valanciunas but the season as a whole, it's understandable because Valanciunas has admitted that his foot was in fact hurting but getting back to the way that he wanted it.  He was being productive on the court from a box score perspective but you could tell that he was just a bit off from what many had grown to expect with the eye-test.  Valanciunas minutes have increased, with him playing 24 minutes last Saturday against the Suns and 23 minutes Monday against the Rockets.  He has also played more minutes in the fourth quarter.
Valanciunas' minutes restriction feels justified.  He's a 7-foot, 265-pound mammoth of a man who is recovering from a foot injury.  His recovery also has visible evidence that he might not be quite where you'd expect him to be in spite of his production in limited minutes.  It's not the best situation, but you get it.  
This isn't the case with Ja Morant's situation.
Ja Morant was drafted by the Grizzlies with the overwhelming refrain from the fan base, organization and media that he would bring a buzz of excitement that would supersede the fact that the Grizzlies overall would have a pretty rough season.  His flash, flair and athleticism would help to smooth out the wrinkles of a tough season on the court – and it has so far.  Morant has been sensational so far this season with jaw dropping highlights and heart attack inducing almost-highlights that fans have on a nightly basis.  He's averaging 28 minutes per game, which is second to only Jae Crowder on the team.  Grizzlies Head Coach Taylor Jenkins also admitted that Morant is on a minutes restriction to limit rookie burnout combined with the fact that Morant is in fact recovering from off-season knee surgery as well.
By comparison, the two best perimeter players in last year's rookie class, Luka Doncic and Trae Young played 32 and 31 minutes per game respectively which isn't far off from what Ja is doing but something about Morant's minutes distribution just feels off.  It's not his total minutes played that gives you this off feeling that some key ingredient is being left out of Coach Jenkins recipe, it's that it seems like at times Morant's minutes schedule is too ridged with not enough flexibility.  It feels like it doesn't take into consideration things like recent runs, the score, momentum etc.  There have been times when Morant has been pulled in the middle of Grizzlies run that has been led by well – Ja Morant.  Times when the team has been struggling and need a boost of excitement and scoring.
Valanciunas' restriction feels valid.  You get it.  He' s not quite where he needs to be.  Morant is playing high-level basketball but his minutes restriction has fans begging for more.  If Morant is still recovering from his knee surgery it is hard to notice because nothing seems to be missing a beat.  The fan base can deal with the losses. It's not about wins and losses this season but the tempering of the level of excitement that many accepted as an acceptable trade off to winning leaves a lot to be desired.
In my honest opinion, I'm not really here to blame the fact that Coach Jenkins has a head scratching minutes distribution for Morant solely on Jenkins.  It feels like it is an initiative that has been agreed upon by the front office that Jenkins might not be doing the best job of following through with on the court.  I'm sure that things will get better, but for now only time – and in this case more specifically – only minutes will tell.