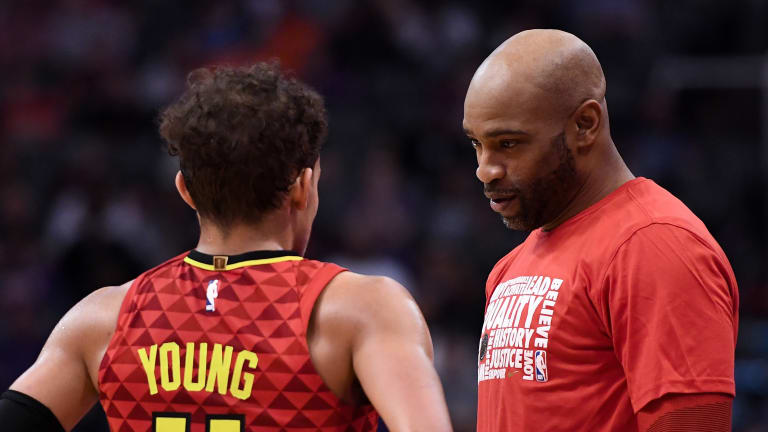 As Young Shines, Carter Continues to Make His Mark
Trae Young ascended further into stardom against the Magic, but veteran Vince Carter was also integral in securing the win.
ATLANTA -- Long after the sheen of the Hawks' electrifying 103-99 win Saturday night fades, we'll still remember the damage Trae Young inflicted on the Magic. And rightly so. A game removed from dropping 38 points and nine assists on the Detroit Pistons, Young exploded again, this time for 39 points and nine assists – nearly every one of which was crucial in his team escaping with a victory. Over the final two minutes and 11 seconds, Young hit a reverse layup that gave Atlanta a one-point lead, a driving lay-in to go up two, a deep step-back 3 to extend the lead to five, and a free throw to ice the game. 
But it was the contributions of his teammates – the ones that will be forgotten to the long NBA season – that turned the game as much as any of Young's heroics.
Saturday night was evidence of the difference discipline can make in Atlanta's offense. With proper discernment and discretion, the Hawks are nearly impossible to stop – especially when Young shoots the way he has through two games. There are certain sacrifices a defense must make when it has to deal with a dynamic lead guard, threatening roll men, and three shooters. Young can force defenses into thorny choices most every trip down the floor, and for moments in this game, there was little Orlando could do against an offense that kept making the right decisions. But the Hawks also finished with 18 turnovers – 12 of which came in the second half – and when they lacked precision they paid for it.
The Magic are the kind of team that preys on indecision. Armed with length and quickness at nearly every position, they can speed up an opponent's decision-making and pressure them into simple mistakes. They rarely explode for backbreaking runs, but the Magic never relent. When opponents back off the gas or lose focus, Orlando is there to capitalize through sustained discipline and effort. That has a way of wearing teams down, and as the game neared its final stretch, the Magic's length and activity were having their intended effects.
The Hawks trailed, 90-85, with six minutes and 42 seconds to play in the game when 42-year-old Vince Carter, playing in his 22 home opener, checked into the game. Orlando had just made a 6-0 run and forced Lloyd Pierce to call timeout and were on the brink of executing Atlanta into submission. The Hawks were losing their grip, finally giving into the Magic's length and ball-pressure. They had turned the ball over 11 times in the second half and were struggling to generate anything resembling patient offense. This was not the kind of game a young team typically wins. So Atlanta answered with the most experienced player it had.
"He's the old head for a reason," DeAndre' Bembry said. "He's been in these situations plenty of times. So he definitely helps us, he calms us down. He tells us certain positions to be in, what's going to happen, and we rally behind him sometimes. What better player to listen to other than Vince Carter?"
Carter finished the game with just two points, two rebounds, and an assist in 12 minutes, yet the Hawks outscored the Magic by 16 points in that time – including a nine-point swing over that crucial final 6:42. More than any singular play he made, his presence and calm steadied the Hawks as they risked letting a potential victory slip away. Carter had been offering guidance and support from the bench all game, but that counsel has greater value when it comes on the court.
"When I'm out there I try to execute," Carter said. "I try to learn the plays and understand what we need late in the game and I was able to just kind of echo some of the plays to kind of get [Young] going, get us in situations, move the ball and find the right guys. That's just who I am and what I've done for 20-plus years. Those situations come easy to me, so if I continue to echo that, hopefully it will continue to become easier for them."
Carter had exactly that effect on Saturday night. The way the veteran stepped in, after 25 minutes and 32 seconds of inactivity, seemed not only to calm his teammates, but galvanize them. Atlanta's defense held the Magic under a point per possession for the game, but was even stingier late, allowing just five points over the final five minutes. John Collins, whatever his foibles on defense and the boards earlier in the game, solidified his game with two key blocks and a pair of defensive rebounds late as he closed the game at center. The most forceful defensive play of the night, however, belonged to Kevin Huerter, who swatted away what would have been a game-tying layup by Nikola Vučević with under a minute to play. ("Kevin Mutombo was great tonight," Pierce quipped after the game.) Carter grabbed the loose ball, and Young put the game away on the ensuing possession with a step-back triple that caromed off the glass and through the net.
The win marked the second time in as many games that Young has wholly, inexorably imposed his will on his opponent. While he almost certainly won't sustain his current scoring output or efficiency, he can likely expect his shot quality and passing efficacy to remain consistent, and the more legitimate he becomes as a scorer, the easier everything else will become. He has long had the necessary skills to thrive in the NBA; it's only a matter of refining them to a point of consistency. "I put in a lot of work this summer and for me going into my second year, I knew what to really work on," Young said. "Going in as a rookie it's kind of hard, you don't know what to expect. You go in there with an open mind, but going into my second year I knew what I needed to get better at and I did it."
He's playing with a stronger command than he did as a rookie, and he bent Orlando's defense to his inclinations rather than the other way around. Young has played with an assurance that projects not only comfort with but control of the speed and style of a given game. "He's under control, he's putting guys in their positions, and he's comfortable as the point guard of this team," said Carter, whose locker is immediately adjacent to Young's. As he spoke, the throng of media around Young's locker confined the veteran to the very corner of the Hawks' locker room. But while Young may be claiming the superstar space that once belonged to Carter, there's still room for the old head to make his mark.