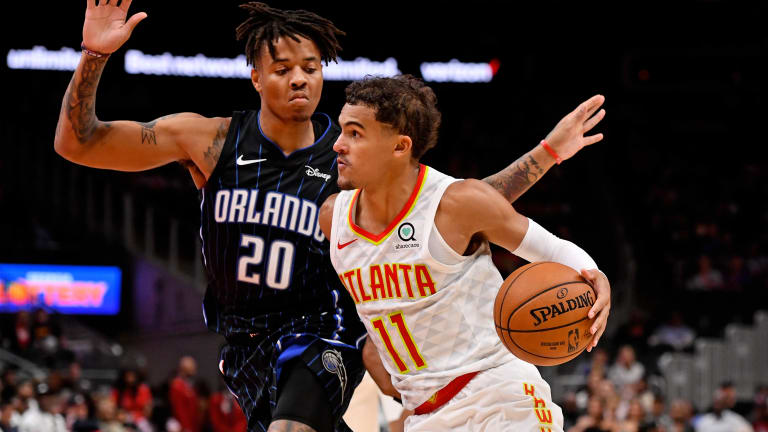 Game Preview: Orlando Magic
The Hawks host Orlando Saturday night. Here's what to expect from the Magic and what the Hawks must do to win.
Just over two weeks after hosting the Magic in the preseason, the Hawks will welcome Orlando back into State Farm Arena Saturday night in their first home game of the 2019-20 season. Atlanta burst out of the gate Thursday night in a 117-100 win over the Pistons, and will hope to carry its momentum into what figures to be a tougher test on Saturday.
The Magic exceeded expectations last season with a 42-40 record – good for the seventh seed in the Eastern Conference. This year, Orlando will have a heavier weight of expectation on them with most of its prominent rotation pieces back with the team. The team turned around its fortune midway through last season to push through to the postseason, in large part because it excised the most damaging pieces of its rotation by trade, injury, or coach's decision. Orlando's biggest question of the season will be whether it sustains that play or reverts back to the uninspiring squad it was before February.
The offense begins in the frontcourt with Nikola Vučević, who nabbed his first All-Star selection last season behind an efficient 21-point, 12-rebound, four-assist line. Vučević anchors one of the most methodical offenses in the NBA with an arsenal of passes, pivots, and hooks that keep even the most focused defenses off-balance. He and veteran point guard D.J. Augustin run a tight two-man game that exudes professionalism.
In between those two bookends is as much length and ranginess as one could possibly collect on an NBA roster. If Vučević is Orlando's best and most reliable player, Aaron Gordon is its most dynamic. Now in his sixth season, the combo forward is a fluid yet nuclear athlete with ever-developing passing vision and a steadying jumpshot. He'll guard whichever Hawk wing Steve Clifford deems most dangerous while Jonathan Isaac roams away from the ball and plugs any gap that needs plugging. The offensive fit between those two may lack for shooting, but both wreak havoc on defense. Isaac, though still a work in progress, may be just a few years away from becoming a perennial All-Defense candidate. He has the length to smother shots and erase mistakes with the quickness to stay in front of most ball-handlers.
The Magic posted a top-10 defense last season, took care of the defensive glass, and forced opponents into difficult shots. Their length gave Atlanta troubles the first time the teams met, forcing the Hawks into 27 turnovers and just 33.8 percent shooting. Taking care of the ball will predictably be a major focal point for the Hawks this time around. "We've got manage their length defensively," Lloyd Pierce said. "All those guys are long and athletic and they use it well defensively. So we've got to be smart when we're in the paint and making passes."
Starting shooting guard Evan Fournier did not play when the Magic first came to Atlanta, but his shooting will be vital to keeping the offense spaced and balanced – even if the rest of his game has declined over the last couple of years. Al-Farouq Aminu's defense, while slightly redundant next to Gordon and Isaac, only further solidifies the unit and neither Markelle Fultz nor Terrence Ross will hesitate to fire off the bench – the Magic don't have much better options on the second unit. Khem Birch, whose defense at backup center was a major part of the Magic clicking last year, appears to be out of the rotation in favor of the younger Mo Bamba.
Fultz is Orlando's biggest wild card – the team acquired him from Philadelphia last season for Jonathon Simmons and the second-round pick that recently became Carsen Edwards. He spent the majority of his Sixers career dealing with ailments of all kinds, most notably thoracic outlet syndrome, which literally prevented him from shooting a basketball for several months. The symptoms (not necessarily physical at this stage) are still there. Fultz is just 4-of-18 on 3-pointers in 34 NBA games, and while he attempted three of them in the Magic's opener against Cleveland, does not pose a threat from downtown. Still, he third-year guard could provide some punch on second units as a slasher, finisher, and multipositional backcourt defender if he evens out those elements of this game. For the time being he remains a worthy reclamation project still trying to stick.
Atlanta's main priority on defense will be containing Vučević, both in the post and out of the pick-and-roll. Though not as physically overwhelming, the Montenegrin is craftier than Andre Drummond, who dropped 21 points and 12 rebounds against the Hawk frontcourt. De'Andre Hunter will likely get the initial defensive assignment on Gordon – a solid test for the rookie. Offensively, the Hawks will have narrower windows to pass through than they would against most teams. Teams like the Magic make a defensive impact before plays even begin; just the presence of their length can be enough to make opponents second-guess their decisions. Atlanta did a lot of that when the two teams met in the preseason. Saturday evening will demand a sharper focus.