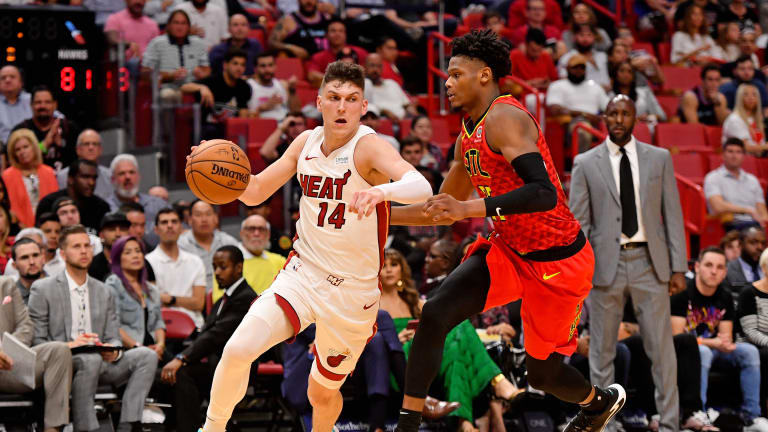 Heat vs. Hawks Live Notebook
Live insights and updates from Atlanta's game against Miami.
The Hawks take on the Heat for the second time in as many games Thursday night at State Farm Arena, and each team will be without key pieces from the first time the two sides played. Atlanta misses point guard Trae Young, who suffered a right ankle sprain Tuesday night, while Miami's Justise Winslow -- a multipositional defensive dynamo and offensive initiator -- won't play due to a back injury. 
As a result, the Heat will start Kendrick Nunn, Jimmy Butler, Duncan Robinson, Meyers Leonard, and Bam Adebayo. Atlanta will counter with Cam Reddish and Kevin Huerter in the backcourt, with the typical from line of De'Andre Hunter, John Collins, and Alex Len. 
First Quarter
Reddish was the primary ball-handler on each of Atlanta's first two possessions, and Lloyd Pierce seems intent upon using him as a functional point guard with Young out. Atlanta is operating far more by committee, with Reddish and Huerter initiating most of the action in a more fluid offense than the Hawks typically run. 
Miami is getting look after easy look at the rim early, either as a result of offensive rebounds or simple defensive breakdowns. The Hawks subbed Len out of the game early, going small with Collins and Jabari Parker in the frontcourt, but that unit has proven even flimsier than the first. 
The Heat only have 11 active players tonight -- two of whom are 17-year veteran Udonis Haslem, who has yet to play this season, and rookie Chris Silva. That will require big efforts from the starters, plus reserves Goran Dragić, Tyler Herro, and Kelly Olynyk, and foul trouble could cause compromise Miami's rotation significantly. 
The Hawks close the quarter with a wonderful joint effort from Cam Reddish and DeAndre' Bembry. Reddish slid his feet on Dragić's drive before blocking the layup attempt, then kept the ball in bounds by throwing it ahead to Bembry, who punched it home with the right hand with 4.8 seconds remaining. 
After a tough few minutes in the middle of the quarter, the Hawks closed strong to get within four. Atlanta generated better looks than Miami, per pbpstats.com, and converted a higher percentage of them. The Heat, however, took seven more shot attempts than the Hawks, grabbed three offensive boards, and did not turn the ball over. Heat lead 30-26. 
Second Quarter
Ominous start to the second for Atlanta, who misses a 3-pointer and gives up a second chance 3 to Tyler Herro. Lloyd Pierce immediately calls timeout as Miami stretches its lead to seven. 
Alex Len continues to have a tough game. He has mishandled a few relatively easy passes that would have been layups, struggled on defense, and just air-balled an open 3 from the right wing. The Hawks' center rotation is thin, so we could see more of the Parker/Collins pairing if Len continues to struggle. 
With 4:11 to play in the second quarter, the Hawks are 6-of-11 at the rim, 2-of-15 on 3s, and scoring under 0.6 points per possession in the halfcourt. They are undershooting their expected effective field goal percentage by 20.9 percentage points (per pbpstats.com). Free throws are the only thing keeping this game remotely close. 
DeAndre' Bembry is making it happen right now for Atlanta. After hitting a strong driving layup in transition, he keeps an offensive rebound alive by tipping it to himself before lobbing it to Damian Jones for the jam. The Hawks get a stop, then Bembry comes down and hits a tough floater. Heat lead 50-45. 
After two quarters, the Heat lead 52-46, and it's kind of amazing the game is that close. Per pbpstats.com, the Hawks expected effective field goal percentage in the first half was 56.9. Their actual eFG% was 41.5. Atlanta also scored 0.667 points per possession in the halfcourt. Miami also underperformed their shot quality, though to a far lesser degree, and generated 0.872 points per halfcourt possession. The Hawks withstood what may have been the Heat's strongest push of the night in the first quarter. We'll see if they regress positively to the mean and swing the game in the second half. 
Third Quarter
It's been a tough go for De'Andre Hunter, who finally commits his first turnover of the game -- a lazy exchange with Huerter in the corner -- which leads to a Kendrick Nunn dunk. Hunter is 1-of-7 on the night for four points. As a team, the Hawks are just 3-of-20 from 3 and the Heat have stretched their lead to 73-57. 
John Collins goes down with a grimace on his face after he appeared to plant his right foot awkwardly on a drive. He got up in relatively short order, but then called for a sub and walked straight to the locker room with 4:37 remaining the in the quarter. This is obviously bad news for the Hawks, who are already missing Trae Young with a right ankle injury and are now down 18 to the Heat. 
Collins is back on the bench with under a minute to play in the third. No update yet on whether he'll return to the game, but seeing him out of the locker room is a good sign. 
Meanwhile, the Hawks cut Miami's lead to as little as seven thanks to some more nice energy from Bembry and some shot-making from Jabari Parker. A 3-pointer from Tyler Herro just before the buzzer puts the Heat up, 85-75, going into the final period. 
Collins is available to to return, the Hawks announce. He suffered a left ankle sprain that, evidently, was not serious enough to hold him out of a winnable game. 
Welcome news for the Hawks; we'll see how Collins holds up physically for the remainder of the contest. 
Fourth Quarter
Lloyd Pierce calls timeout with 8:47 remaining after another defensive breakdown. Parker appeared to be the culprit this time, failing to rotate and cut off a drive. Collins is back in for Damian Jones, and Pierce might just close this one out small. 
Backbreaking sequence for Atlanta as Meyers Leonard blocks De'Andre Hunter, Bembry air-balls a corner 3, Collins loses his dribble, and Butler picks Hunter on a drive. After a Heat timeout, Herro hits a jumper to put Miami up 16, and this one may be cooked. 
What was long inevitable becomes official as Miami closes it out, 106-97. The Hawks have four days off before returning to State Farm Arena on November 5 to host the San Antonio Spurs.