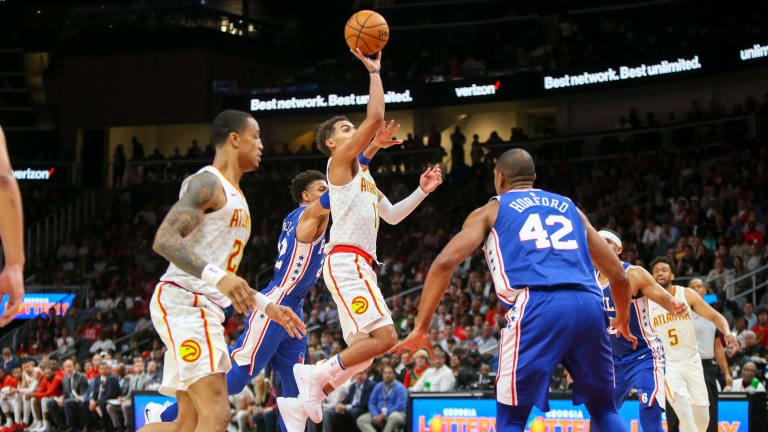 Young Day-To-Day, Will Not Have MRI
The point guard's injury may not be as severe as initially thought and he could be back sooner than anticipated.
Trae Young will not have an MRI on his sprained right ankle and will be listed as day-to-day until he returns, ESPN's Adrian Wojnarowski reported Wednesday afternoon. 
Sources told Wojnarowski the condition of Young's ankle has improved since he twisted it on a drive early in Atlanta's game against the Heat on Tuesday. Yahoo! Sports' Chris Haynes followed up by saying there isn't major swelling in the ankle and that Young would be able to play on Thursday were it a playoff game. 
The news is obviously encouraging for the Hawks, whose offense is centered almost entirely around Young's shooting and playmaking. There are other Hawks who project to be able to alleviate some weight from his shoulders, but right now Young is the only above average creator and finisher on the team. 
This outcome is something of a best-case scenario for the Hawks, who would like their young nucleus to play as much together as possible, and for Young, who emerged as one of the most exciting players in the NBA in the first week of the season. 
The 21-year-old was playing arguably the best basketball of his life when he turned his ankle, having dropped 38 points and nine assists on opening night and 39 points and nine assists in Atlanta's second game -- both wins -- en route to earning Eastern Conference Player of the Week honors. On Monday, he went for 25 and nine in a loss to Philadelphia. 
The Hawks have four days off between Thursday's contest against Miami (in which Young will not play) and a date with the Spurs on November 5. Both games are at home and should give Young and the Hawks plenty of time to rest and recover before a long swing on the west coast.