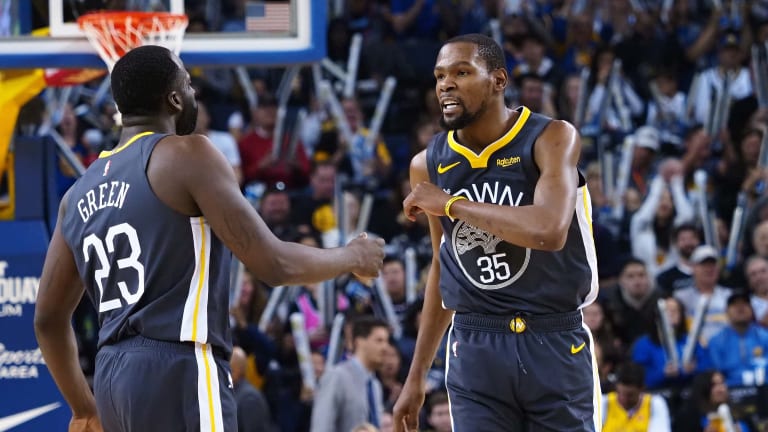 Kevin Durant On Draymond Incident Affecting His Free Agency Decision: 'Definitely. For Sure. I'm Not Gonna Lie.'
KD appeared on ESPN's First Take Thursday morning.
NBA superstar Kevin Durant's free agency decision to leave the Golden State Warriors, where he won back-to-back NBA championships and Finals MVPs in 2017-18, stunned fans, media, other players, etc.
Thursday morning, we got a little more clarity on what went into his decision.
While appearing on ESPN's First Take with Stephen A Smith and Max Kellerman, Durant was asked about whether his spat with teammate Draymond Green during the season had any effect on his decision to join the Brooklyn Nets.
KD was very candid and honest in his response.
"Definitely," Durant said. "For sure. I'm not gonna lie."
The event in question was an in-game spat on the sidelines between Durant and Green during the Warriors' 121-116 overtime loss to the Los Angeles Clippers last November.
As Chris Haynes of Yahoo Sports originally reported, on top of calling Durant the b-word, Draymond went after KD's impending free agency.
"We don't need you. We won without you. Leave."
Certainly, things have changed so rapidly in Golden State. The team closed its doors on Oracle Arena to open up the new Chase Center in San Francisco for the 2019-20 season.
Durant is in Brooklyn with Kyrie Irving. Klay Thompson is likely out for the season with a torn MCL. Wednesday night, superstar point guard Stephen Curry broke his left hand and his timetable to return is unknown.
When asked, Durant said he doesn't plan on returning to the court this season either as he recovers from a torn Achilles suffered during Game 6 of the NBA Finals in June.
Follow Rob on Twitter @RobLep1.