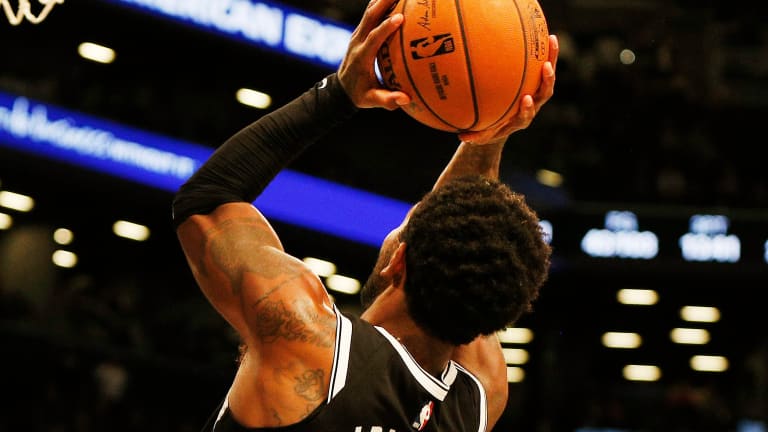 Kyrie Irving: 'Nets going to take over the whole city'
The Nets will eventually own the town according to Kyrie Irving.
Kyrie Irving wasted little time in stoking the fire between  Knicks and Nets fans. With Brooklyn set to giveaway 10,000 Irving jerseys at Barlcays as a not so subtle jab at the Knicks, Irving doubled down on the Nets sentiment toward New York City's most popular, but not most successful basketball team. 
"We're dressed in that all-black all year. We got a lot, a lot of goals to accomplish this season," Irving said in a video tweeted by @Jengabcel. "The team is excited. Obviously we know in the months to follow, we got a sleeping, sleeping monster that's on our team right there.
"So for real, that's my best friend and I want to send good health to him. But for the time being, we're going to take over the whole entire city. It's about us."
The City's interest in the Brooklyn Nets has been garnering attention and while it's probably premature to say the Nets will surpass the Knicks in popularity, it's not out of the realm of possiblities that if Brooklyn competes for a championship in the years to come, many Knicks fans will trade in their Orange and Blue for the Black and White. 
During the 1980s when the Mets were in their heyday, the Amazin's ran the town before the Yankees dynasty of the late 1990s and early 2000s recaptured the hearts and minds of the majority of the City's sports fans. 
There's no secret that New York loves winners, so if the Nets continue trending in the right direction behind Irving and get Kevin Durant in the fold, the new Mecca of basketball might be found in Brooklyn.